Super easy and delicious Asian Chicken Noodle Salad that is perfect for any picnic, gathering or lunch for the week! While I made a simple Asian pulled chicken to pair with this noodle salad, you can easily swap it out for your favorite protein or eliminate completely to make it vegan!
This post may contain affiliate links.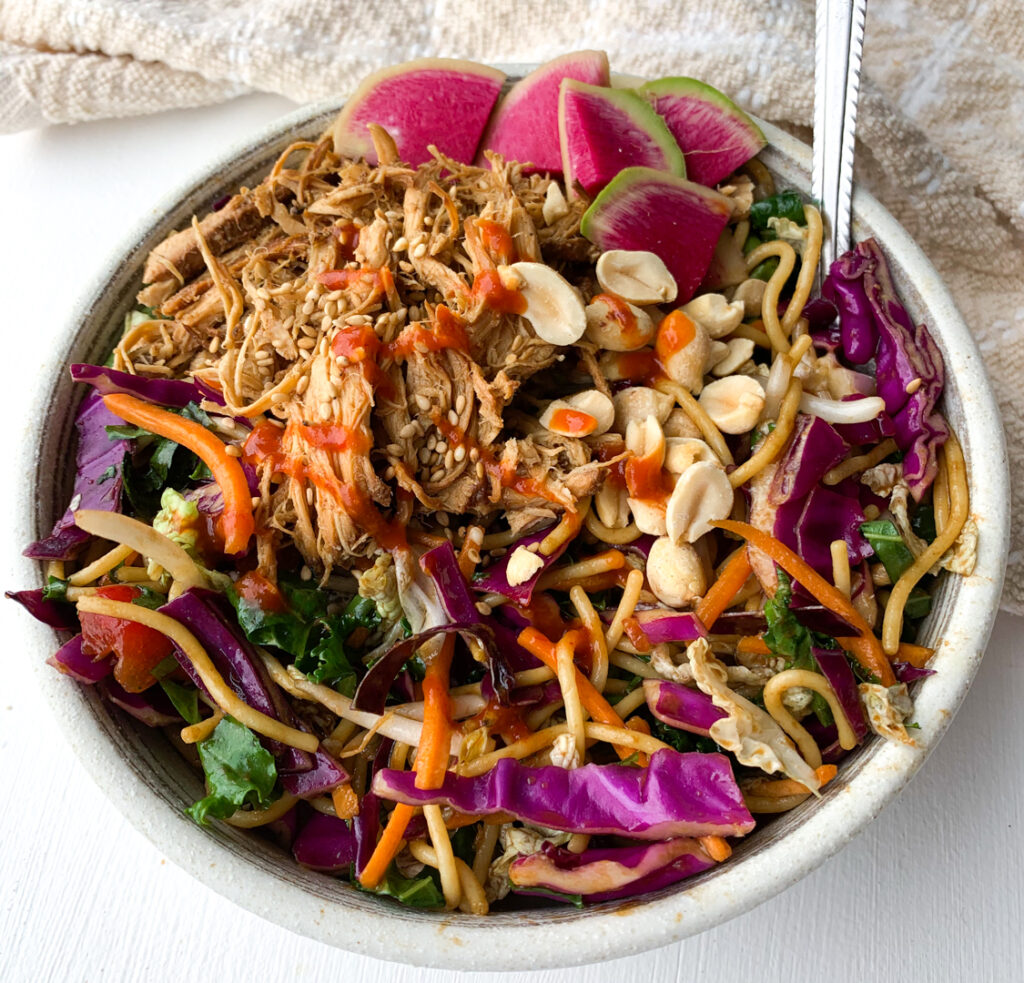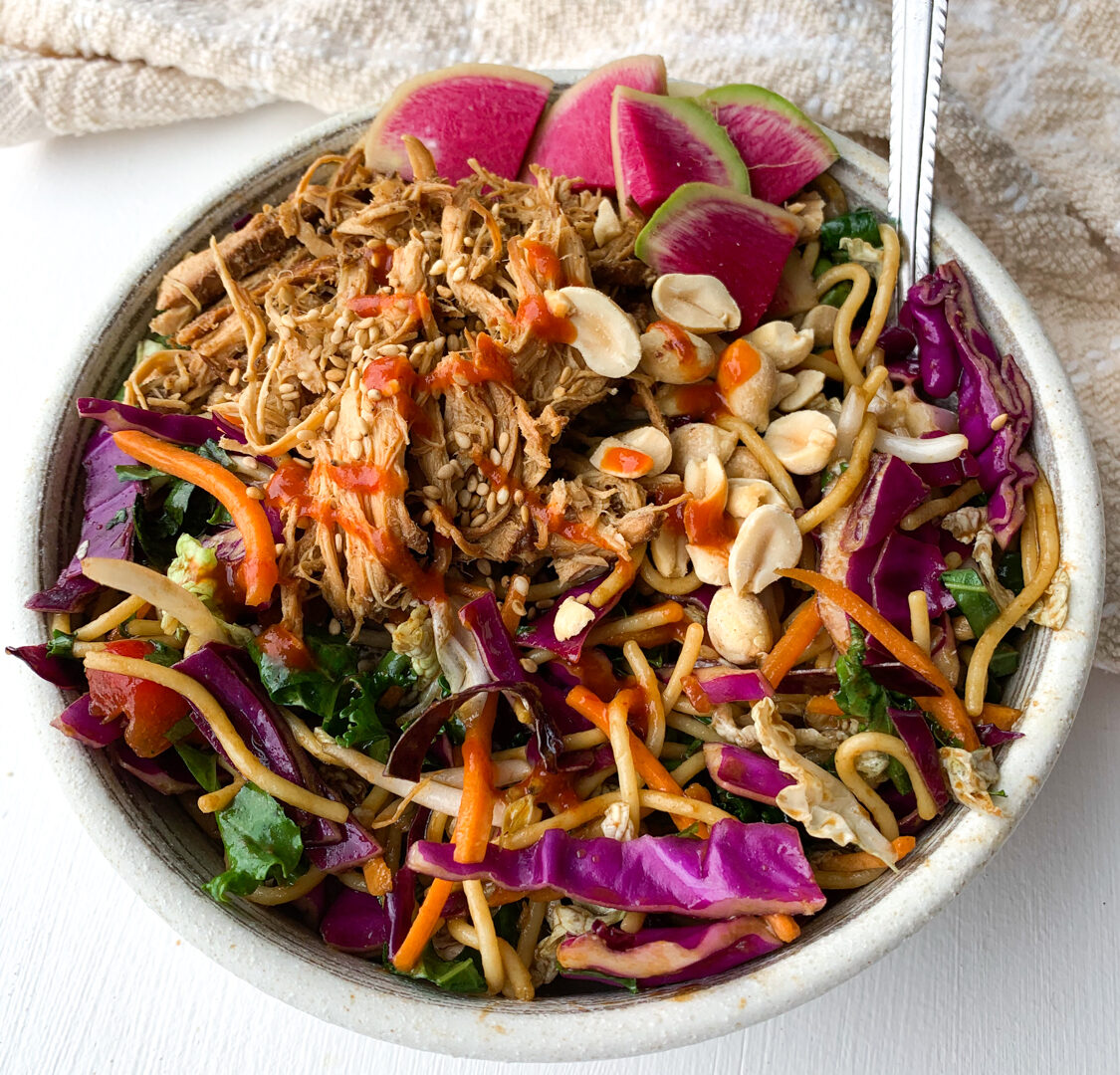 This recipe has been a long time favorite in my family. My mom originally made a similar recipe for lots of field hockey tailgates and summer picnics so I knew I had to recreate it with my own spin. Did you know that most soy sauces are NOT gluten free?? Plus they typically have a ton of added sodium. This recipe uses coconut aminos in place of soy sauce for a lower sodium and gluten free option. Additionally, there is no sugar added to this dressing, as I find the peanuts really help to give the dish a well rounded flavor without needing anything extra.
This Asian chicken noodle salad contains a TON of great vegetables! We're including carrots, kale, cucumber and two types of cabbage. By adding in a variety of vegetables in different colors, we get a variety of micronutrients. Did you know that? Here is a little cheat sheet on the different components of fruits and vegetables, depending on the color! (This is not an exhaustive list, simply a few tidbits)
Red: Vitamin A, C, potassium and antioxidants. Think red bell peppers, strawberries, cherries, beets, tomatoes, watermelon radishes, etc.
Orange/Yellow: Vitamin A, C, and potassium. Think carrots, pineapple, oranges, mango, etc.
Green: Potassium, Vitamin K and folic acid. Think spinach, kale, napa cabbage, cucumbers, etc.
Blue/Purple: Think purple cabbage, blueberries, eggplant, blackberries, red grapes, etc.
SO… what will I need to make an Asian Chicken Noodle Salad?
Chicken breast
Two cabbages
Kale
Cucumber
Carrots
Peanuts
Noodle of choice
Bean sprouts
Cilantro
Olive oil
Sesame oil & seeds
Rice wine vinegar
Garlic & Ginger
Can I make it vegan?
Most definitely! When it comes to this dish, I have made it as a side dish (without adding any extra protein) and with air fryer tofu or tempeh for vegan options. Since this recipe says that it has a 6 hour cooking time because of the crockpot method, this would be significantly reduced to 30 minutes for tofu or tempeh, and none if it is just tossed together! If you are using tofu or tempeh, cook according to your favorite way but still use the marinade suggested for the chicken breasts.
Can I adjust the ingredient measurements?
This recipe can be halved or doubled for a crowd! Additionally, you can adjust the vegetable measurements according to what you have on hand but I would try to stick to the same total volume amount. For example, the recipe calls for 12 cups between the napa cabbage, purple cabbage and kale but you can have less of more of each of the ingredients. I would suggest sticking to 11-13 cups between the 3 main salad ingredients!
How long does salad last in the fridge?
For this recipe, I would not suggest adding the dressing to the salad mix until ready to serve. If you are serving that day, add the dressing 30 minutes prior to serving so that the vegetables soak up the marinade a little bit and are not so tough. Mixed together, this should be good for about 2 days in the fridge. Without the dressing, the salad mix should last 4-5 days but this could be more or less, depending on how fresh your vegetables were to begin with.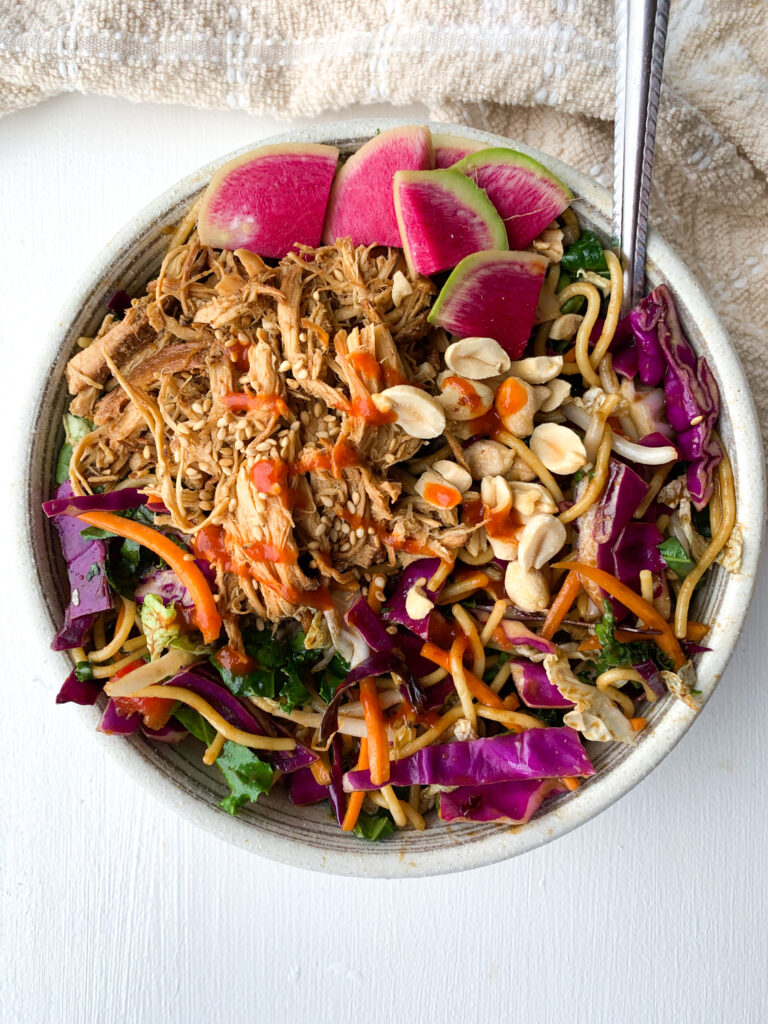 Can I make any substitutions or add more ingredients?
Chicken Breast: You can use turkey breast or beef for the crockpot method, or cook tofu/tempeh/chickpeas/edamame to your liking. Additionally, you can leave out completely!
Cabbage: If you can only find either napa or purple cabbage, that is perfectly okay.
As for the bean sprouts, shredded carrots and cucumber, feel free to leave out or exchange for other vegetables if you do not like.
Peanuts: If you do not eat peanuts, you can replace with almonds or leave out.
Coconut aminos: Soy sauce or tamari will work as well
Rice wine vinegar: I highly recommend this but apple cider vinegar or white vinegar works as well.
Garlic & Ginger: You can use ground instead – I would use 1/2 tsp each.
Need more summer recipes? Check these out!
Don't forget to pin this recipe to save for later:
Shop this post:
Shop my favorites: HERE!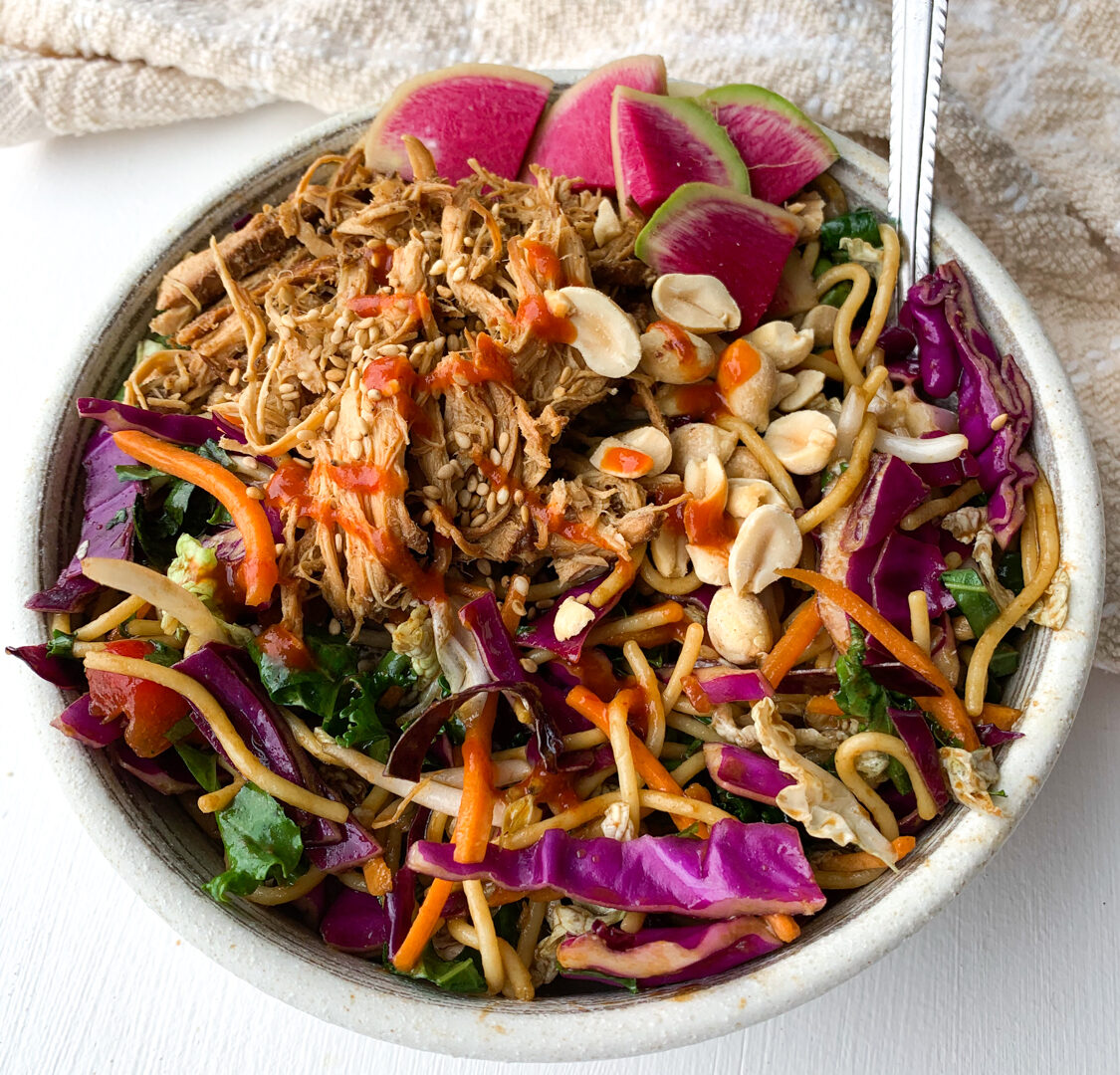 Asian Chicken Noodle Salad
This easy and refreshing Asian chicken noodle salad is full of a variety of vegetables and protein. Replace the chicken with your favorite protein or eliminate to make vegan!
Ingredients
Asian Pulled Chicken
1

lb

chicken breasts

see notes for protein choices

1

tbsp

sesame oil

1

cup

coconut aminos

1

inch

grated ginger

water to cover
Noodle Salad
8

oz

chickpea spaghetti

sub noodle of choice

1 1/2

cups

shredded carrots

1

cup

bean sprouts

4

cups

purple cabbage

shredded

4

cups

napa cabbage

shredded

4

cups

kale

chopped

3

cucumbers

sliced and halved

1.5

cups

peanuts

chopped

1

bunch

cilantro

chopped
Salad Dressing
1/4

cup

olive oil

1/2

cup

coconut aminos

1/4

cup

rice wine vinegar

2

inch

grated ginger

1

tbsp

sesame oil

1

tbsp

sesame seeds

2

tsp

minced garlic

1/4

cup

water

to thin
Instructions
Asian Pulled Chicken (optional addition)
Combine the sesame oil, coconut aminos and grated ginger in a measuring cup and add to the crockpot. Place chicken breakfasts in and then add water to cover the chicken

Cook on high for 6 hours or low for 8 hours. Once it is done cooking, use two forks to shred the chicken.
Noodle Salad
If you have not already cooked your pasta/noodles, do this now and let cool

Once everything is cut, combine the cooked noodles, shredded carrots, bean sprouts, purple cabbage, napa cabbage, kale, cucumbers, peanuts and cilantro into a large mixing bowl. Mix until everything is well combined

In a separate bowl, combine the salad dressing ingredients: olive oil, coconut aminos, rice wine vinegar, ginger, garlic, sesame oil, sesame seeds and water.

If you are serving the dish now, add the dressing into the bowl with the salad ingredients. If you are serving at a later time, keep seperate. I would recommend letting it marinate for at least 30 minutes prior to serving and up to 2 days marinated in the fridge.

Serve with the Asian pulled chicken and optional sriracha for an extra kick of spice!
Notes
You can use beef or turkey as well for the crockpot method. You can also use tofu or tempeh for a vegan option but cook to your preference, not the crockpot. Additionally, you can remove all together
Soy sauce can be used for coconut aminos 
See blog post for additional substitutions 
Did you make this recipe?
Leave a rate and review below. And be sure to tag @naturallybeingnat on Instagram!
Share by Email