This easy pesto chicken and quinoa stuffed peppers dish is the perfect weeknight meal any time of the year. It can easily be prepped ahead to pop into the oven when you get done work as well. This recipe is gluten free and can be made dairy free or vegan with the simple substitutions listed below!
This post may contain affiliate links.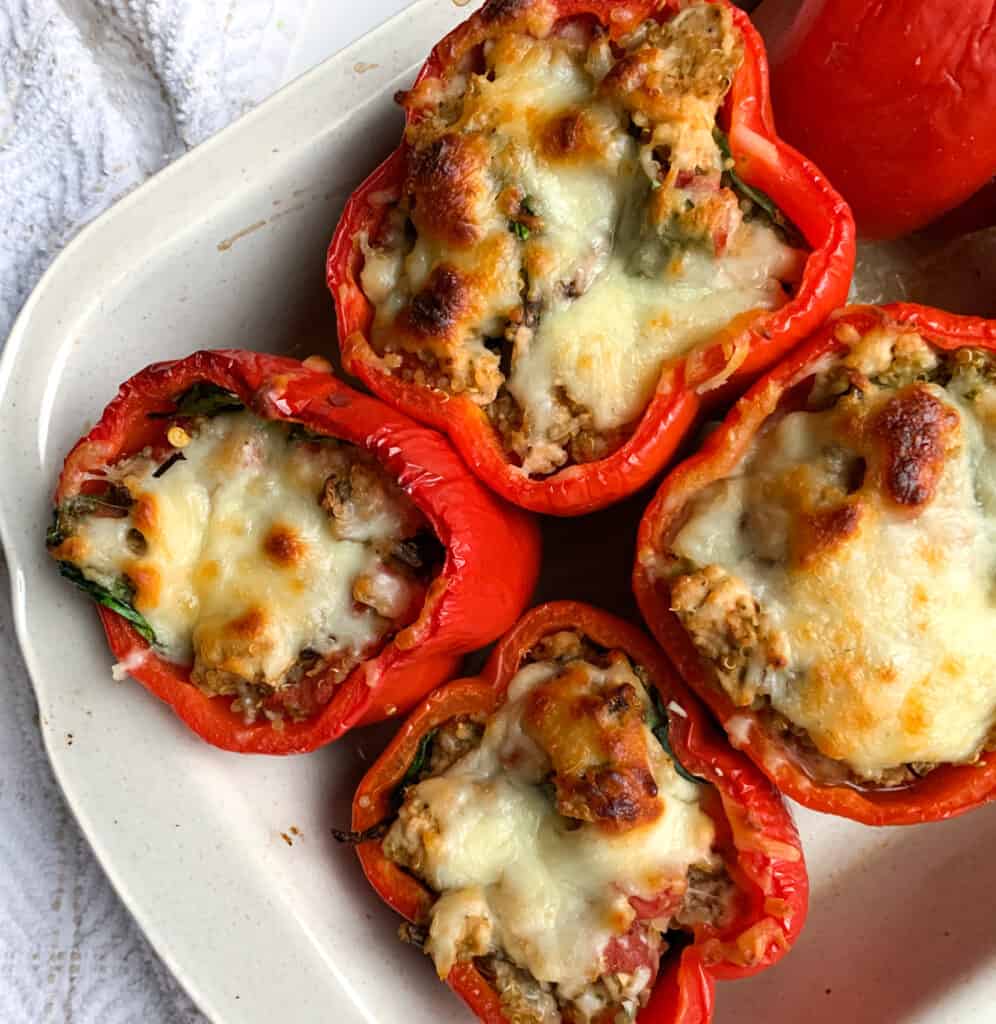 If there's one thing I could always go for, it would be Italian food. Growing up in an Italian household has embedded the love for this cuisine in me. However I am picky… AKA I am not the biggest fan of Italian restaurants (homemade all the way) and mozzarella is the only cheese I like (whoops). So, it is good thing these pesto chicken and quinoa stuffed peppers are homemade and only include mozzarella as the cheese!
Tips for cooking with quinoa:
Rinse your quinoa!
Regardless of the brand or kind of quinoa you purchase, quinoa naturally has an outside coating called saponin. While it is not poisonous to eat quinoa without rinsing, it will help to remove the bitter taste that quinoa sometimes has.
Cook with flavor instead of water!
By this, I mean two things. First, replace the water and boil broth instead. This will give a lot of flavor right off the bat. Second, add spices and herbs in the cooking process or just as it is finishing up. In this recipe, I used chicken broth and vegan kale pesto from Trader Joe's for that additional flavor.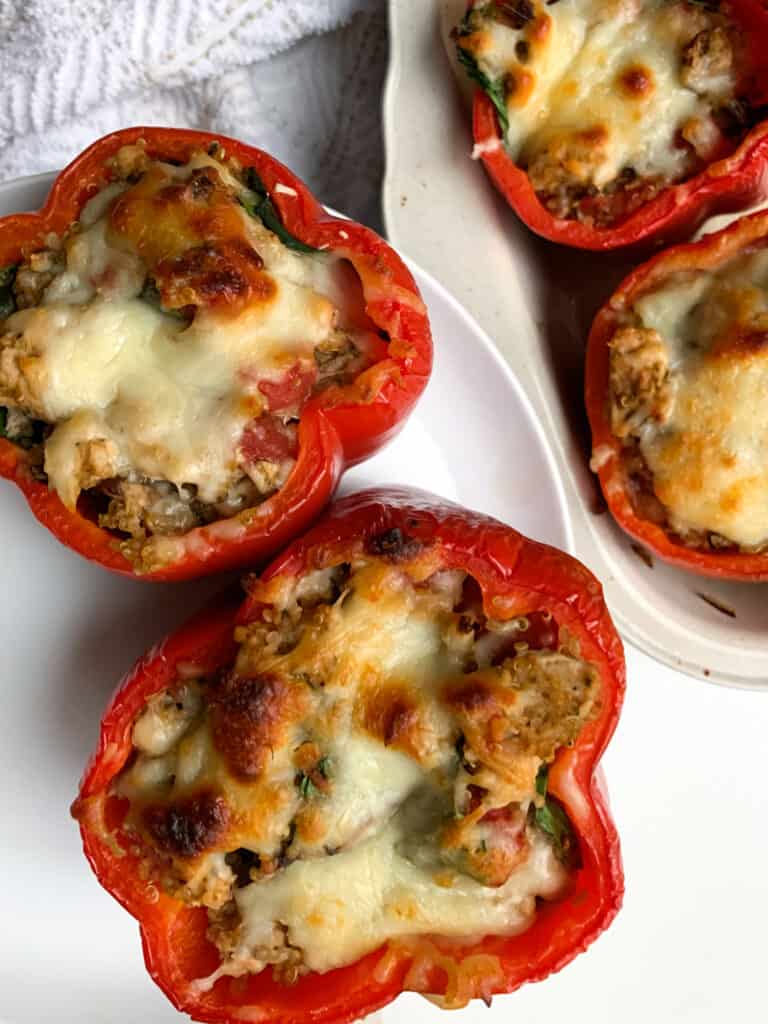 Want to prep this beforehand?
Easy! This recipe is perfect to make ahead and pop in the oven once the work day is done. Simply cook everything, stuff the peppers and add the cheese on top. Place the stuffed peppers in the oven safe dish and cover. Place in the fridge until ready to be cooked. Best to use within 1-2 days of prepping the stuffed peppers before cooking.
SO… what will you need for this recipe?
Ground chicken, other meat or meat substitute: Ideally this recipe works best flavor wise with ground chicken. You can use any ground meat or substitute that you have on hand as well.
Quinoa: I use Bob's Red Mill quinoa but any brand or kind will work. If you are not a fan of quinoa, feel free to substitute 1:1 with cooked rice, farro or other grain.
Bell peppers: I got these massive red bell peppers at my local farm stand and they had the perfect base. For this recipe, try to find peppers that have a widen base and are generally flat so they can stand on their own.
Pesto: I use Trader Joe's vegan kale pesto, as it is one of my absolute favorites. However, any pesto will work
Can of diced tomatoes
Two veggies: spinach and mushrooms. You can remove these from the recipe and it will still work but it is an easy way to add vegetables into a recipe!
Cheese: Shredded mozzarella works the best here. If you are vegan or dairy free, feel free to use a dairy free shredded cheese of choice.
Need another weeknight dinner? Check these out!
Don't forget to pin this recipe to save for later:
Shop my favorites: HERE!
Ready to make these pesto chicken and quinoa stuffed peppers?!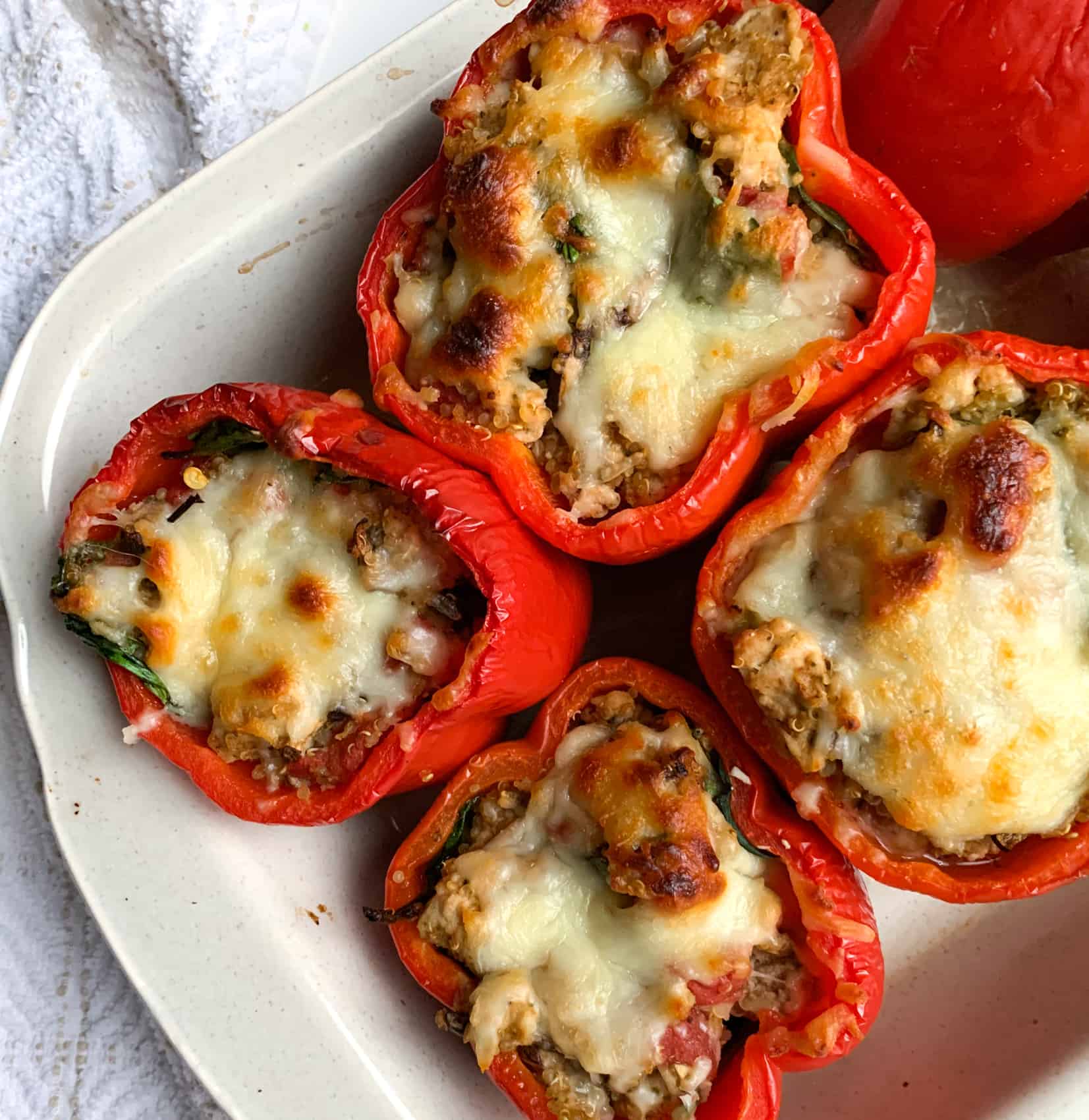 Pesto Chicken Quinoa Stuffed Peppers
This easy and healthy pesto chicken quinoa stuffed peppers recipe is perfect for a weeknight dinner and can even be prepped ahead of time. This recipe is gluten free and can be made dairy free.
Ingredients
6

large red bell peppers

1

lb

ground chicken

2

cups

cooked quinoa in broth

3

tbsp

pesto

use dairy free if applicable

1

15 oz can

diced tomatoes

1/2

cup

shredded mozzarella

sub dairy free cheese if applicable

1

tsp

oregano

1

tbsp

olive oil

1/2

tsp

garlic powder

1/2

tsp

onion powder

salt and pepper to taste
Instructions
Preheat oven to 400 degrees Fahrenheit

If not already cooked, cook quinoa in broth (instead of water) according to package.

Cut off the tops of bell peppers and place in an oven safe dish with water just slightly covering the bottom of the pan. Once the oven is preheated, add empty bell peppers in and cook for 10 minutes

In a saute pan, slightly brown ground chicken on medium heat with olive oil, pesto, garlic powder and onion powder

Once cooked, add in can of diced tomatoes and cooked quinoa and combine well.

Remove peppers from the oven and stuffed with the mixture. Depending on the size of your peppers, you may have leftover stuffing.

Add 1-2 tbsp of shredded mozzarella to the tops of each peppers

Place in the oven for 25 more minutes or until the peppers are soft and the cheese is melted
Notes
I used 93% lean ground turkey but any ground meat or meat alternative will work
Nutrition
Serving:
1
stuffed pepper
|
Calories:
432
kcal
|
Carbohydrates:
13.4
g
|
Protein:
27.9
g
|
Fat:
21.1
g
|
Saturated Fat:
3.2
g
|
Cholesterol:
71.6
mg
Did you make this recipe?
Leave a rate and review below. And be sure to tag @naturallybeingnat on Instagram!
Share by Email