This delicious and creamy stovetop cinnamon apple oatmeal is the coziest breakfast for those chilly days ahead of us. It only takes a few minutes to make and has minimal ingredients. This recipe is also vegan, gluten free and only sweetened by the apples!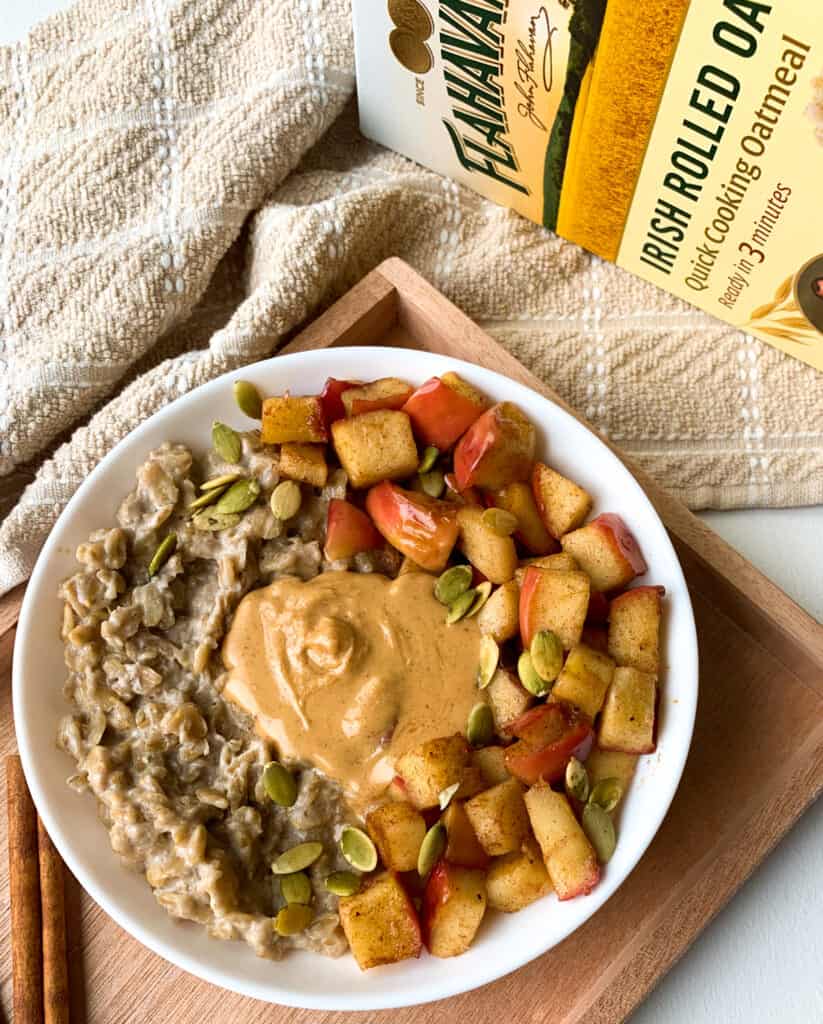 Oatmeal is one of those true comfort foods for me. Especially during the colder months, you can find me making a variety of different oatmeal combinations. These days I have been absolutely hooked on making oatmeal on the stovetop. Even when I was going into the office (prior to COVID 19), I would still make stovetop oats as a meal prepped breakfast because I am a firm believer that it is the superior way to make oatmeal.
In this recipe, I am making your life even easier with not only having the best creamy stovetop oatmeal, but also using Flahavan's Irish Rolled Oats that only take 3 minutes to cook. Flahavan's is Ireland's favorite brand of oatmeal and is 100% whole grain, non-GMO verified, minimally processed and naturally gluten free! While they carry a variety of oats, such as steel cut, I love the quick cooking rolled oats for this recipe. This is perfect for me during the work day because I can spend less time in the kitchen cooking a breakfast.
Why Flahavan's Oats? Sustainable practices.
Flahavan's Irish Oats is Ireland's favorite brand of oatmeal for a reason. Not only do they provide a variety of delicious, high-quality oats, but they also practice sustainability. Supporting companies that care for the environment is a big deal for me. Flahavan's Irish Oats is a 7-generation family owned and operated company and has been sustainable for decades, being one of the first oat millers in the world to burn the outer shell of the oat to power the boiler. They have been milling locally grown oats from multi-generational family farms since 1785. Additionally, Flahavan's Irish Oats is a founding member of Origin Green, the world's only national food and drink sustainability program. Seventy percent of Flahavan's total energy requirements are self-generated on site through its wind turbine, water turbine and solar panels. Furthermore, 100% of its electricity supply comes from renewable resources!
SO… what will you need to make this creamy stovetop cinnamon apple oatmeal?
Almond Milk
Water
Cinnamon
Nutmeg
Fresh Apples
Coconut Oil
Optional: maple syrup or honey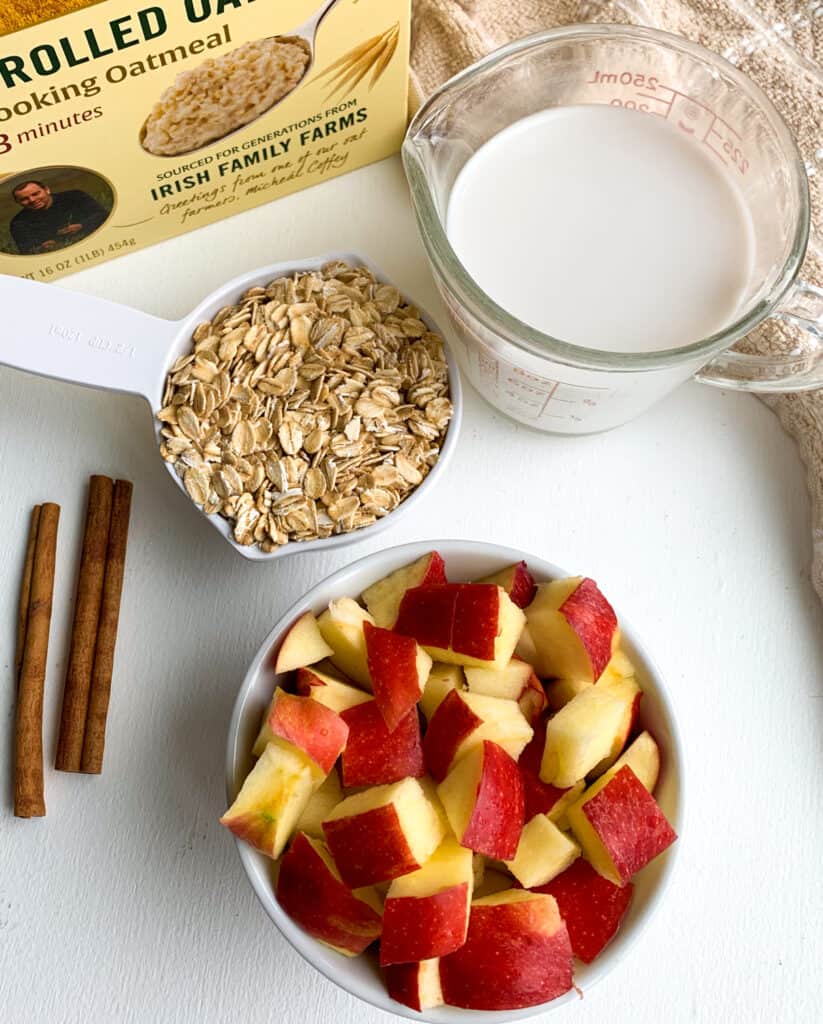 What is the key to the creamy texture?
There are three parts to this answer.
The kind of oats. I find that any kind of rolled oat tends to soak in the liquid and expand best, leading to a softer and fluffier oat. Additionally, Flahavan's Irish Rolled Oats have an even creamier taste because the oats are cooked with the outer shell on.
The combination of almond milk and water takes a much creamier texture compared to only water as the form of liquid.
The low and slow cooking method. While it will test your patience more, I recommend lowering the heat to low/medium as soon as the liquid starts to boil. You want the slow cooking process to really allow the oats to absorb the liquid.
Can I make this oatmeal ahead?
Of course! I loved making stovetop oatmeal on Sunday as part of my meal prep when I was actually going into the physical office. You can either enjoy it cold (almost like overnight oats) or microwave it to warm it up. When microwaving, I recommend adding a splash of water/milk prior to popping it into the microwave. Cook for 1 minute, stir and cook for another 30 seconds. You can also have it prepped with all the cinnamon apples and toppings of choice as well! Stores in a refrigerator for 5-7 days.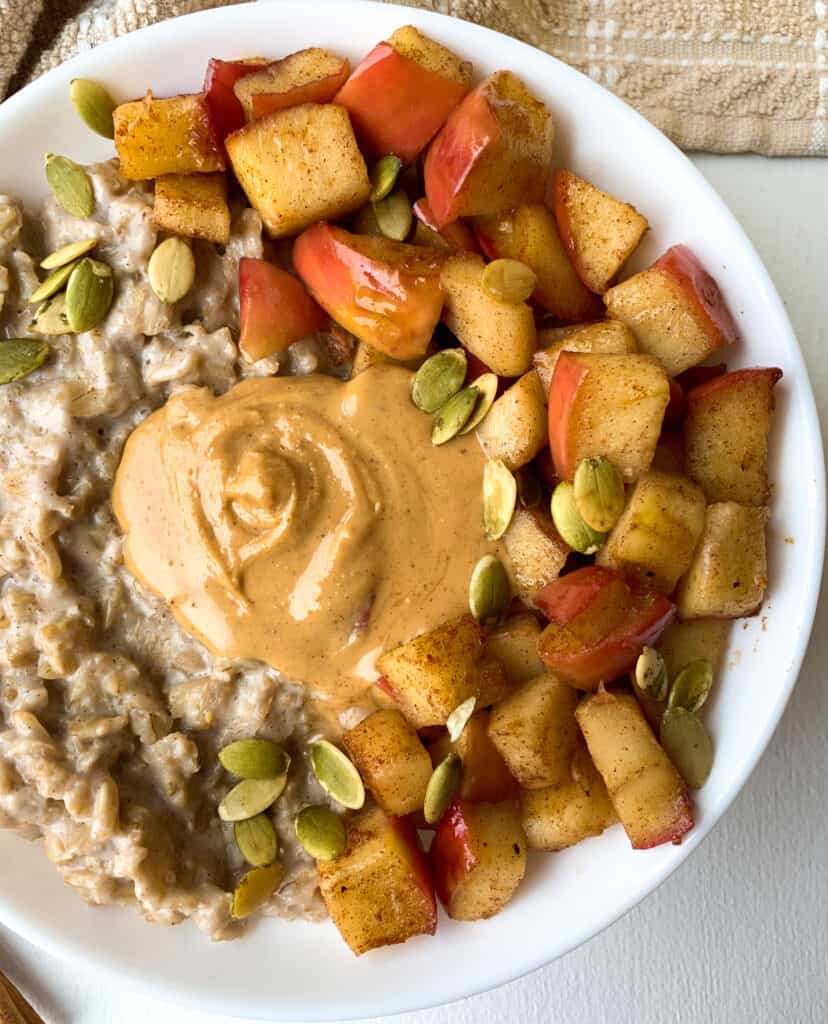 Can I make any substitutions or add more ingredients?
Oats: I recommend these Flahavan's Irish Rolled Oats, as they have the texture and consistency of regular rolled oats, yet are quick cooking oats. If you want, you can replace with any type of oat, however timing may vary
Almond milk: any kind of milk will work here
Apples: you can easily replace the apples with sliced bananas or pears in this recipe, as they will also be delicious using the saute method
Sweetener: this recipe does not call for any additional sweetener other than the apple. However, you can add any sweetener of choice. Maple syrup, honey or brown sugar would be great!
Need more breakfast recipes? Check these out!
Don't forget to pin this recipe to save for later:
Shop this post:
Shop my favorites: HERE!
Ready to bake this delicious oatmeal?!
Creamy Stovetop Cinnamon Apple Oatmeal
This is a delicious and easy healthy breakfast full of seasonal flavors. It is gluten free, vegan, and added sugar free.
Equipment
Small Saucepan

Small Saute Pan

Silicone spatula/spoon

Knife
Ingredients
1

cup

Irish Rolled Oats

quick cooking

1

cup

unsweetened almond milk

1

cup

water

1/2

tsp

ground cinnamon

1/4

tsp

ground nutmeg

sweetener

(optional)

2

scoops

unflavored collagen

(optional)
Instructions
In a small saucepan, add in water, almond milk, cinnamon, nutmeg and oats. Stir and bring to a boil on high

Once oats start to bubble, reduce down to low heat. Stir every so often to prevent sticking to the bottom

As oats are cooking, add coconut oil to the saute pan on medium heat. Add diced apples and cinnamon and stir, making sure the apples are fully coated in the coconut oil and cinnamon. Cook for 4-5 minutes, or until the apples are soft.

Once the oats have fully absorbed the liquid, remove from heat and add into the bowl. If you are adding in collagen, add this now and stir well. If you are adding a protein powder, add additional liquid as well.

Then add your cinnamon apples on top and any of your additional toppings. I love the addition of peanut, almond or cashew butter.
Did you make this recipe?
Leave a rate and review below. And be sure to tag @naturallybeingnat on Instagram!
Share by Email
This post may contain affiliate links and is sponsored by Flahavan's.