If you are looking for an incredibly easy and seasonal spread, this cranberry orange chia jam is it! It only requires 4 ingredients, packs a good source of vitamins, minerals, fiber and pairs wonderfully with a variety of dishes. I love this flavor particularly in the fall and winter for that holiday favorite flavor and how fresh the ingredients are right now! This recipe is gluten free, vegan, oil-free and refined sugar free.
This post may contain affiliate links.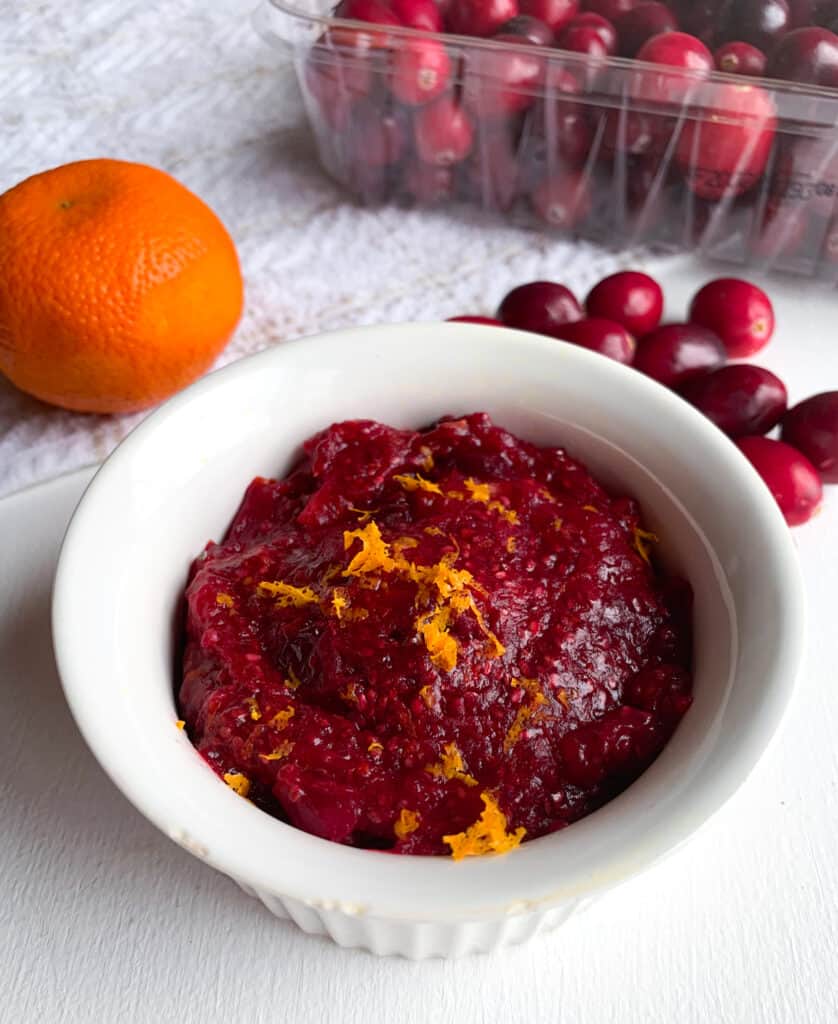 Cranberry and orange is a dynamic duo for sure. The tangy and tart flavor of cranberries paired with the sweet orange is a magical combination. Typically, I find myself looking for this combination of flavors during the holidays because of how fresh you can find cranberries. So when I had a container full of cranberries to use, I knew I had to make an incredibly easy chia jam, since it is one of my favorites. The chia seeds provide that jelly like texture when they start to expand and absorb the liquid.
Let's chat chia seeds!
Chia seeds are a wonderful component to this recipe for several reasons. First of all, the consistency makes the jam. When chia seeds are exposed to liquids, they naturally absorb the liquid and expand. With the expansion, you are left with a seed that turns into a gel-like consistency. How cool, right?
Another benefit to chia seeds is nutritional value! In 28g of chia seeds (roughly 2 tablespoons, you get 11g of fiber and 4g of protein. Not only that, but they contain good sources of calcium, manganese, magnesium and phosphorus (and other vitamins and minerals as well).
Ways to use chia jam:
As you can see from the picture below, this cranberry orange chia jam works perfectly paired with peanut butter on toast. Let's just say it takes your pb&j game up a lot of notches. But besides this, what else?
Toast or rice cake and any nut or seed butter
On a warm roll with butter
Or even better, pair with warm cornbread
Add to oatmeal
Add to a yogurt bowl
Use as a topping to green beans (so many Thanksgiving vibes!)
Top pancakes or waffles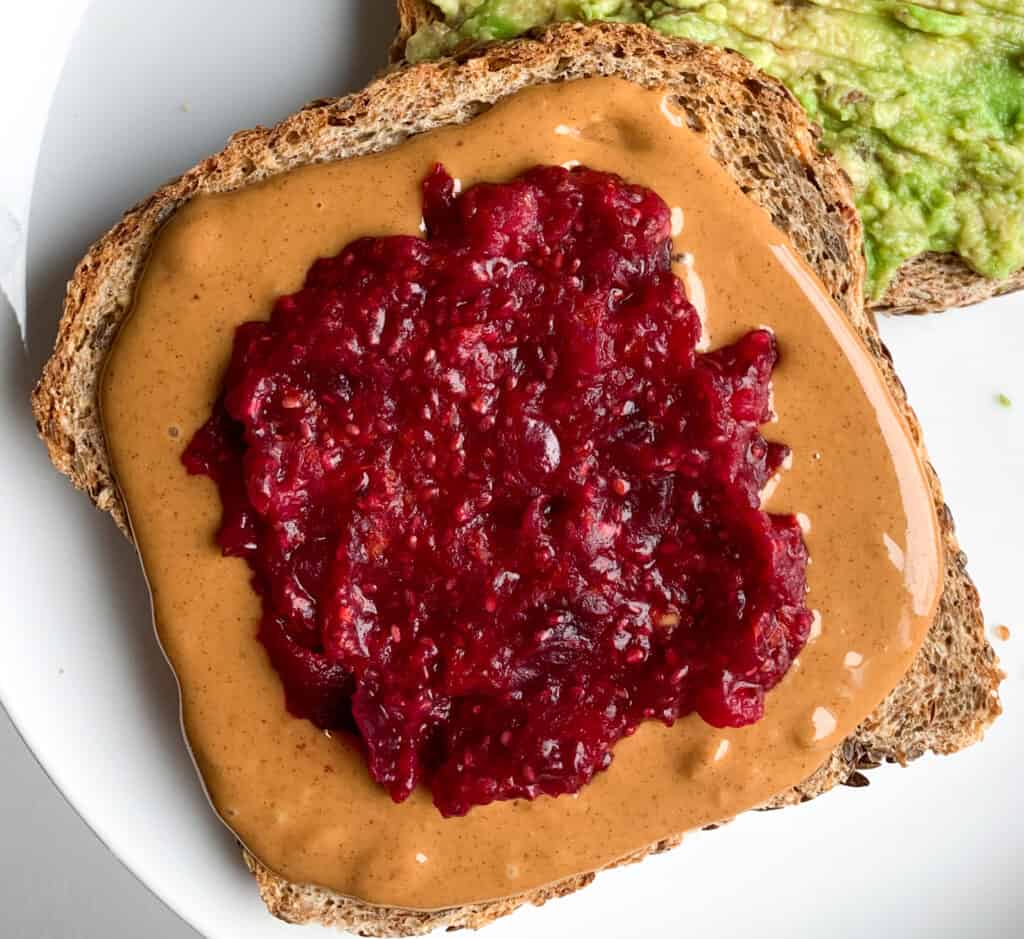 Does the kind of orange matter?
Yes! You want to use a sweeter kind of orange if possible. I had clementines for this second batch, and they worked perfectly as they are naturally on the sweeter end. Otherwise, I used navel oranges for this recipe and I could imagine tangelos would be sweet another as well.
SO… what will you need to make this cranberry orange chia jam?
Don't forget to pin this recipe to save for later:
Shop this post:
Shop my favorites: HERE!
Ready to upgrade your peanut butter and jelly game?!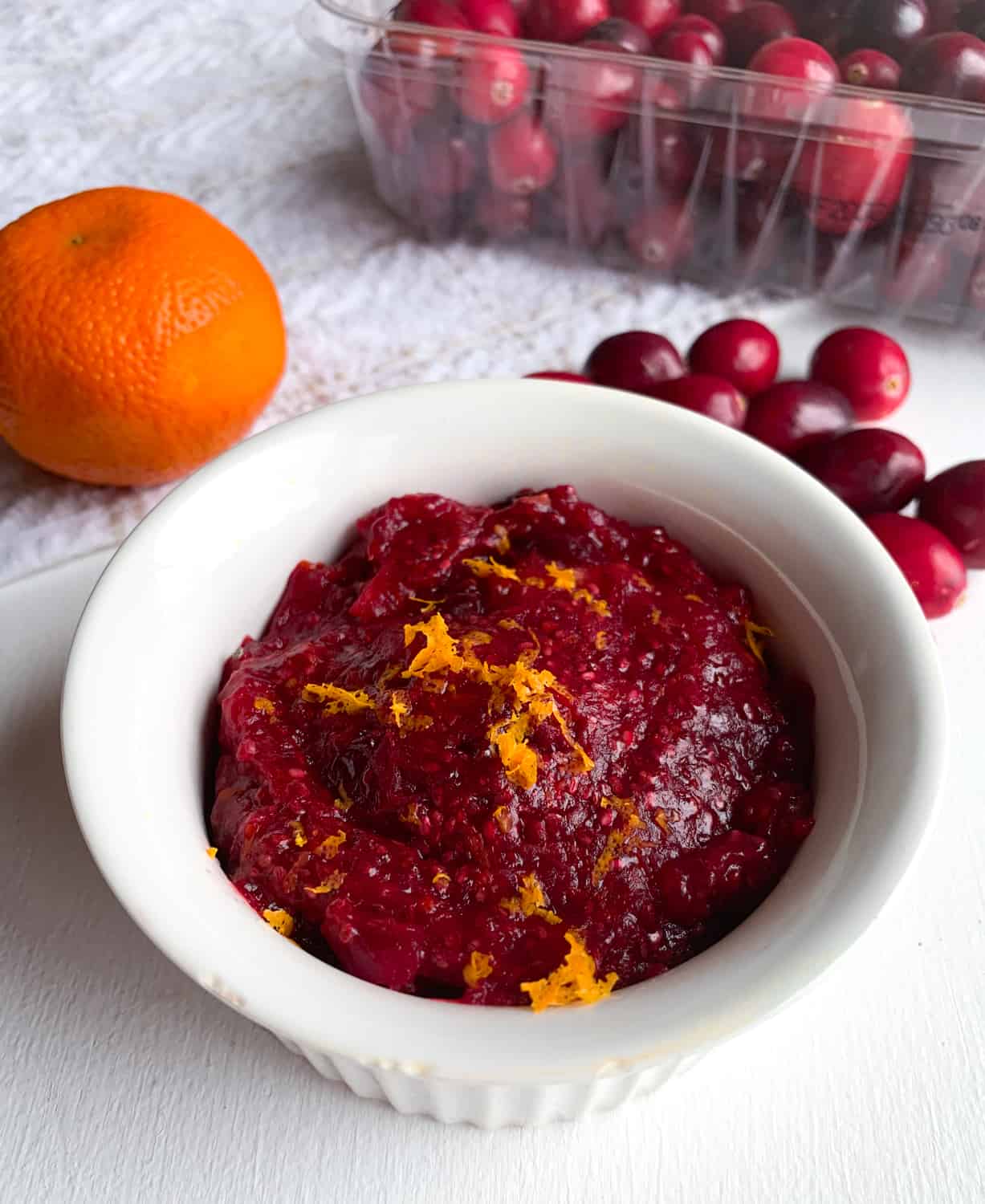 Cranberry Orange Chia Jam
This 4 ingredient easy and healthy cranberry orange chia jam works as a delicious topping or side. It is gluten free, vegan, refined sugar free and oil-free!
Ingredients
1

cup

fresh cranberries

1

orange

juice and zest

2-3

tsp

honey

1

tbsp

chia seeds
Instructions
Add cranberries, juice of orange and zest of orange into a small saucepan over medium heat.

Continually stir to make sure the cranberries are not sticking to the bottom. Once the cranberries begin to soften, begin to mash them with either a spatula, spoon or potato masher

Once the cranberries are mashed, reduce heat to low and add in the chia seeds and honey. Stir and sit on low for 3-4 minutes

Once the mixture becomes a thicker, jam like consistency, remove from heat and either use right away or store in a container in the fridge!
Did you make this recipe?
Leave a rate and review below. And be sure to tag @naturallybeingnat on Instagram!
Share by Email