This vegan three bean chili recipe is a staple in my place once the temperatures hit below 70 degrees. Need a recipe to feed an army, doesn't break the bank and uses classic pantry staples? This is the recipe for you!
This post may contain affiliate links.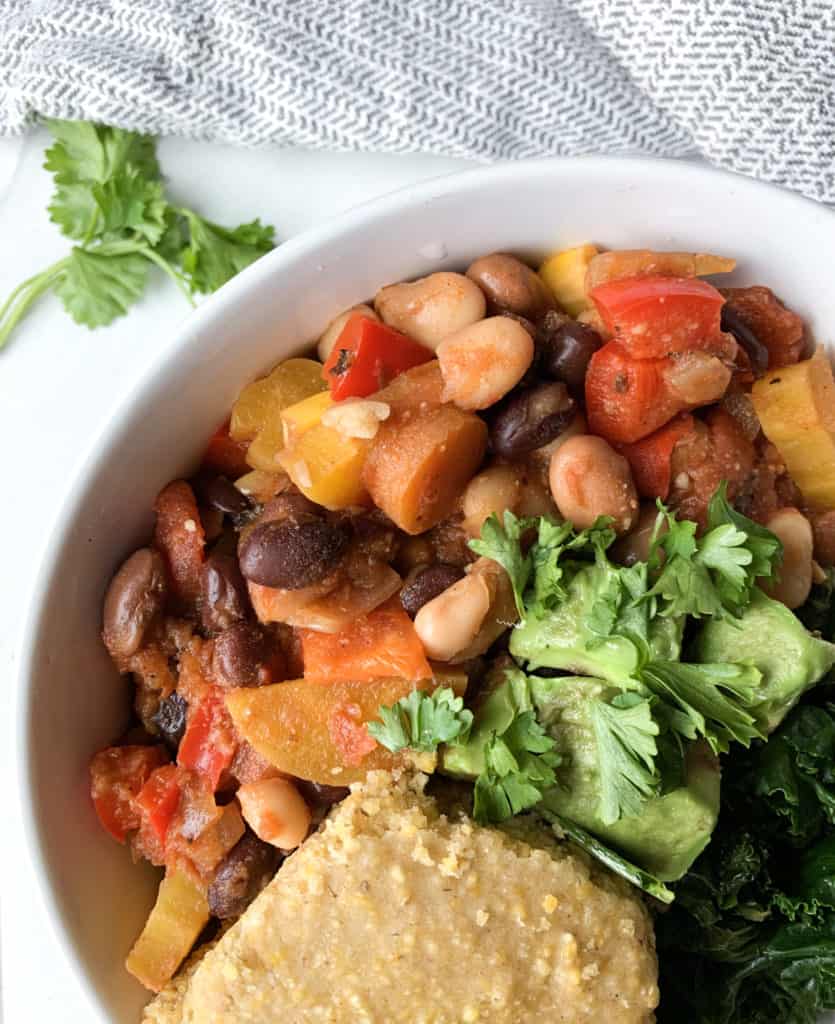 After rummaging through our pantry and freezer to take inventory on what we already had, I discovered that we had the perfect ingredients for a homemade vegan three bean chili. Canned foods are often overlooked when it comes to grocery shopping. However, they are important items to keep handy in a pinch or for a good shelf stable item, as they have a long expiration date. They last longer periods of time and can pack good sources of healthy nutrients. Additionally, we're using fresh vegetables that typically have longer shelf life, as well as frozen corn.
Benefits of Beans
While each bean provides a different profile, here are a few basic benefits of all:
Source of protein and carbs
Rich in polyphenols, which are a type of antioxidant
Great source of fiber
It's been busy around here and this dish can be easily stored in the fridge for leftover lunches or frozen for future use, which is key to being prepared for the week ahead. It's packed with veggies, proteins, fats, carbs, and lots of spice!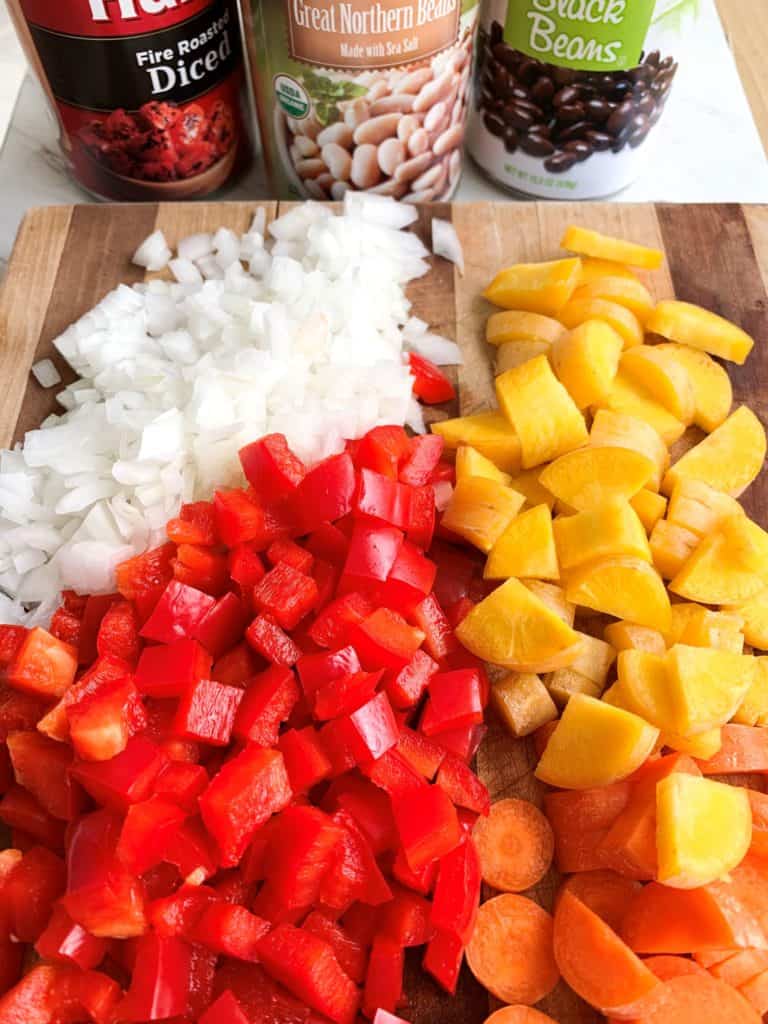 What to pair with the chili? Here a couple of my favorites:
Brown rice, white rice or a brown rice pasta
Chickpea pasta for an extra boost of protein
Homemade vegan cornbread
Corn or grain-free chips as a vehicle to dip or to crush on top
Leafy greens like sauteed kale and spinach
Cold ingredients to balance out the spice (think avocado, cilantro, sour cream or cheese)
Check these other recipes out too:
Don't forget to pin this recipe to save for later:
Shop my favorites: HERE!
Ready to make this delicious vegan three bean chili?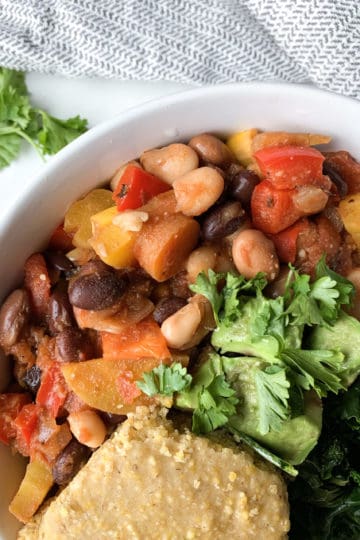 Vegan Three Bean Chili
This delicious and healthy vegan three bean chili uses all shelf stable items for an easy and cost efficient meal
Ingredients
1

yellow onion

chopped

1

red bell pepper

chopped

2

large carrots

chopped

2

tbsp

olive oil

1

15-16 oz. can of black beans

1

15-16 oz. can of kidney beans

1

15-16 oz. can of pinto beans

1

15-16 oz. can of diced fire roasted tomatoes

1 1/2

cup

frozen corn

1

cup

salsa

1

cup

of vegetable broth

sub water or mix

3

tbsp

chili seasoning blend

1/2

tbsp

smoked paprika

2

tsp

garlic powder

salt and pepper to taste
Instructions
Stovetop Version
Start by chopping yellow onion, red bell pepper, and carrots

Add the olive oil and vegetables to a pot to saute over medium/high heat for 3-4 minutes

Rinse and drain the beans

Then add beans, fire roasted tomatoes, corn, salsa, broth and seasonings into the pot. Set to high heat and mix well

Once it is at a boil, reduce down to a simmer and cover for 35 minutes, stirring occasionally

Serve with your choice of bases and toppings!
Crockpot Version
Add all ingredients into the crockpot

Stir and cook for 8 hours on low

Serve with your choice of bases and toppings!
Did you make this recipe?
Leave a rate and review below. And be sure to tag @naturallybeingnat on Instagram!
Share by Email