This spinach mushroom and bacon frittata is an easy, healthy and absolutely delicious savory breakfast recipe. It serves as a fresh brunch straight out of the oven, easy on the go dish or meal prep for the week. This recipe only includes a few common ingredients, and is gluten free, dairy free and Whole 30 compliant.
This post may contain affiliate links.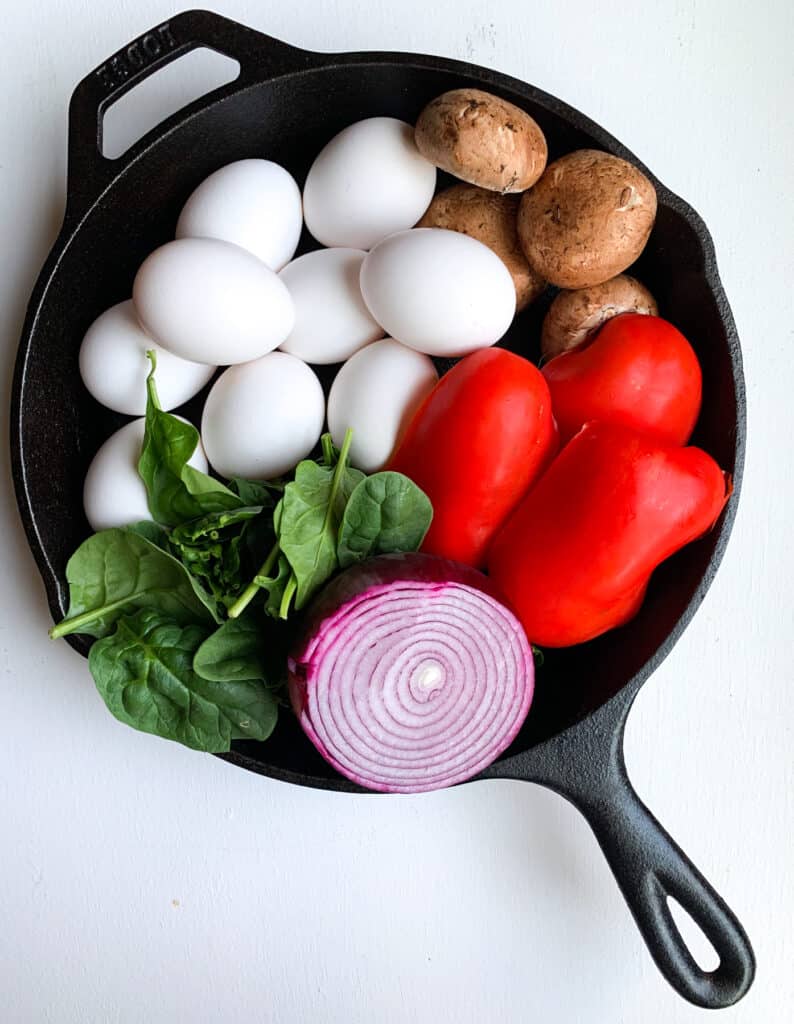 In the past, frittatas always intimidated me. I do not know why but for the longest time I stuck with my classic soft scrambled eggs, omelettes and egg cups. Although, now that I think about it, the egg cups were essentially the same as the frittata… just as cups. But, I do have to say, there is something about cooking in a cast iron skillet that gives this spinach mushroom and bacon frittata that extra texture boost around the edges. The crispy edges give the frittata a nice base and wall of support for the fabulous mixture of eggs, vegetables, bacon and spices.
I use a Lodge Cast Iron Skillet and have a few different sizes in this brand as well. The quality of this brand itself is unparalleled and most definitely worth the money! Find it: here
What's the difference between a quiche and a frittata?
This is such a common question! While they look extremely similar and have very similar ingredients, there is one distinct difference: the crust! A quiche has a crust, typically a pie crust of some sort but recently many cooks have begun to make the crusts out of sweet potatoes too. Frittatas on the other hand are crustless, allowing the egg mixture to get that crispy outside texture. This is why I believe that a cast iron skillet is an essential component to this recipe. While is it not necessary, the cast iron skillet gives that super delicious and crispy outside to the frittata. Additionally, quiches typically have a creamier consistency while frittatas have a more classic omelette consistency. This is due to the amount of milk/cream added to the egg mixture.
How to reheat the frittata:
Another great question here, as this is a perfect breakfast to prep for the week or take as leftovers! For the microwave option, simply reheat for 1 and a half minutes in three 30 second increments. Make sure you are using an oven safe dish such as these Glass Meal Prep Containers. This recipe keeps in the fridge for 4-5 days and in the freezer for up to 6 months in a well-sealed container.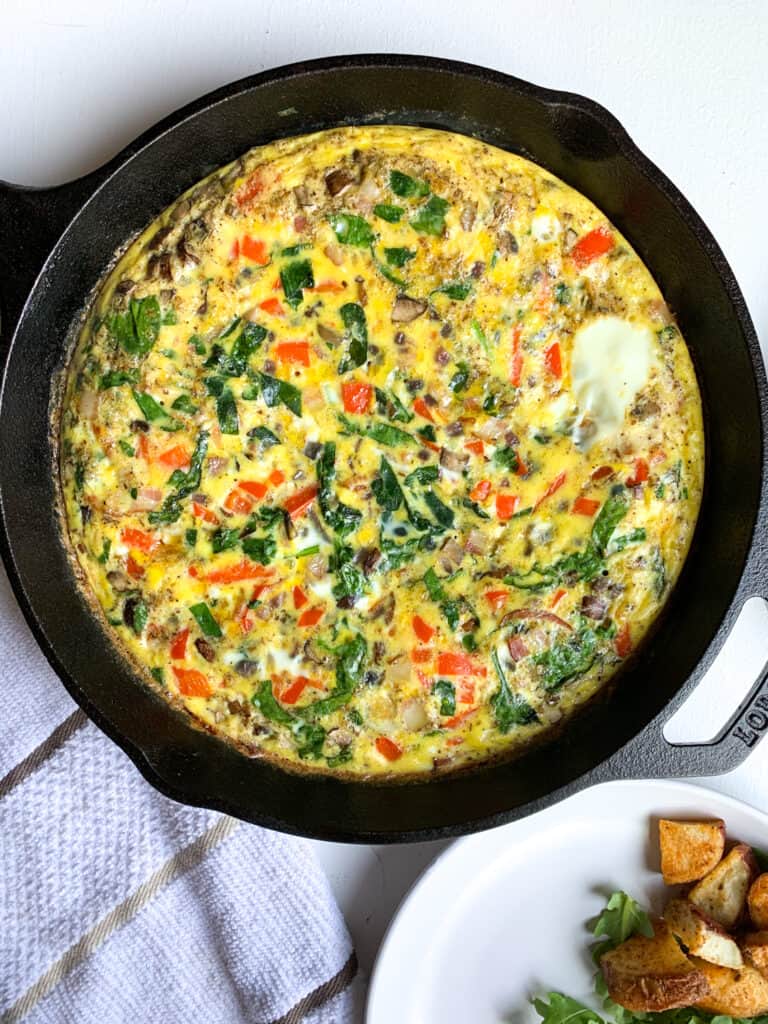 SO… what will you need to make this spinach mushroom and bacon frittata?
Eggs
Red Onion
Applewood Smoked Bacon
Spinach
Mushrooms
Red Pepper
Spices!
Can I make any substitutions or add more ingredients?
Meat: you can leave out the bacon completely for a vegetarian or pescatarian version of this recipe. You can also substitute any meat of choice, as long as it is chopped up like the bacon would have been.
Vegetables: feel free to substitute with any vegetables that you may have on hand as long as you keep the amount of vegetables the same. This recipe calls for 1 1/4 cups of firm vegetables and 1 cup of leafy greens. So for example, you could substitute white or yellow onion for red onion. For the spinach, you can opt out completely or substitute kale or arugula. Another way to look at this is to make it more seasonally inspired, depending on when you are making this recipe. Currently spinach, mushrooms and bell peppers are the in season vegetables I chose, but shaved brussel sprouts, tomatoes, or broccoli would be fabulous as well.
Add cheese! A delicious salty component. I think that feta, cheddar or mozzarella would work great in this recipe. I would stick to 1/2-3/4 cup.
Need another breakfast to prep? Check these out!
Don't forget to pin this recipe to save for later:
Shop this post:
Shop my favorites: HERE!
Ready to make this delicious frittata?!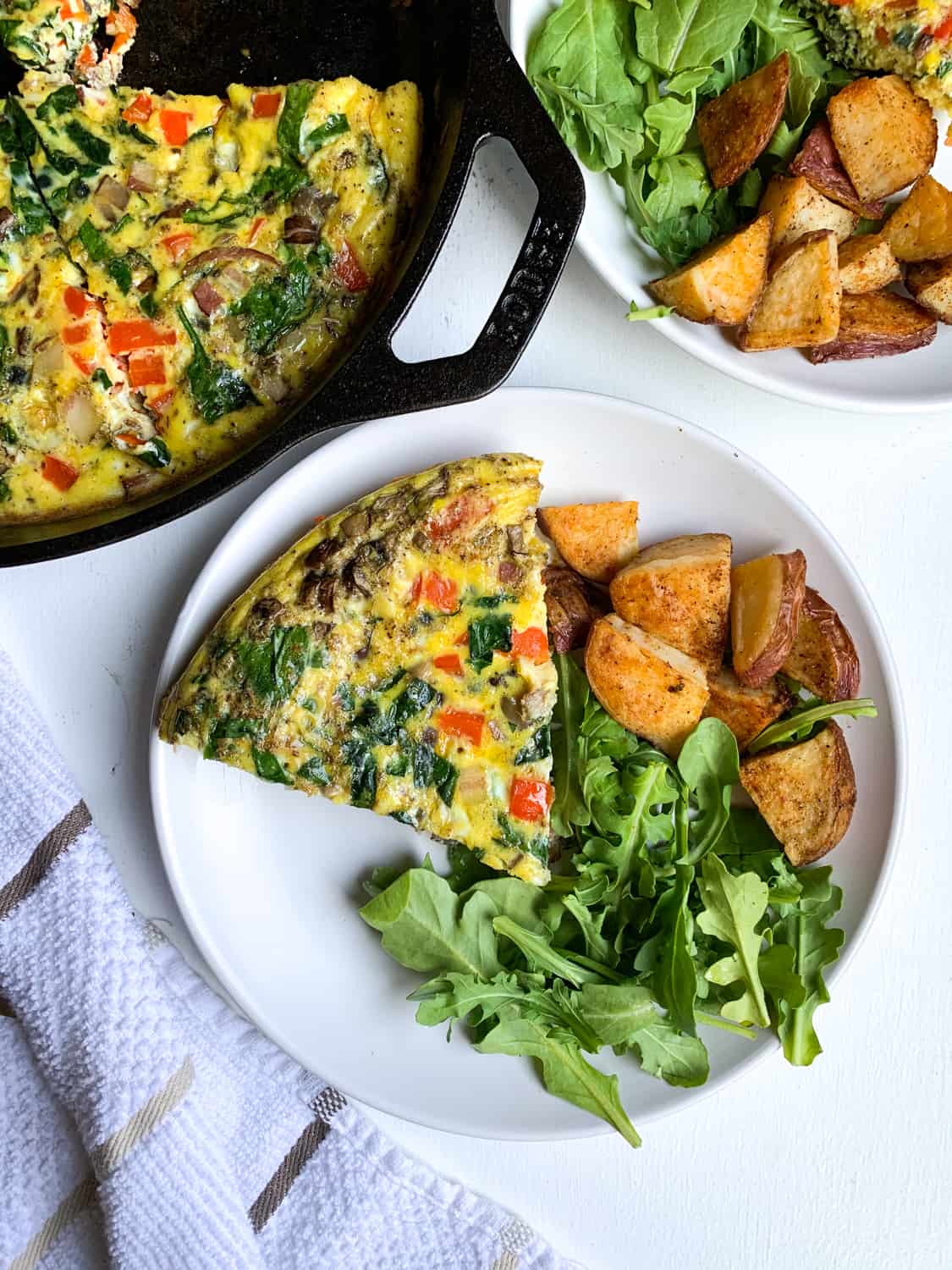 Spinach Mushroom and Bacon Frittata
This delicious and healthy spinach mushroom and bacon frittata is the perfect dish for sunday brunch or meal prep for the week! It is gluten free, dairy free, Whole 30 compliant and keto friendly.
Ingredients
10

eggs

1

tbsp

cooking oil

1/4

cup

red onion

chopped

1/2

cup

mushrooms

chopped

1/2

cup

red bell pepper

chopped

1/2

cup

bacon

chopped

1

cup

spinach

chopped

1

tsp

dried oregano

salt and pepper
Instructions
Preheat oven to 400 degrees Fahrenheit

In the cast iron skillet, add in cooking oil and red onion. Cook on medium/high heat for 1-2 minutes

Add in chopped red bell pepper, bacon and mushrooms. Cook for 5-6 minutes

Whisk eggs and spices in a mixing bowl and pour into the cast iron skillet. Continue to cook on medium/high heat for 1-2 minutes. Then add the skillet into the oven

Bake at 400 degrees Fahrenheit for 15-16 minutes or until the outside edges are a light brown

Serve with a side salad, potatoes and/or fruit!
Notes
You can replace eggs with egg whites (1 egg = 2 egg whites)
Make this vegetarian with leaving out the bacon. You can also use any kind of bacon
Nutrition
Serving:
1
Slice
|
Calories:
165
kcal
|
Carbohydrates:
6.1
g
|
Protein:
11.5
g
|
Fat:
11.9
g
|
Saturated Fat:
3.1
g
|
Cholesterol:
309.2
mg
|
Potassium:
198.4
mg
Did you make this recipe?
Leave a rate and review below. And be sure to tag @naturallybeingnat on Instagram!
Share by Email