This Asian BBQ salmon dish is easy, quick and certainly not lacking the flavor profile. It combines a sense of spicy, tangy and sweet all in one. PLUS, a secret ingredient you might have in the pantry. Can you guess what it could be?
This post may contain affiliate links.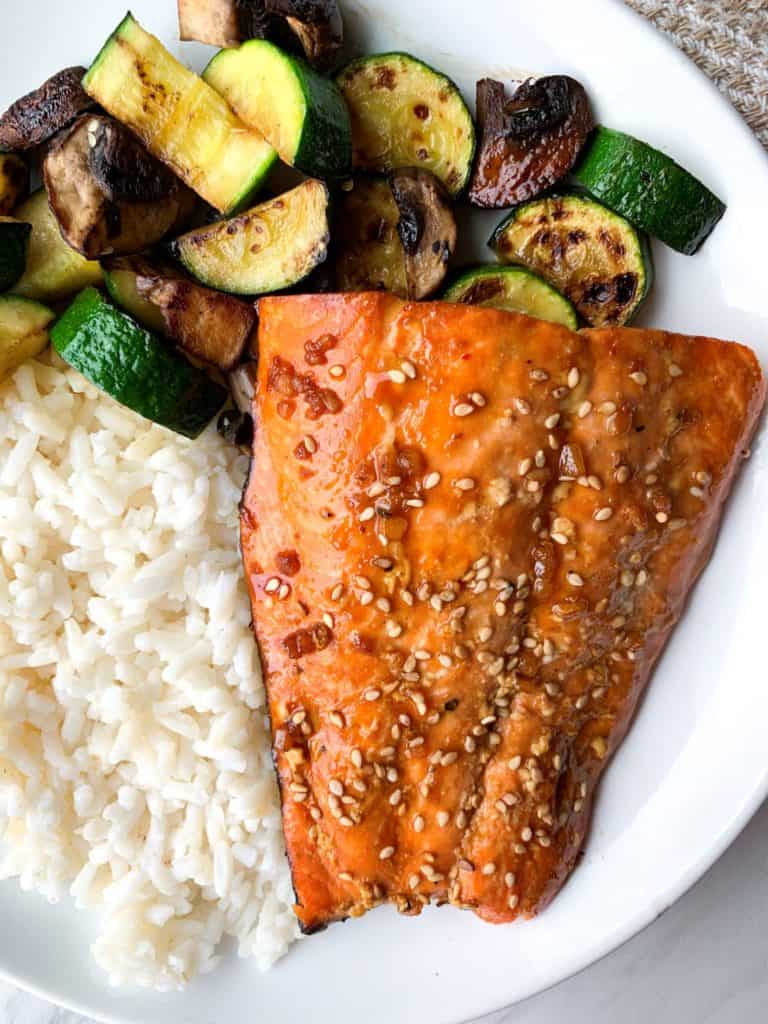 With the stay at home order going on because of COVID-19, I decided to get even more creative with the ingredients I had on hand. Better yet, how I could transform the ingredient. To make this a challenge, I set up a two week schedule of using a different, random pantry ingredient for each day.
First up on the list? Molasses!
Who bought a jar of molasses during the holiday season and still has it leftover? Guilty as charged over here! Typically, molasses is used for holiday baking dishes such as gingerbread or pumpkin baked goods. It is a combination of dark brown sugar and white sugar, and packs a lot of punch in a little amount. The key to incorporating it in this dish is to remember a little goes a LONG way – trust me!
I love a good crispy yet juicy salmon dish. Typically, I make my salmon the same exact way each time, with the exception of a good summer cedar wood grill. Usually, I tend to lean towards Asian flavors when it comes to salmon. This new Asian BBQ salmon creation surely did not disappoint my taste buds, or any of my family members either (with a request to make the marinade to have on hand in the fridge!)
SO… other than molasses, what else do you need?
coconut aminos, soy sauce or tamari
grated or ground ginger
minced or ground garlic
sriracha (can opt out but adds a subtle kick!)
rice vinegar (or apple cider vinegar, both work)
base of choice (white or brown rice are my go to)
veggies of choice
Check out these other weeknight meals:
Don't forget to pin this recipe to save for later:
Shop my favorites: HERE!
That's it! Ready to make Asian BBQ Salmon?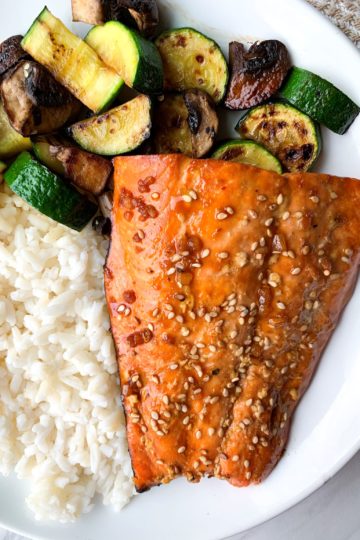 Asian BBQ Salmon
An easy, healthy, gluten free and dairy salmon recipe
Ingredients
1/2

cup

coconut aminos

sub soy sauce or tamari

2

tbsp

molasses

1

tbsp

minced garlic

1

tsp

grated ginger

1

tsp

sriracha

1

tbsp

rice vinegar

sub apple cider vinegar

1/2

tsp

onion powder

2

tbsp

avocado oil

4

pieces

of salmon

4 oz each

base and vegetables of choice

optional: sesame seeds to top
Instructions
Make the marinade: whisk together coconut aminos, molasses, ginger, garlic, sriracha, vinegar and onion together.

Coat four pieces of salmon in the Asian BBQ marinade in a low dish or bag. Reserve 3 tbsp of the marinade to pour over salmon at the end as well. Place in a fridge to marinade for 30 minutes or up to 2 hours

Heat olive oil in a oven safe skillet over medium-high heat

Once the oil starts to sizzle, place salmon in the skillet skin side up for 3-4 minutes. If your skillet is smaller, you may have to do in two batches.

Using a pair of tongs, flip the salmon filets over and cook for an additional 3-4 minutes, or until cooked through the middle

Optional, broil for 4-5 minutes to get a crispy top and then top with sesame seeds

Pair with white rice (according to your rice's package instructions) and vegetables. Drizzle over marinade to mix with the rice and vegetables
Did you make this recipe?
Leave a rate and review below. And be sure to tag @naturallybeingnat on Instagram!
Share by Email