Easy sticky ginger garlic tofu for a delicious vegan, plant based dinner! This recipe uses simple ingredients to be cooked in under 20 minutes. Plus, the best way to cooking method for tofu to get the perfect crisp on the outside but still soft in the middle. This recipe will have you questioning whether or not to ever get takeout again!
This post may contain affiliate links.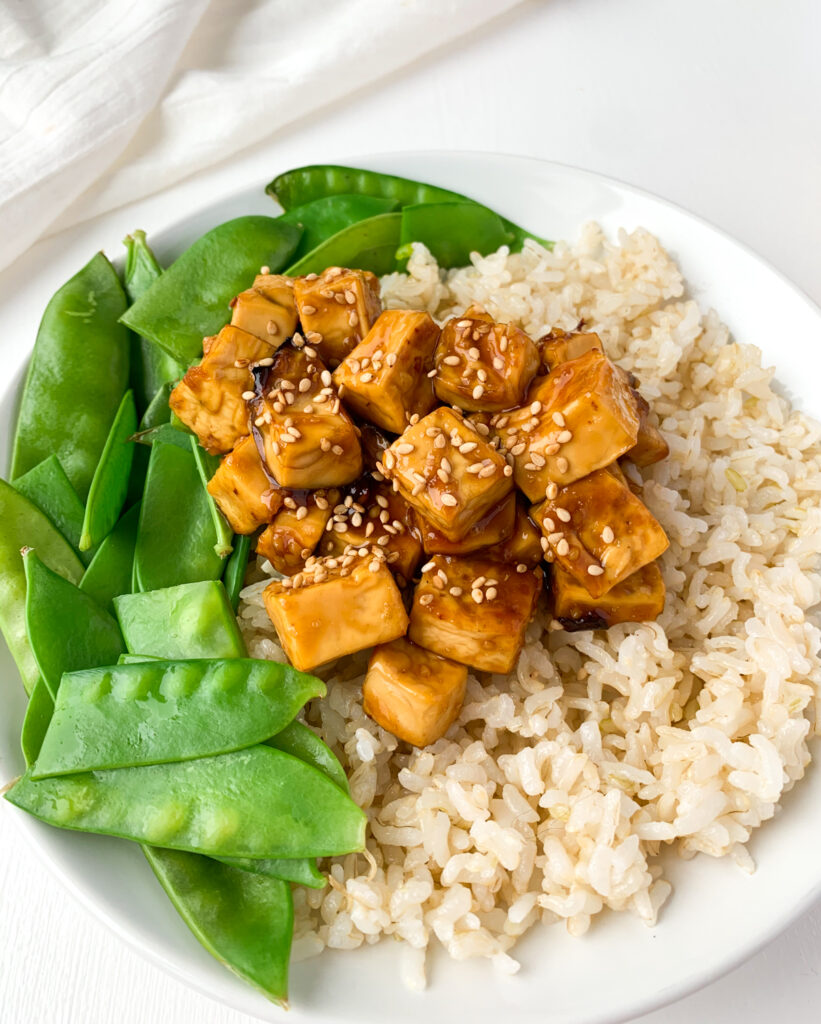 I used to be a huge tofu skeptic. I mean the texture of tofu every time I ordered it at a restaurant was just BLAH. Even the first time I ever cooked with tofu I was turned away. After many, many, many cooking failures and successes, I would like to say I have mastered the tofu. I have come to the philosophy that tofu is just like chicken. If you do not cook it right or season it correctly, you will most likely not enjoy it. Can you cook tofu the same way you cook chicken? Absolutely not but the concept is the same!
Now, I have talked about the importance of the cooking method, but we need to talk about this sauce!! For the sticky ginger garlic tofu, I made a super simple and easy sauce that is gluten free, dairy free and refined sugar free. We are using just a little bit of maple syrup to sweeten this recipe but you can alter it to your liking. Preferably, I would maintain at least 1/4 teaspoon of maple syrup so that we can offset the rice vinegar and add that "sticky" element. But trust me, you will want to include it!
SO… what will I need to make Sticky Ginger Garlic Tofu?
Extra Firm Tofu
Coconut Aminos
Sesame Seed Oil
Rice Vinegar
Sesame Seeds
Ginger
Garlic
Maple Syrup
Arrowroot Starch
Sides of Choice!
What do I pair tofu with?
Since this is an Asian inspired dish, I will stick to options that I think work best with this flavor combination. However, feel free to choose your own complex carbohydrate and vegetables! If you pick something that is not on this list and love it, be sure to comment it below!
Here are combination ideas:
Brown rice and sauteed snap peas (pictured)
Brown rice and steamed broccoli
Jasmine rice and sauteed mushrooms, spinach and carrots
White rice and sauteed bell peppers, baby corn and snap peas
Swap out your rice with cauliflower rice for a lower carbohydrate option
Swap out your rice with noodles! I love different sized rice noodles, egg noodles, glass noodles or palmini noodles
How to make the best air fryer tofu:
Air fryer tofu is now a standard practice for me. I could not tell you the last time I made tofu not in the air fryer. It is perfectly crisp on the outside and still soft on the outside. If you need an air fryer recommendation, this Cosori one is my favorite!
All you have to do is
Press your tofu first. This is key to getting excess moisture out. I have recently seen a trend of freezing your tofu for the best texture… but I cannot say I have experimented with this method yet! So for now, press for 15 minutes.
Slice into 1/2 to 1 inch cubes
Spray the tofu with a neutral cooking oil
Air fry at 380 degrees Fahrenheit for 15 minutes, shaking half way to make sure they are not sticking.
If you doing this separate from this recipe, you can marinate or season your tofu prior to air frying and then eat it right away! You can spray the air fryer itself as well but I would not recommend just spraying the air fryer, as you want to make sure the each individual piece of tofu is not going to stick!
Can I cooked tofu?
I love to make a tofu to freeze. It is perfect to defrost for a later date and can be stored in a freezer for up to 6 months for the best quality. Even better, this exact meal is perfect to meal prep and freeze. You can easily defrost the tofu, brown rice and snap peas for a delicious already prepared meal!
Can I make any substitutions or add more ingredients?
Tofu: If you are not a plant based protein fan, you can easily use cubed chicken, turkey, shrimp, salmon or beef
Coconut aminos: You can substitute soy sauce or tamari for another gluten free option
Sesame seed oil: I would HIGHLY recommend but if you do not have it, you can replace with olive oil or coconut oil
Fresh ginger: You can replace with 1 tsp ground ginger
Rice vinegar: Apple cider or white vinegar can be used instead
Maple syrup: You can add more or use less in this recipe but for that "sticky" texture, I recommend leaving at least 1/4 tsp. Honey or date syrup can be used as well.
Need more vegan recipes? Check these out!
Don't forget to pin this recipe to save for later:
Shop this post:
Shop my favorites: HERE!
Sticky Ginger Garlic Tofu
Vegan and gluten free sticky ginger garlic tofu using the air fryer method for the BEST texture!! This is better than takeout and only requires a few simple ingredients and cooks in less than 20 minutes.
Equipment
Air Fryer (see notes for Oven method)

Saute Pan
Ingredients
1

block

extra firm tofu

1

inch

ginger

grated

1

tsp

minced garlic

1

tbsp

sesame seed oil

1/2

cup

coconut aminos

sub soy sauce or tamari

2

tbsp

rice vinegar

2

tsp

maple syrup

1

tsp

arrowroot starch

sub 1/2 tsp cornstarch
To Plate
3

servings

cooked brown rice

3

servings

sauteed snap peas

sesame seeds to top
Instructions
Wrap a package of extra firm tofu in paper towels for 15 minutes and press so that the excess liquid can be released

Slice the extra firm tofu into 1/2 inch cubes and spray with a neutral cooking oil. Add the tofu into the air fryer in an even layer. Air fry at 380°F for 15 minutes. If you using the saute method, add the tofu to an oiled pan on medium heat and cook for 5 minutes, flip and cook for 5 more minutes until crispy. Then remove from pan and set aside.

In a bowl mix the grated ginger, minced garlic, sesame seed oil, 1/2 cup coconut aminos, rice vinegar, maple syrup and arrowroot starch or cornstarch. Whisk well until completely combined.

Add the sauce to a saucepan on low heat and allow to thicken for a few minutes. Add the cooked tofu in and mix. Saute on low for 2-3 minutes. 

Add sesame seeds to top. Serve with sautéed snap peas and brown rice!
Did you make this recipe?
Leave a rate and review below. And be sure to tag @naturallybeingnat on Instagram!
Share by Email