The best and most insanely creamy vegan avocado pesto you'll ever find. This recipe is similar to the traditional favorite but made gluten free and dairy free. Pesto is a staple in my kitchen and making it from scratch only takes 5 minutes for a big batch!
This post may contain affiliate links.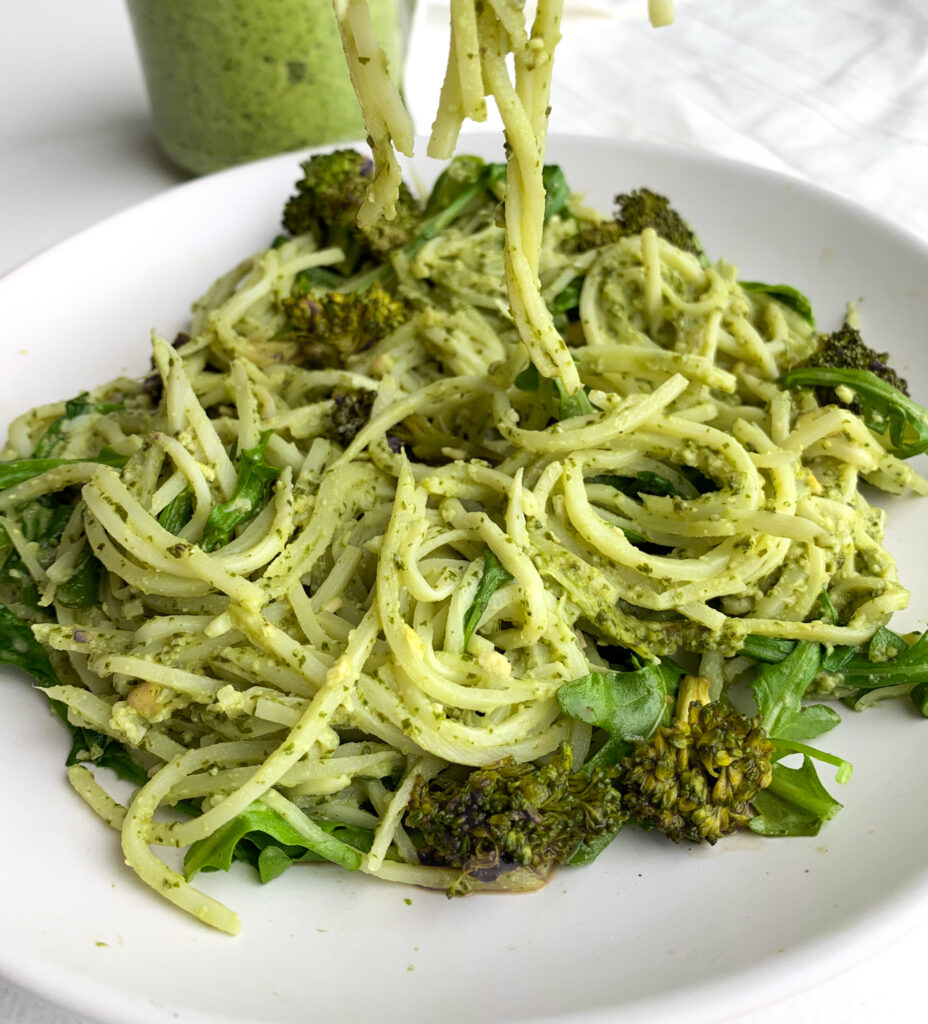 Growing up, my mother always had a day that she would make large batches of pesto and store them in the freezer for future use. When it comes to buying it pre-made in the store, it is not only expensive but also does not taste as great. And while I love the traditional pesto, this dairy free version is even creamier. I use avocado to cut back on the amount of oil in the recipe and to add to the healthy fats.
How to Make Vegan Pesto:
Making vegan pesto is so much easier than you would think. I use nutritional yeast in this recipe, which has a cheese-like taste. While they are not 1:1 in flavor, it does add to that salty flavor traditional pesto has from the parmesan cheese.
Follow these simple steps below:
Grab your food processor and all the ingredients. In the food processor blend the basil, avocado, spinach, pine nuts, olive oil, lemon, nutritional yeast, salt, pepper and water until smooth.
Serve immediately over a dish or store in a tightly sealed jar!
Ways to use pesto:
The most common way to enjoy pesto is over a big bowl of spaghetti or pasta of choice. But have you ever tried incorporating pesto the following way?
Use it as a spread over toast! My favorite is a crispy slice of toasted sourdough with a layer of pesto and eggs
Eggs! Speaking of eggs, have you ever added a spoonful of pesto to your egg scramble, fried egg or omelette? It is seriously the best and adds so much flavor to a rather mundane food.
Rice! Pesto rice is such an uncommon dish but it is delicious. Add some freshly sliced cherry tomatoes and you have a fabulous Italian side dish.
Chicken or Salmon! Using pesto as a "crust" for chicken or salmon is seriously unreal. All you have to do is add a layer on top before placing in the oven or the air fryer.
Quesadilla! You haven't lived if you haven't made an Italian inspired quesadilla. Add mozzarella cheese, pesto and cherry tomatoes between two tortillas and you have magic. Trust me!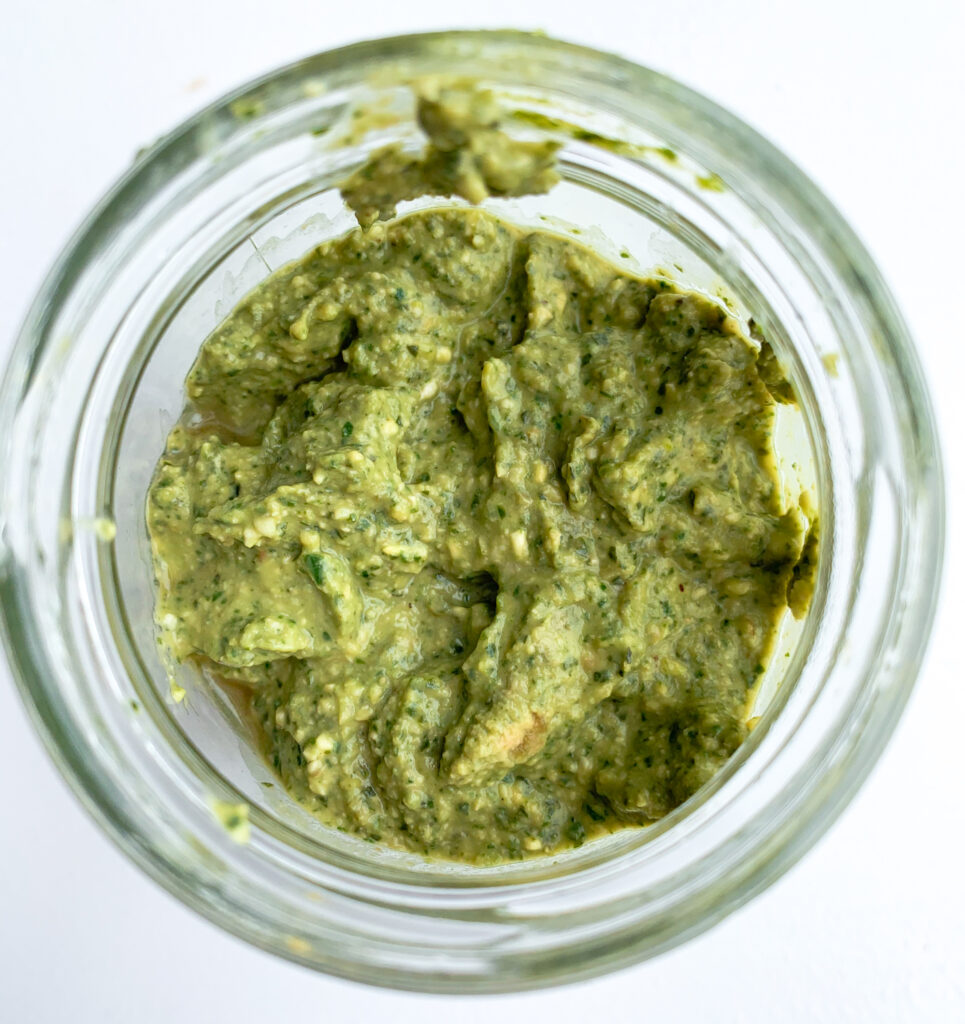 SO… what will you need to make creamy vegan avocado pesto?
Fresh Basil
Spinach
Avocado
Olive Oil
Lemon
Salt
Pepper
Water
Can I make any substitutions or add more ingredients?
Spinach/Basil: You can play around with the quantities of each and a little change won't make a huge difference but too little basil will have a much different taste. As long as you maintain the 1 1/4 cup total of greens you will have the right consistency
Avocado: I would not have a 1:1 replacement but you can replace the 1/4 avocado with 3 tbsp of olive oil. This may not turn out as creamy
Pine nuts: You can replace with walnuts, cashews, almonds or hemp seeds. I would not recommend anything else.
Lemon: You can leave this out but lemon helps to enhance the natural flavors and preserve the color. It also helps us absorb the nutrients in the spinach!
Need more Italian inspiration? Check these out!
Don't forget to pin this recipe to save for later:
Shop this post:
Shop my favorites: HERE!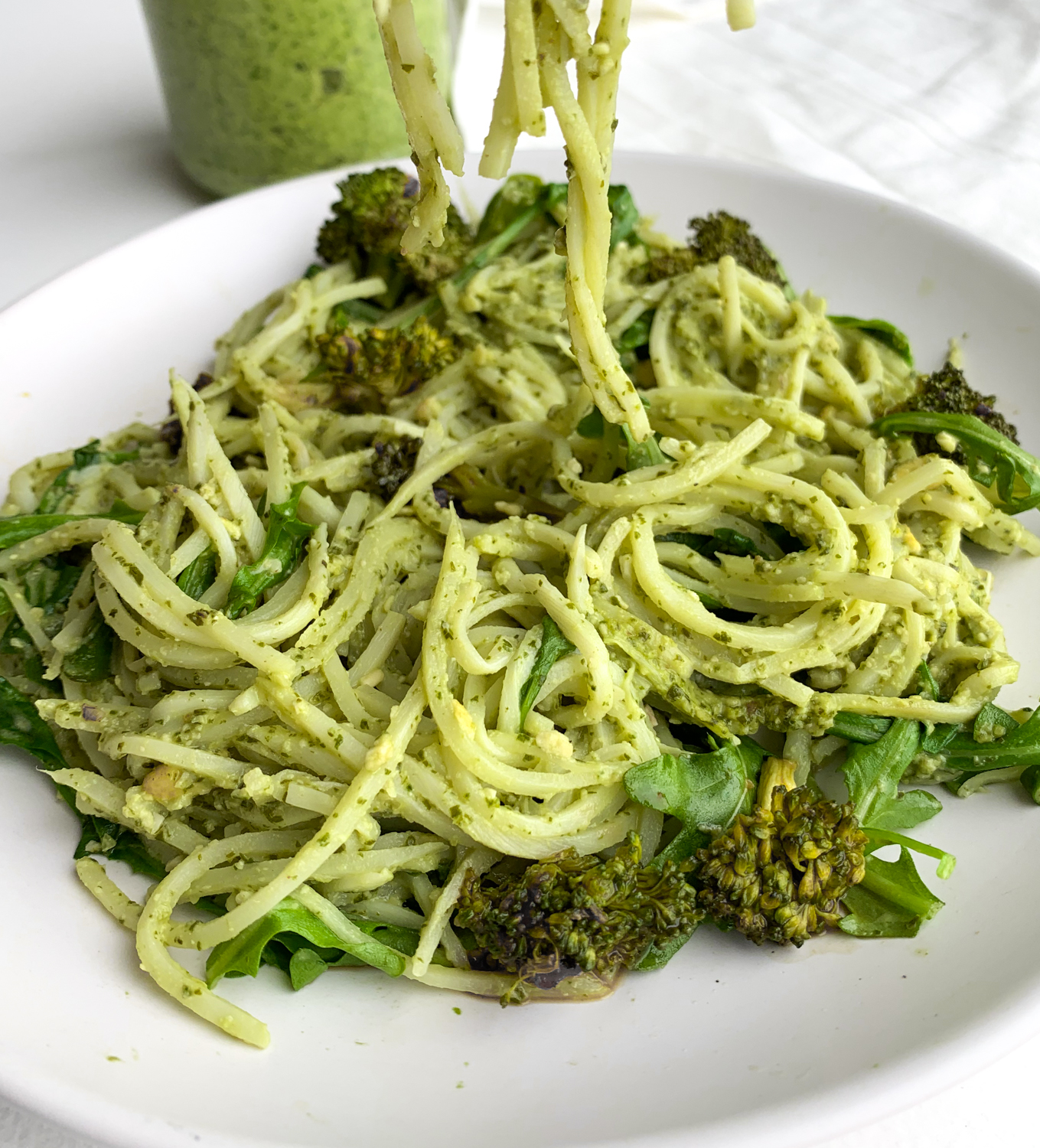 Creamy Vegan Avocado Pesto
This incredibly creamy vegan avocado pesto is super easy and delicious. You only need a handful of simple ingredients to make this dairy free Italian favorite spread.
Ingredients
1/4

avocado

1 1/2

tbsp

olive oil

1

cup

basil

1/4

cup

spinach

2

tbsp

nutritional yeast

1/2

cup

pine cuts

1

tbsp

minced garlic

juice of 1/2 lemon

salt and pepper

1/4

cup

water
Instructions
Add the avocado, basil, spinach, olive oil, pine nuts, lemon, salt, pepper and water into a food processor. Blend until smooth

Pour over pasta, use immediately or store in a tightly sealed jar in the fridge.
Notes
You can substitute the nutritional yeast with grated parmesan if you are making this not dairy free. 
You can store these in ice cubes in the freezer for individual servings for up to 6 months.
Substitute the spinach for more basil 
Did you make this recipe?
Leave a rate and review below. And be sure to tag @naturallybeingnat on Instagram!
Share by Email