These healthier homemade reese's peanut butter eggs are super easy and delicious! They are made with only 4 ingredients, making them vegan, gluten free and refined sugar free. They are the perfect Easter treat and may I say, better than the real Reese's eggs!
This post may contain affiliate links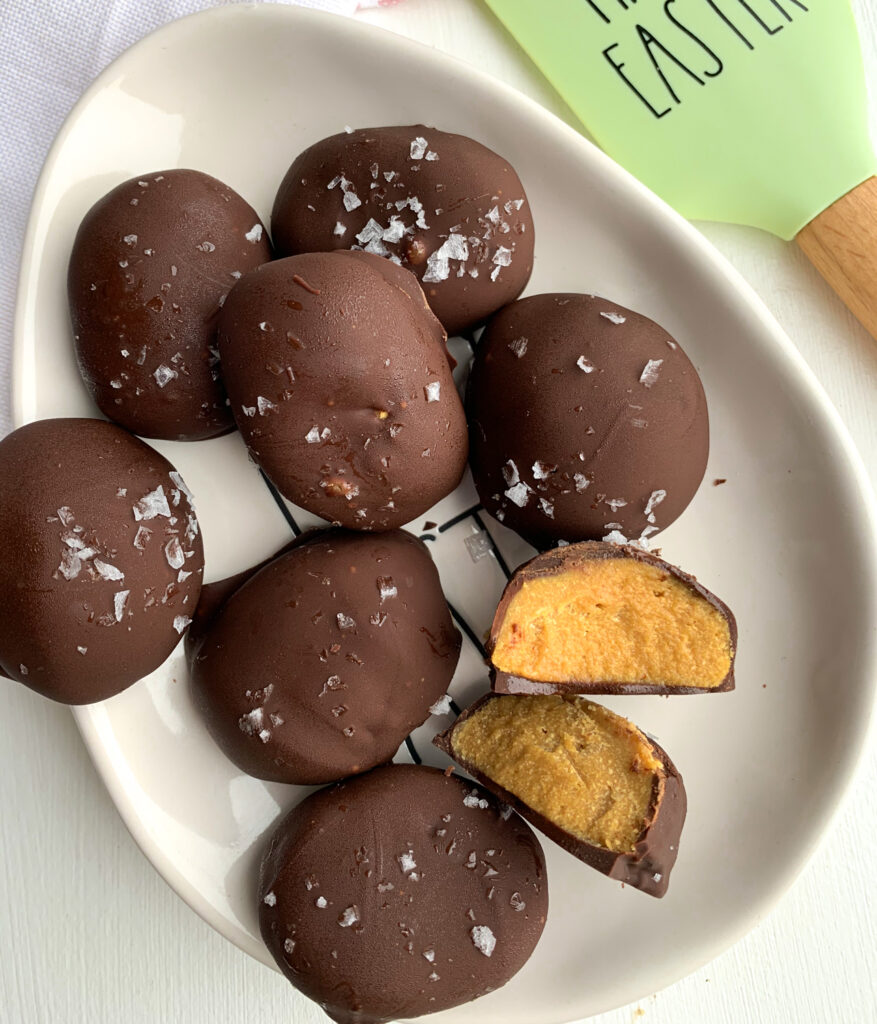 Who else loves the time of the year when Reese's eggs come out? I swear they are better than original Reese's peanut butter cups. Every year as a kid I would hope that there were 10 of these in my Easter basket. But like always, my sweet tooth has surely lessened over the years and I find something craving less rich desserts and candy. And even more so, I love to make my own recipes these days and I swear homemade everything just tastes better!
Another great thing about these homemade reese's peanut butter eggs is that they are vegan and gluten free. I know that most people today are focusing on either of those two diets but even if you do not, you will love this recipe. It only requires 3 ingredients for the filling and 1 ingredient for the chocolate coating. However, there is an optional flaky sea salt addition or sprinkles. While both are optional, they are both a fantastic option!
The Peanut Butter Filling:
The key to this peanut butter filling is an all natural peanut butter. While you can use something like a Jiff or Skippy, you will definitely need less coconut flour. Natural nut butters are typically not made with fillers that thicken, so they are naturally more runny. Additionally, when it comes to the natural peanut butters, make sure you REALLY stir the jar! It is natural for the nut and the oil to separate so just stir evenly throughout so that it comes even and creamy.
The coconut flour is a great alternative to thicken the peanut butter mixture naturally. Coconut flour is an extremely dense flour compared to other normal flours like all-purpose or oat flour. It is also super absorbent so it will thicken the longer it sits.
How do I make homemade reese's peanut butter eggs?
Peanut Butter
Coconut Flour
Maple Syrup
Chocolate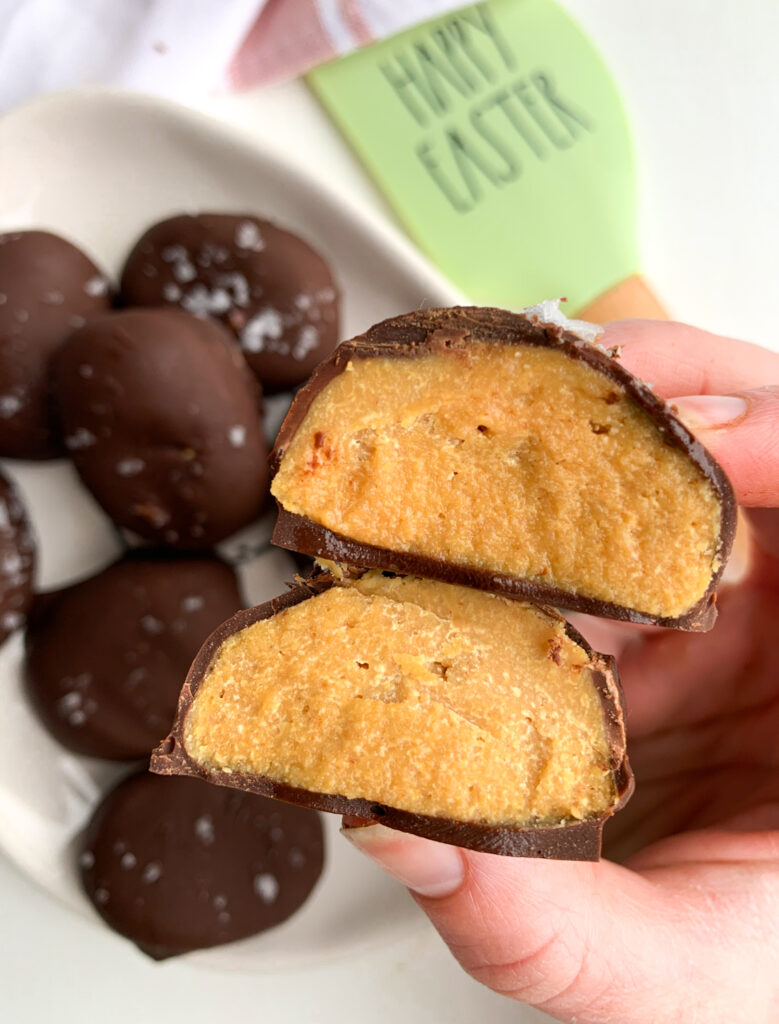 How long do reese's eggs last?
Store these in a sealed container for up to 6 months in the freezer or 1 month in the refrigerator. These are best the closer to the day they were made but given the ingredients they are made out of, they last a long time!
What is the best vegan chocolate?
Here are a few of my favorite vegan chocolates!
Can I make any substitutions or add more ingredients?
Peanut Butter: I love making these with cashew butter for a "cookie dough" flavor but you can use any nut or seed butter for this recipe.
Maple syrup: Any liquid sugar will work 1:1. You can replace with granular sugar but may need less coconut flavor.
Coconut Flour: Feel free to use an oat flour, protein powder or regular flour. However, you will need more because they are not as absorbent as coconut flour.
Chocolate: You can use dairy chocolate, milk chocolate or white chocolate. Any solidified chocolate will work.
Need more peanut butter chocolate recipes? Check these out!
Don't forget to pin this recipe to save for later:
Shop this post:
Shop my favorites: HERE!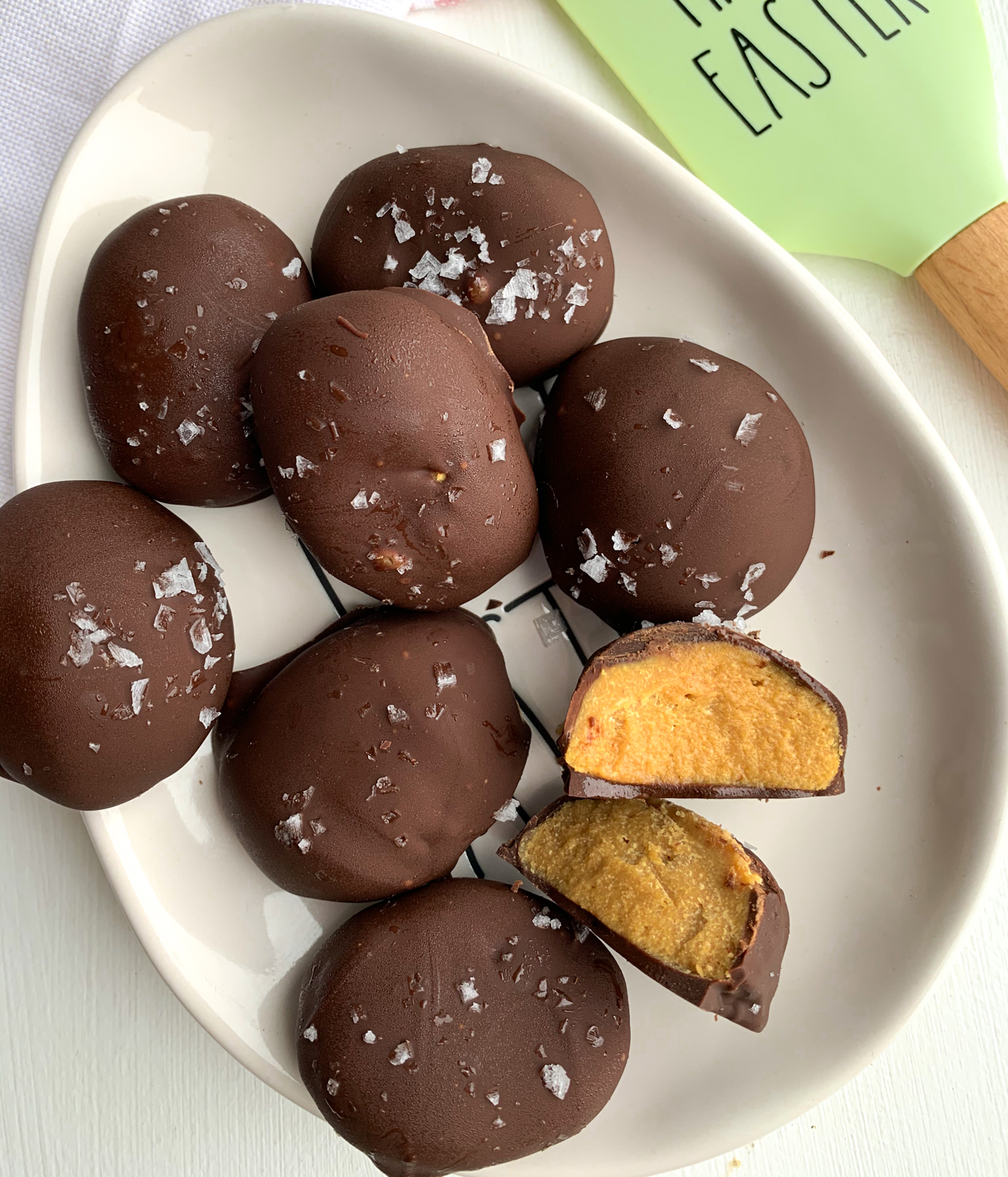 Homemade Reese's Peanut Butter Eggs
These healthier homemade reese's peanut butter eggs are gluten free, dairy free and refined sugar free! Made with only 4 ingredients for the best homemade candy!
Ingredients
3/4

cup

natural peanut butter

3

tbsp

coconut flour

2

tbsp

maple syrup

1

cup

dairy free chocolate

flaky sea salt or sprinkles

optional
Instructions
In a mixing bowl, add the natural peanut butter and maple syrup and combine until smooth

Add the coconut flour into the mixture 1 tablespoon at a time. You may need less or more depending on the runniness of the peanut butter you use.

Take 2 tbsp of peanut butter filling and roll into a ball. Then with your hands, flatten each peanut butter ball slightly and mold the sides into an egg shape. Don't worry about perfection here!

Place each egg on a lined tray or plate and freeze into the freezer for 15 minutes

Meanwhile, add your melting chocolate to a microwave safe bowl and melt in the microwave in 30 second increments, stirring each time. Be careful to not overcook the chocolate. 1.5 minutes should be enough.

With a fork, drop each peanut butter egg into the melted chocolate, flip and make sure the whole egg is covered. Lift the egg back up with the fork and let the excess chocolate drip off into the bowl and place back onto the lined tray. Optional add flaky sea salt or sprinkles to the top.

Repeat this for each egg and then freeze for at least 20 minutes. Store in the freezer or fridge.
Did you make this recipe?
Leave a rate and review below. And be sure to tag @naturallybeingnat on Instagram!
Share by Email