These peanut butter chocolate rice krispies without marshmallows are incredibly easy to make, require only 5 basic ingredients and are vegan, gluten free and low in sugar. They are the perfect afternoon snack or late night treat to make without having to turn on the oven. One of the best no bake recipes to date!
This post may contain affiliate links.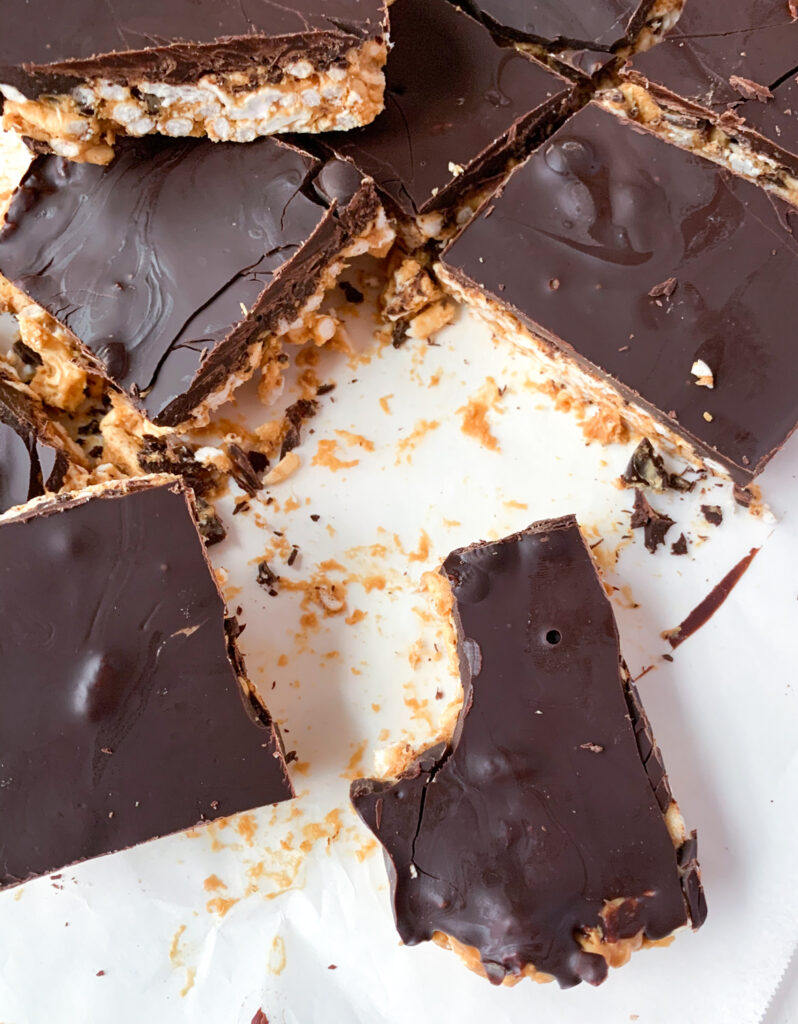 As a kid, one of my fondest memories is when my mother would make classic rice krispies treats for my babysitter as a "thank you" gift. I would always hope that she would sneak me one of those or that I could somehow get my hands on the classic pre-packaged blue wrapper kind. When it comes to developing recipes, I love to think back on my favorite foods growing up and how I could make the recipes healthier. These peanut butter chocolate rice krispies treats not only are healthier, but they take on a twist between buckeyes and rice krispies. I mean, who doesn't like peanut butter and chocolate added right?
Even better, these no bake treats require no marshmallow at all! So I know your next question is probably, how are they sticking together without the marshmallow? Well that is where the peanut butter comes in! The mix between the sticky nut butter and maple syrup warmed up creates an extra gooey and delicious experience without the sugar coma.
SO… what will you need to make these peanut butter chocolate rice krispies?
Brown rice krispies
Peanut butter
Protein powder (optional)
Maple syrup
Dark chocolate
Coconut oil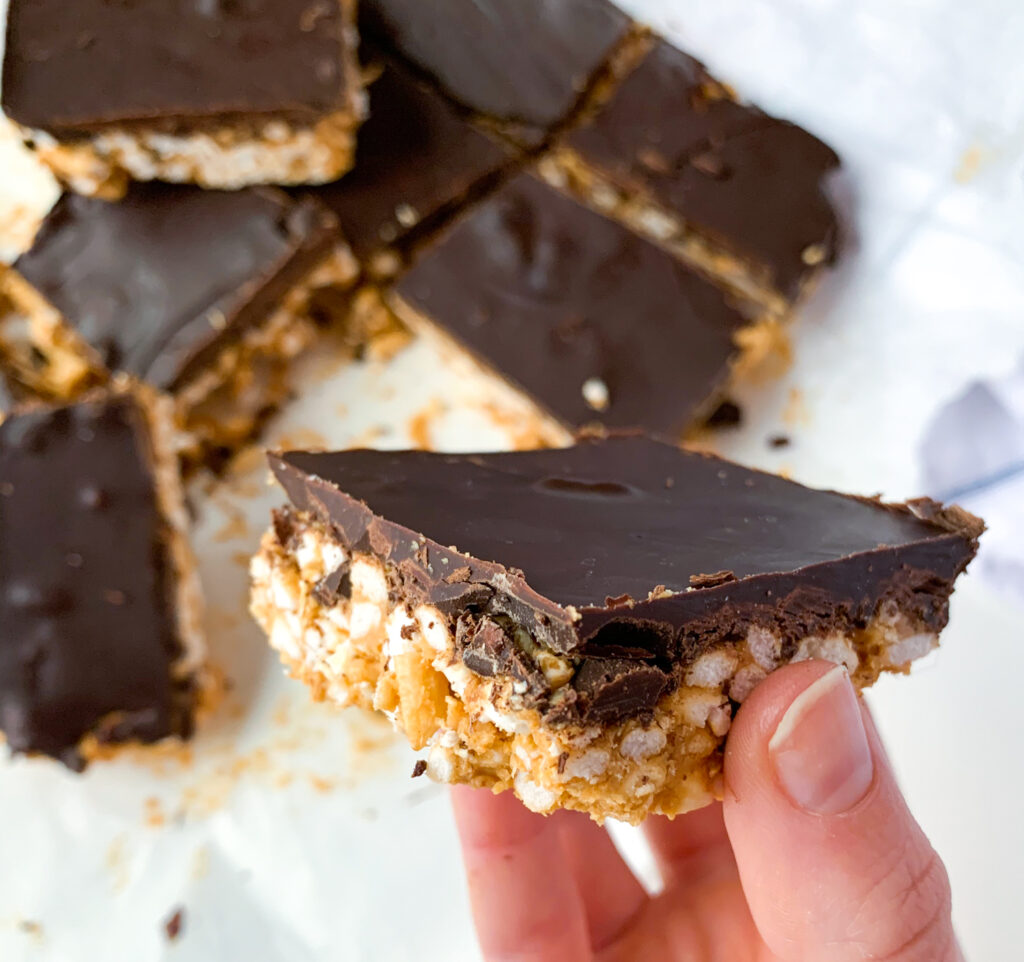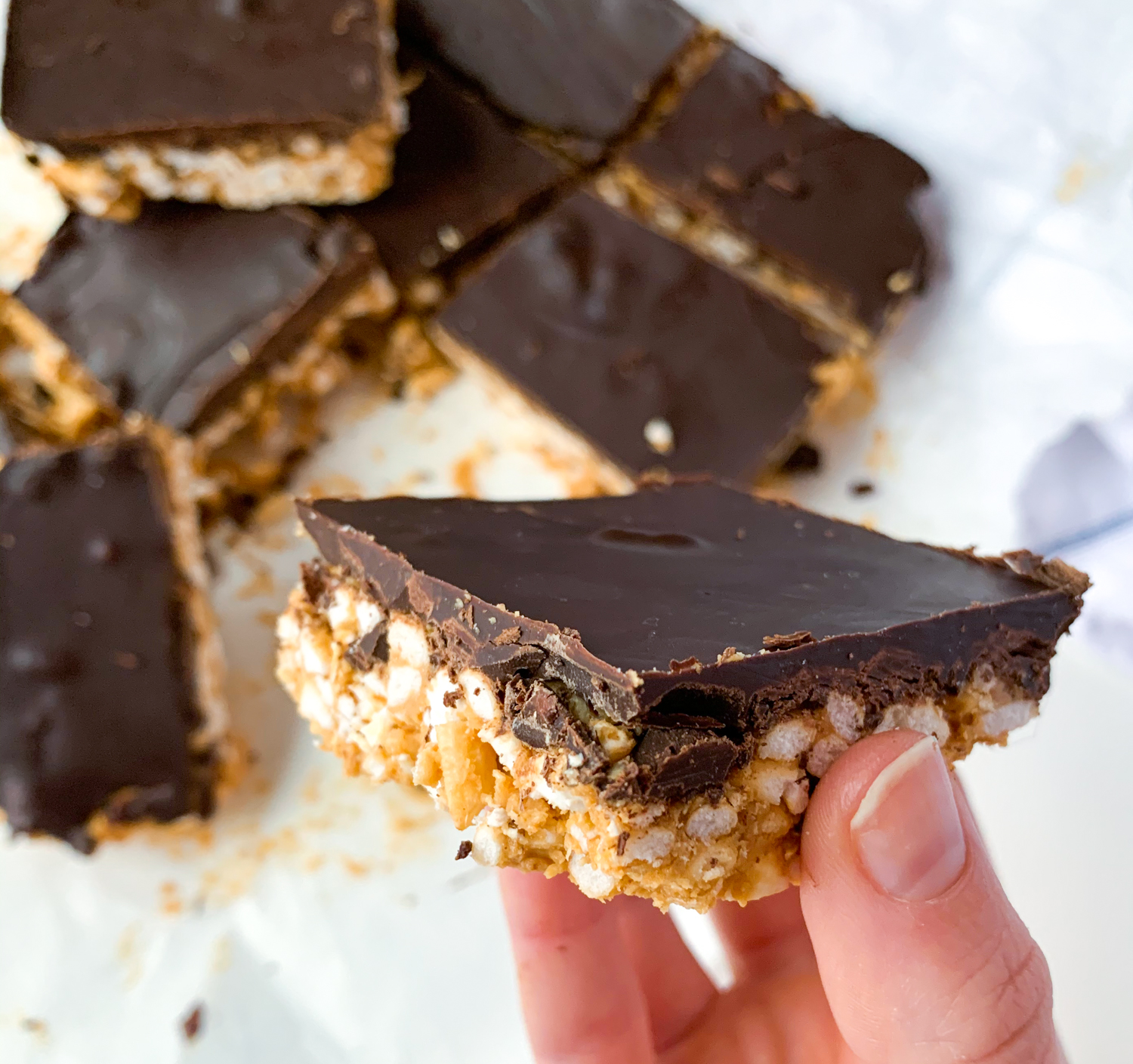 Directions on How to Make the Peanut Butter Rice Krispies:
Melt the peanut butter and the honey together.
Then fold in the brown rice krispies. (and protein powder if using)
Press the peanut butter rice krispies treat mixture into a lined 8×8 baking pan until even.
Melt the dark chocolate and coconut oil together.
Pour the dark chocolate over the top of the peanut butter rice krispies mixture
Place in the fridge or freezer to set for 15 minutes!
How long can I store these for?
You can keep these in a sealed container for up to a week in the refrigerator. You can also store these in the freezer in a freezer safe bag or container for up to 6 months. To heat them up, pop into the microwave for 30 seconds to 1 minute, or enjoy cold!
Can I make any substitutions or add more ingredients?
Brown rice krispies: you can use regular rice krispies but I used these brown rice krispies, which are lower in sugar and less processed.
Protein powder: This is optional but I like to add a little extra into my treats. I used Nuzest vanilla protein powder
Peanut butter: if you are allergic or sensitive to peanuts, I would recommend sunbutter or cashew butter
Dark chocolate: any kind of chocolate will work here!
Coconut oil: this is used to help melt the dark chocolate
Need more chocolate peanut butter recipes? Check these out!
Don't forget to pin this recipe to save for later:
Shop this post:
Shop my favorites: HERE!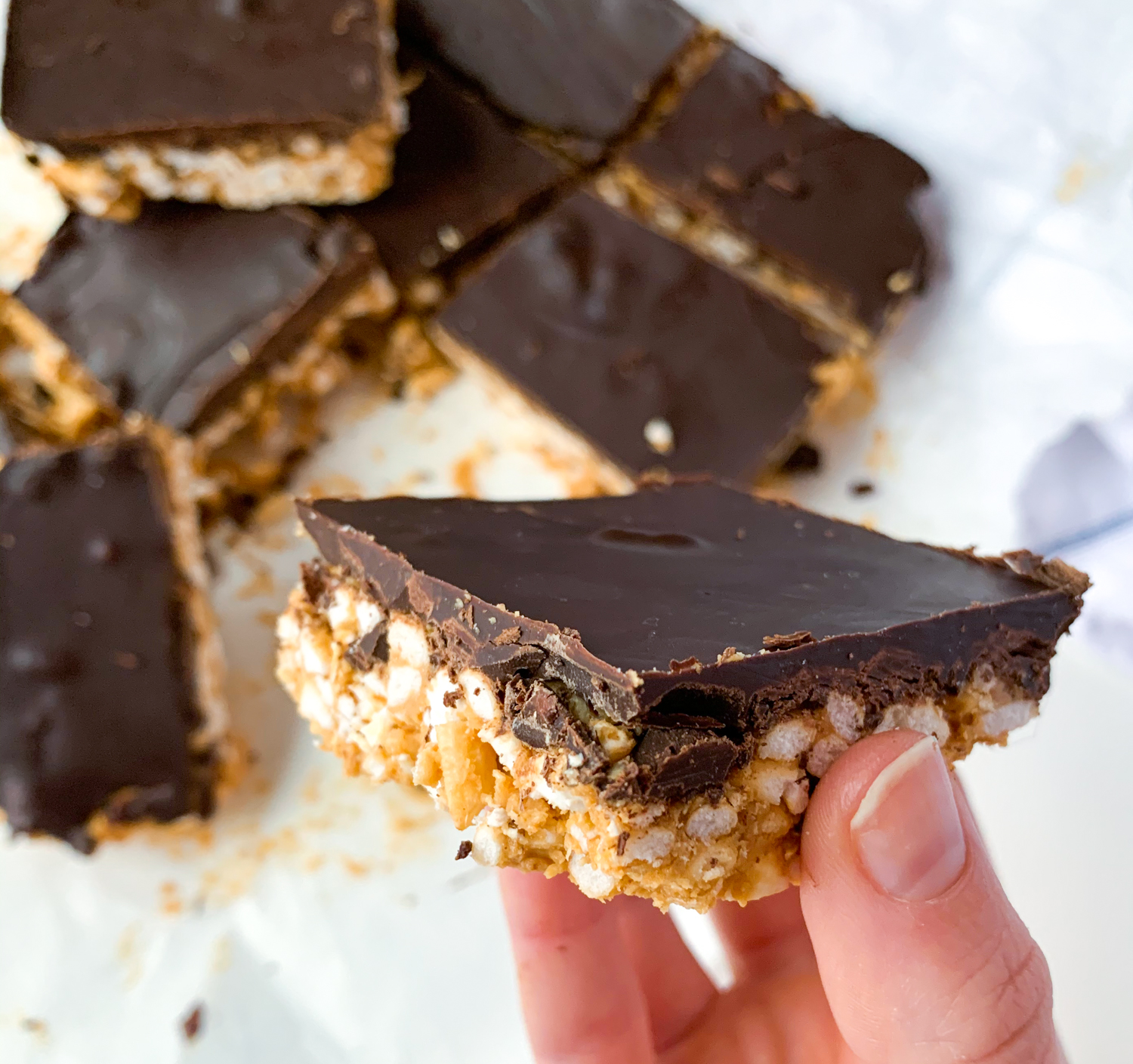 Peanut Butter Chocolate Rice Krispies
These delicious peanut butter chocolate rice krispies, or "buckeye bars" with a twist are super easy and require no marshmallows. They are vegan, gluten free, low in sugar and have an optional protein addition!
Ingredients
3

cups

brown rice krispies

sub regular

1/2

cup

peanut butter

1/4

cup

maple syrup

2

scoops

vanilla protein powder

optional

1.5

cup

dark chocolate

1

tsp

coconut oil
Instructions
Start by melting the peanut butter over low heat or in the microwave in 30 second intervals until it is liquidity.

Add the maple syrup into the heated peanut butter and stir well. If you are adding the vanilla protein powder, add this in here as well

Fold in the brown rice krispies until combined and sticky. In a lined 8×8 baking pan, add the mixture in and press down firmly

While the peanut butter rice krispies set, melt the dark chocolate and the coconut oil in the microwave in 30 second intervals until the chocolate is just melted (be sure not to heat for too long, as you do not want the chocolate to burn)

Pour the melted dark chocolate over the peanut butter rice krispies and place in the fridge to let set for at least 15 minutes.

Using a knife, cut into 16 squares and enjoy!
Did you make this recipe?
Leave a rate and review below. And be sure to tag @naturallybeingnat on Instagram!
Share by Email