The easiest light & fluffy gluten free strawberry snack cake! This is the best summer dessert out there. It is made with fresh strawberries, simple ingredients and is gluten free, dairy free and refined sugar free. Make this dessert to have on hand or to bring to your next gathering!
This post may contain affiliate links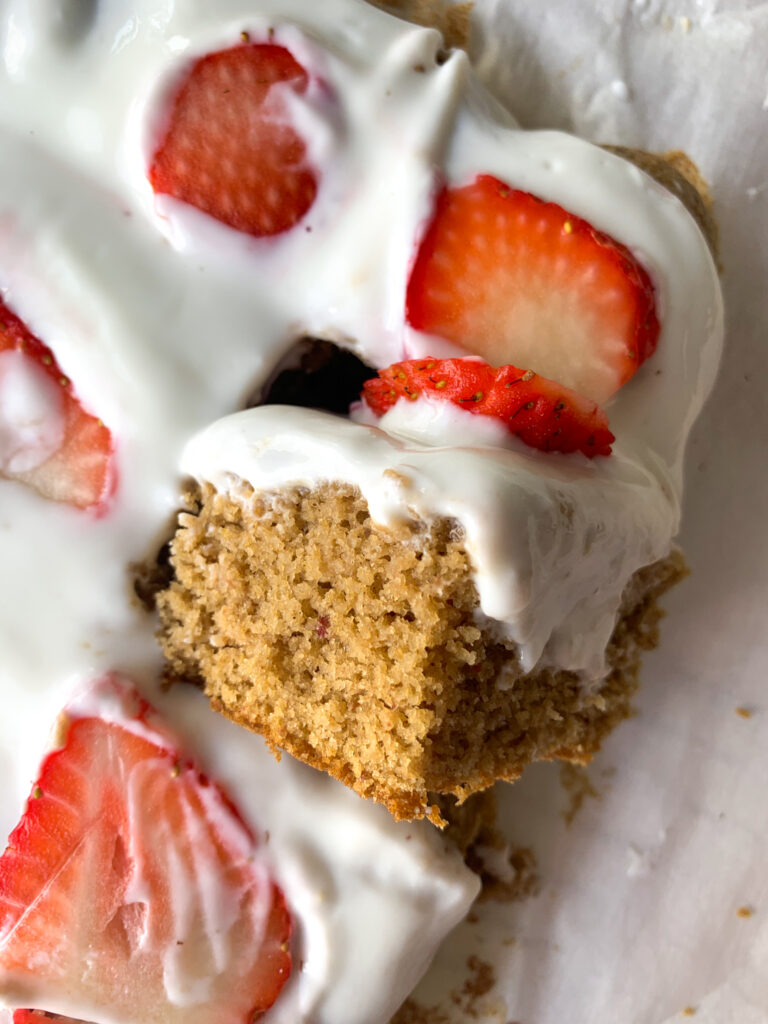 Summer is almost here and I am ruining all of those "shredded for summer" advertisements with this DELICIOUS and easy gluten free strawberry snack cake. I am all for eating healthy, exercising and feeling confident. But the amount of diet ads to fit a bikini body is absurd. I am a firm believer that you can rock a summer body no matter what, live a healthy 80/20 lifestyle and live your best life. So with that said, I think it is time to add this summer and spring inspired dessert to your menu. It is super light and fluffy, enjoyed best cold and adds a refreshing fresh fruit element. As you all know, I try to eat as seasonally as possible so this seasonal dessert is right up my alley!
When it comes to baking gluten free, I have found that the combination of oat and almond flour is incredible. While I love the affordability of oat flour, almond flour brings a ton of moisture to the texture. Oat flour can often be more dry and not rise enough, depending on the baked good and recipe ingredients. When it comes to cakes and breads, my ideal gluten free flour blend is oat flour and almond flour.
What is a snack cake?
This is a great question! When I first saw a recipe developer use the term "snack cake" or "snacking cake" I was intrigued. What is the difference between a cake and a snack cake? Food and Wine has an excellent and thorough article on the difference between "snacking and snack cake" but I will some it up in a few sentences here.
A snack cake is typically a cake that is more simply put together. It is typically done in a sheet style (such as this one baked in an 8×8 pan), made in one bowl (we have one blender) and cut into squares (bingo). Typically, this kind of cake is lighter and easier to enjoy without needing a fork to cut through it. And if you read the whole article… you will see that you are most certainly right… there is no real answer.
How do I make gluten free strawberry snack cake?
Oat flour
Almond flour
Baking soda
Strawberries
Eggs
Plant based milk
Yogurt of choice
Maple syrup
Powdered or coconut sugar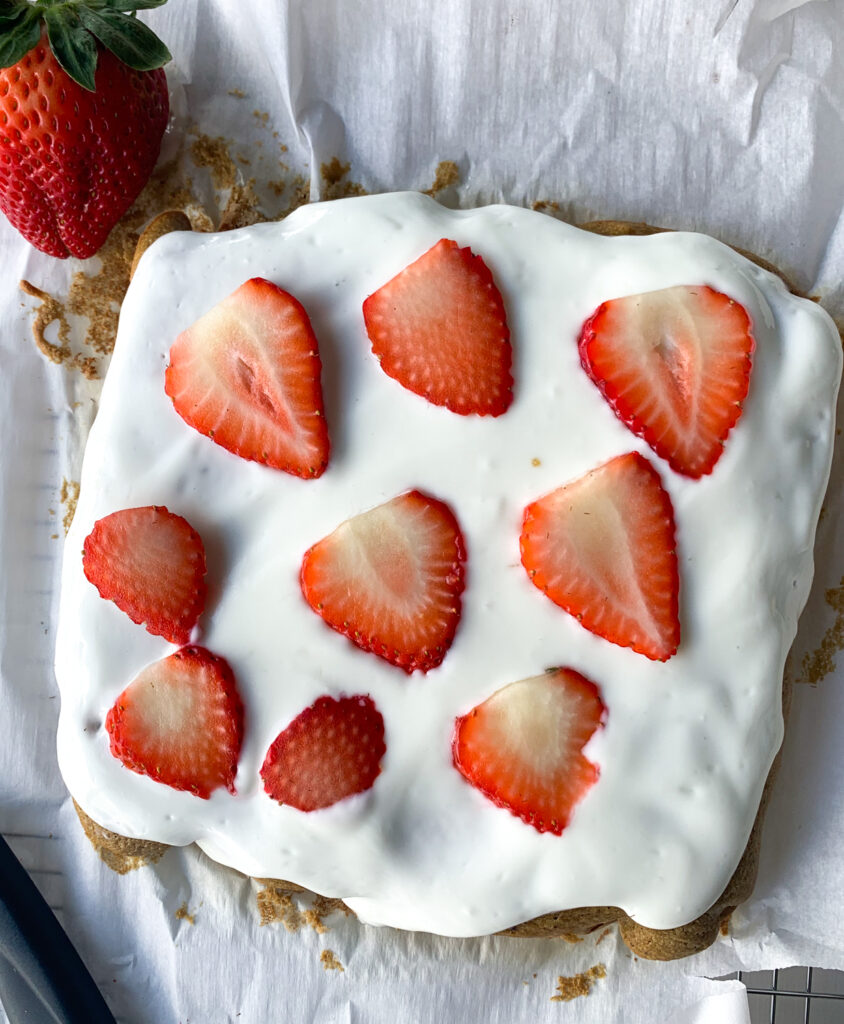 How long do they last in the fridge?
Store these in a sealed container for up to 6 months in the freezer or 1 week in the refrigerator. I would suggest waiting to frost until the cake is completely cooled and right before consuming. The longer the frosting is on the cake, the more it seeps into the cake itself.
What do I make frosting with yogurt?
Yogurt frosting is seriously one of my absolute favorites! You can use Greek, regular or dairy free yogurt but I would highly recommend using a yogurt that is as thick as possible. Since we want to achieve a thick frosting texture, we want to start with a thick, creamy base. From there, I would recommend adding powdered sugar but you can use coconut or white sugar in place. After you combine these two ingredients, add 1 tablespoon of plant based milk at a time until you get a light and airy whip. You will want to use a whisk for the best consistency.
Can I make any substitutions or add more ingredients?
Oat flour: This flour can be substituted with regular or gluten free all purpose flour. If you are looking to add protein to this snack cake, replace up to 1/4 cup of the oat flour with protein powder of choice.
Almond flour: There is not direct substitute for almond flour but if you are allergic or want to replace, replace both the oat and almond flour for 1 3/4 cup regular or all purpose flour
Eggs: I have not tried any others but I would not suggest replacing. The combination of egg yolks and oils from the almond flour provide the fat content needed for this specific recipe. Without both, the cake will most likely be dry.
Maple syrup: This can be replaced with honey or liquid sugar or choice. For a sweeter cake, add up to 1/4 cup more of sugar
Strawberries: Any berry would work great! Just replace with 1/4 cup of your favorite fruit
Plant based milk: You can use a regular dairy milk as well.
Need more light dessert recipes? Check these out!
Don't forget to pin this recipe to save for later:
Shop this post:
Shop my favorites: HERE!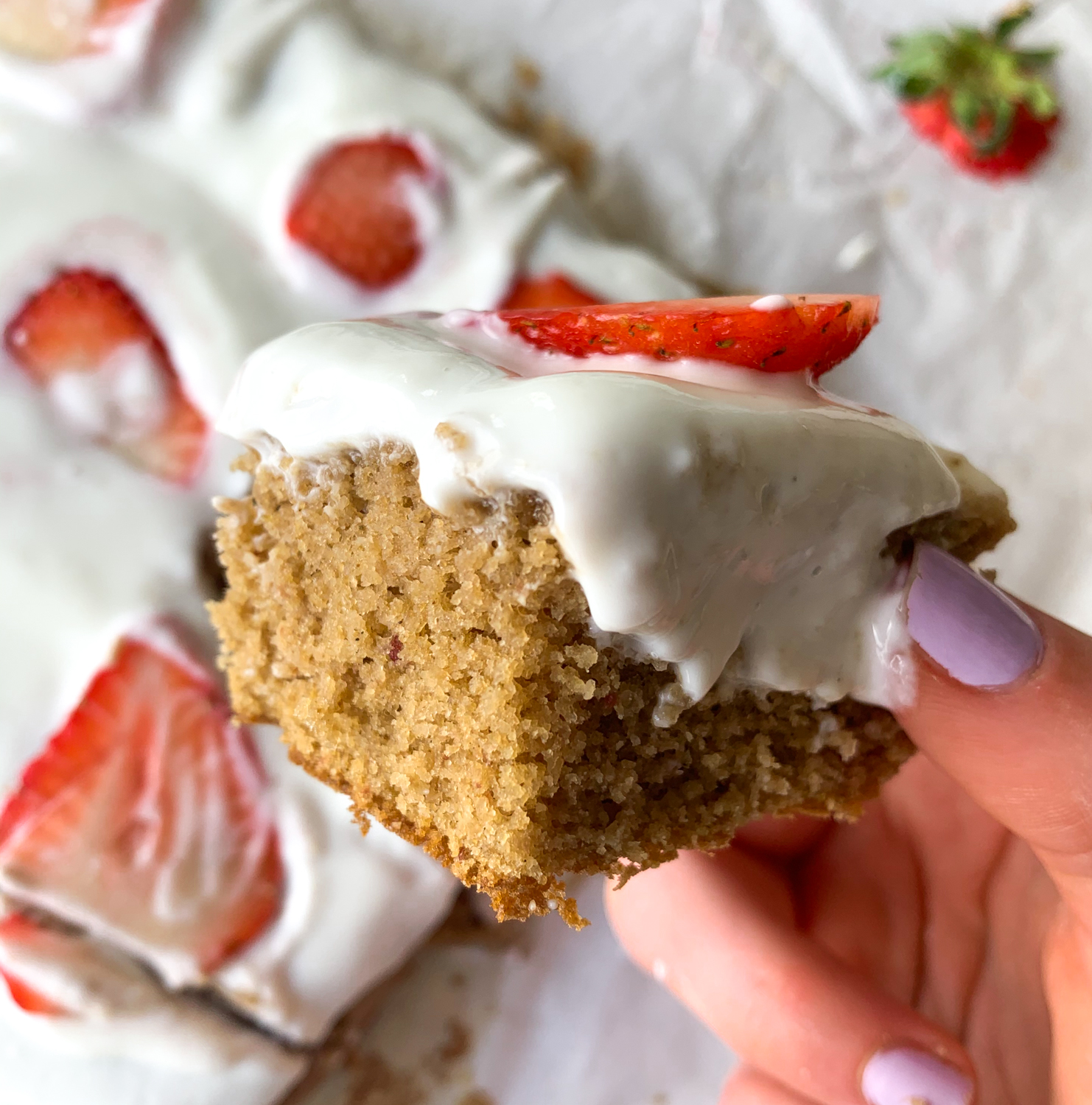 Gluten Free Strawberry Snack Cake
This delish and fluffy gluten free strawberry snack cake is the perfect mix of for a refreshingly light dessert without any refined sugar. It is super simple to make with easy ingredients. Make this dairy free with dairy yogurt frosting.
Ingredients
3/4

cup

almond flour

1 1/4

cup

oat flour

1

tsp

baking soda

2

eggs

1/3

cup

plant based milk

1/2

cup

maple syrup

4

small strawberries

1

tsp

vanilla extract
Yogurt Frosting
1

cup

Greek yogurt

plain or vanilla

1/2

tsp

vanilla extract

if using plain yogurt

1-3

tbsp

plant based milk

see notes

3

tbsp

powdered sugar

sub coconut sugar
Instructions
Preheat the oven to 350°F

In a blender, add the almond flour, oat flour, baking soda, eggs, milk, maple syrup, strawberries and vanilla extract. Blend just until you get a smooth consistency, which should be in a few seconds

Pour the batter into a greased or parchment paper lined baking pan. Bake at 350°F for 18-20 minutes or until the outside is just lightly golden.

Allow to cool completely until frosting and adding strawberry slices to the top.

To make the frosting, whisk together the yogurt, milk and sugar. Add 1 tablespoon of milk at a time, until desired consistency. Should be thick so if you use a runny yogurt, you may not need much.
Notes
See blog post for substitutions
For the yogurt, you can use a dairy free yogurt in replace of traditional Greek yogurt
For the milk amount, do 1 tablespoon at a time because it will depend on the yogurt you use.  
Did you make this recipe?
Leave a rate and review below. And be sure to tag @naturallybeingnat on Instagram!
Share by Email