Taking a twist on Taco Tuesday with these cilantro lime chicken zucchini boats! Zucchini boats have been the move this summer, as they are super easy to make and zucchinis are in season. I am a huge fan of in-season produce, so let's take advantage while they are fresh (and inexpensive!).
This post may contain affiliate links.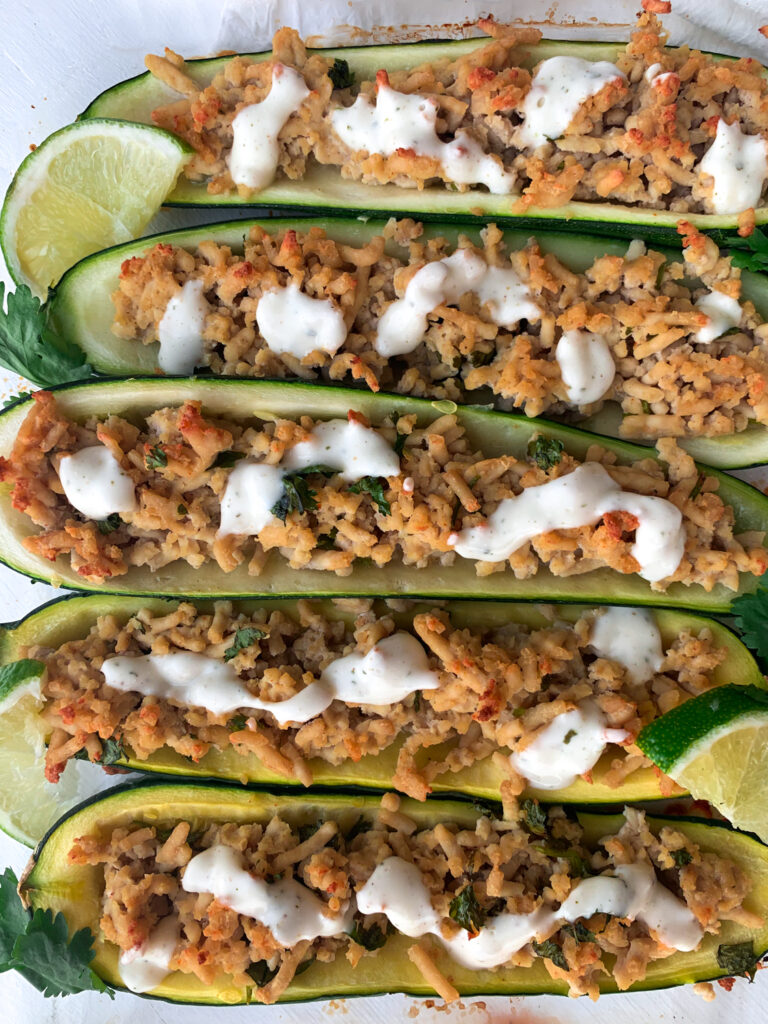 When I posted my Buffalo Chicken Zucchini Boats recipe, you all seemed to love it! So, I decided to add another flavor to recipe index because I am all about changing up the flavors. I know that coming up with dinner ideas can sometimes be such a challenge and we tend to get in ruts with cooking with the same ingredients. Sometimes the best thing to do is to stick with what you love but get your taste buds stimulated! During the week, we all want to cook something that we are familiar with because trying to learn a new recipe can take long. So simply swap the flavor and you are golden!
For this cilantro lime chicken zucchini recipe, I used a Greek yogurt based dressing. If you follow my Instagram account, you would know that I love my Greek yogurt. While I do not regularly consume dairy milk or cheese, Greek yogurt seems to work well with my digestive system. I love to use Greek yogurt as a creamy component to my dishes, plus it adds a boost of protein!
SO… what will I need to make Cilantro Lime Chicken Zucchini Boats?
Lean Ground Chicken
Zucchinis
White Onion
Cilantro Lime Dressing
Fresh Cilantro
The first step is to carve out the zucchini boats. To make these, you have to cut each zucchini in half long ways. Once they are cut, use a spoon to carve out the insides of the zucchini to create the "boat". You can either discard the zucchini insides or save them for another recipe. I love to freeze and add into smoothies as well – it not only adds a vegetable to the smoothie but it helps to make it super creamy. Do not knock it until you try it!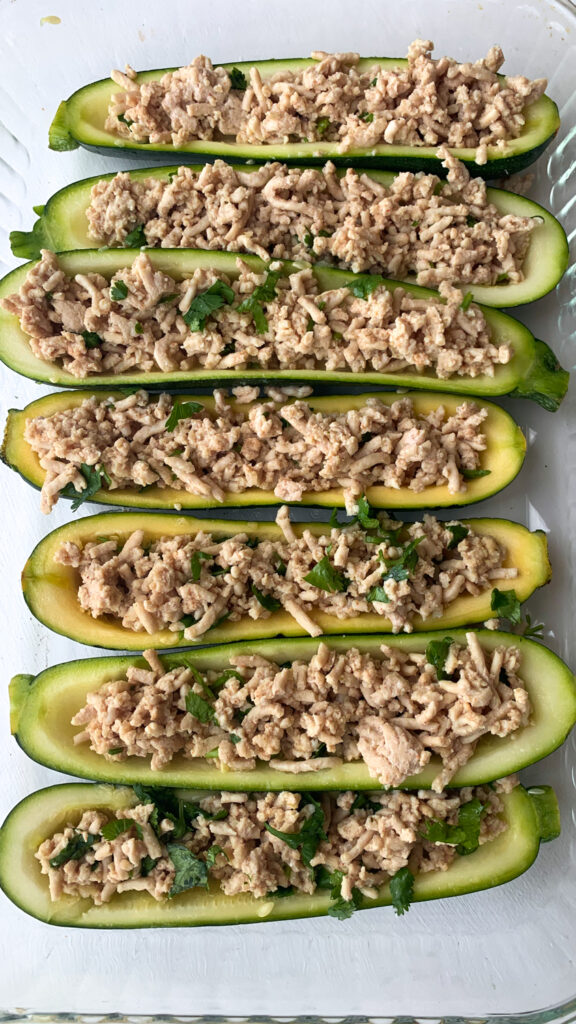 Once the zucchini boats are carved at, add your cilantro chicken mixture inside each of the "boats". Make sure the zucchini boats are snug inside the baking dish so that you reduce the chance of them falling over in the baking process. You will cook them for 25-30 minutes in the oven or until the zucchini is softer in texture. If you are a cheese fan, feel free to add the cheese into the buffalo chicken mixture prior to adding into the boats!
How long to zucchini boats last in the fridge?
I would recommend 2-4 days in the fridge in a well sealed container. You can easily use this as a meal prep and reheat for when you are ready to eat. Microwaving is the easiest option for reheating but if you have the time and opportunity to reheat in an oven, I would highly recommend that option. Additionally, you can easily do all the steps up until the oven ahead of time. Once you are ready to cook, pop it into the oven for a no hassle dinner!
Can I freeze zucchini boats?
I would not recommend freezing these, as the zucchini would not hold up as well going from frozen to heated up. While the taste will remain okay, the integrity of the "zucchini boat" will most likely not hold up. If you decide to freeze and reheat, know that the dish will still be enjoyable, however you will most likely have to a boat that will most likely not hold up!
Can I make any substitutions or add more ingredients?
Lean Ground Chicken: Any ground meat or plant-based ground meat substitute can be used
Cilantro Lime Dressing: You can use any brand but I love this Greek yogurt based one. Alternatively, you can mix together 3 tbsp plain Greek yogurt + 1 tbsp milk of choice + juice of 1/2 lime + 1/4 tsp dried cilantro
Cheese: I did not add cheese but you are more than welcome to. I would add into the cilantro lime chicken mixture prior to adding into the zucchini boats.
Need more summer recipes? Check these out!
Don't forget to pin this recipe to save for later:
Shop this post:
Shop my favorites: HERE!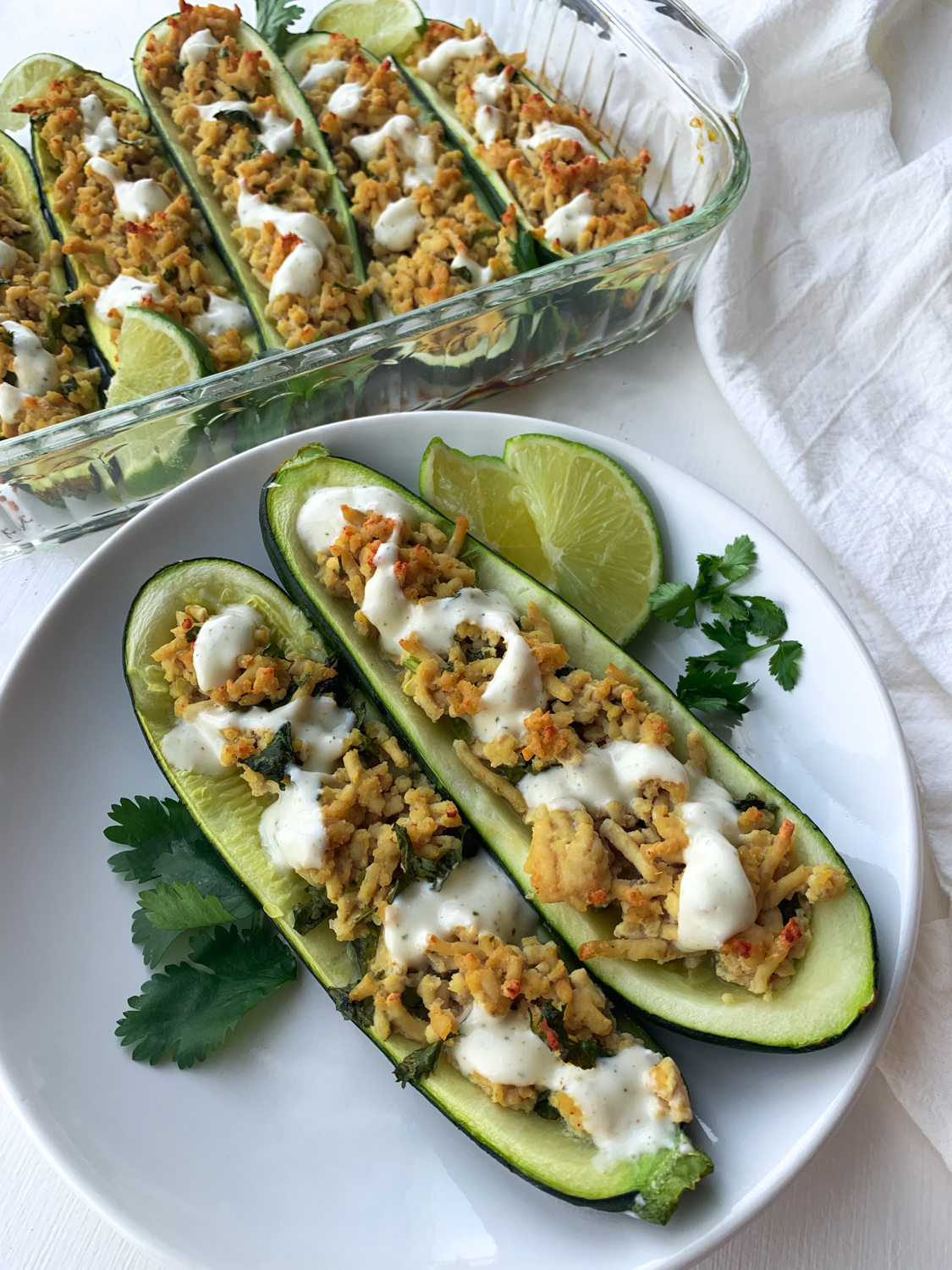 Cilantro Lime Chicken Zucchini Boats
One of my favorite summer dishes! These cilantro lime chicken zucchini boats are so easy to make and can even be prepped ahead to pop into the oven at another point. They are gluten free.
Ingredients
4

large

zucchinis

1

lb

ground chicken

1

tbsp

olive oil

1/4

cup

cilantro lime dressing

see notes

1/2

medium

white onion

finely diced

1/4

cup

cilantro

chopped

1/4

cup

shredded cheese

optional, regular or dairy free

extra cilantro lime dressing to drizzle

optional
Instructions
Preheat the oven to 400° Fahrenheit

In a saute pan, add the chopped white onion and olive oil. Saute for 2-3 minutes on medium heat or until the onion starts to become fragrant and translucent

Add the ground chicken and continually chopped until it is in a fine pieces. Saute until just not pink, it'll continue to cook and brown in the oven

Once the chicken is done, add in the cilantro lime dressing and chopped cilantro. Mix well and remove from the heat. If you are adding shredded cheese, mix that in as well here!

Cut the zucchinis long ways, so they are split in half like a hot dog bun

Take a spoon and scoop out the insides of the zucchini. You can save the inside for another saute or freeze!

Place the cut zucchinis in a baking dish with the cave part facing up. Add the cilantro lime chicken mixture into each boat. You may have leftover mixture, depending on the size of your zucchinis

Bake at 400°F for 25-30 minutes or until slightly golden at the top

Add an extra drizzle to the top and enjoy!
Notes
If you do not have cilantro lime dressing, you can mix together 3 tbsp Greek yogurt, 1 tbsp of milk of choice, juice of 1/2 lime and 1/4 tsp dried cilantro. 
Any ground meat or meat substitute can be used. 
Did you make this recipe?
Leave a rate and review below. And be sure to tag @naturallybeingnat on Instagram!
Share by Email