The best healthy buffalo chicken meatballs that are gluten free, dairy free and made in under 20 minutes. They have some sneaky vegetables hidden that you would never guess plus tons of heat from the buffalo sauce! You can make these with the traditional baking method or with the air fryer.
This post may contain affiliate links.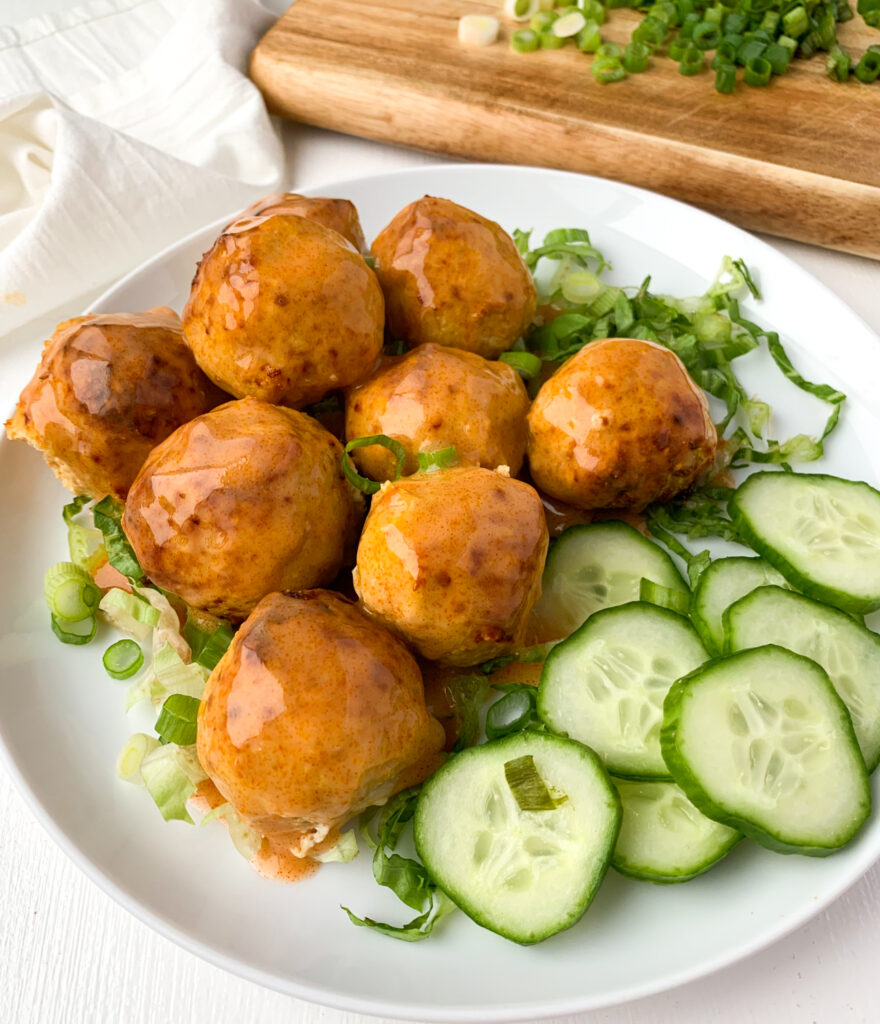 Another fabulous buffalo chicken recipe because I cannot stop! These healthy buffalo chicken meatballs are perfect for a dinner or an appetizer. Even better, we have two different cooking methods! I have had this recipe on file to post on here for a long time now but I wanted to get better photos of it to post. Since I already knew the oven method worked, I decided to test them out in the air fryer as well. I have seen people make airfryer meatballs before so I knew I had to try it. The air fryer makes them lightly crisped on the outside but extra soft and moist on the inside. While I love my air fryer, the oven works just as well for this recipe so have no fear.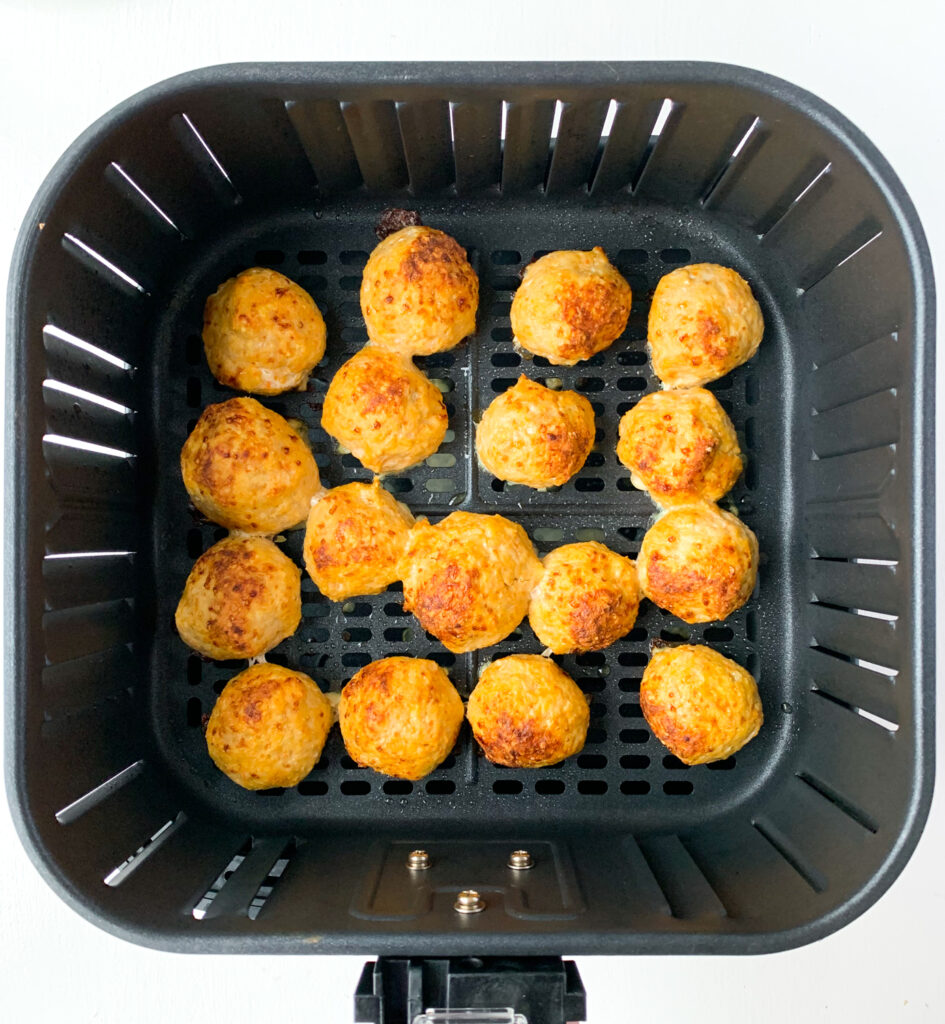 SO… what will I need to make healthy buffalo chicken meatballs?
What to serve with buffalo chicken meatballs:
Like I mentioned earlier in the post, you can make these mini and serve as an appetizer so no sides would be needed. They would be incredible mini sized and placed on skewers or toothpicks to serve! You can decrease the size to 24 mini meatballs and bake for only 16-20 minutes.
If you are making these as a main dish, here are my pairing recommendations:
Egg noodles and sauteed broccoli
Fresh salad made of lettuce, cucumbers, green onions, radishes, cherry tomatoes and healthy ranch
Lettuce wraps: grab some lettuce leaves, chop up some cucumbers and slice each meatball in half!
Crispy potatoes and brussels sprouts, green beans or asparagus
Corn on the cob
Pasta and sauteed spinach or kale
Make a buffalo chicken sandwich!
Or a buffalo chicken meatball wrap. So good! Add your choice of sliced cheese, lettuce, tomato and dressing
Can you taste the hidden vegetables?
If you have looked at the recipe list, you will see that I added carrots and celery to the recipe. Whenever I see buffalo chicken dip served, there are always carrots and celery served alongside of it. So for this recipe, I decided to add them into the actual meatball recipe but trust me – you cannot even taste them! The carrots add a slight sweet taste and the celery adds a slight salty taste. You can either grate these or add them to a food processor to get them finely chopped. You can 100% chop them yourself, but make sure they are FINELY chopped and diced up so that they almost melt into the meatballs. If you prefer them to stick out a bit more, go ahead and leave them diced.
Can I make any substitutions or add more ingredients?
Ground Chicken: you can use ground turkey or chicken, but if you pick anything that is too lean, I would add a little bit of olive oil so they the meatballs are not too dry.
Breadcrumbs: you can gluten free breadcrumbs or rice crumbs. I have seen recipes using oat flour, almond flour and blitzed crackers but I have not tested any of those with this recipe
Buffalo sauce: You can use less buffalo sauce if you do not like as much heat. If you do not have buffalo sauce, you can make your own! This is a great recipe
Plain yogurt: I recommend a runny yogurt compared to Greek style. If you use Greek, you will want to thin it out with milk of choice. You can use a dairy free yogurt as well but for both, make sure they are plain and not sweetened.
Carrots & Celery: You can leave these out if you prefer
Need more buffalo chicken recipes? Check these out!
Don't forget to pin this recipe to save for later:
Shop this post:
Shop my favorites: HERE!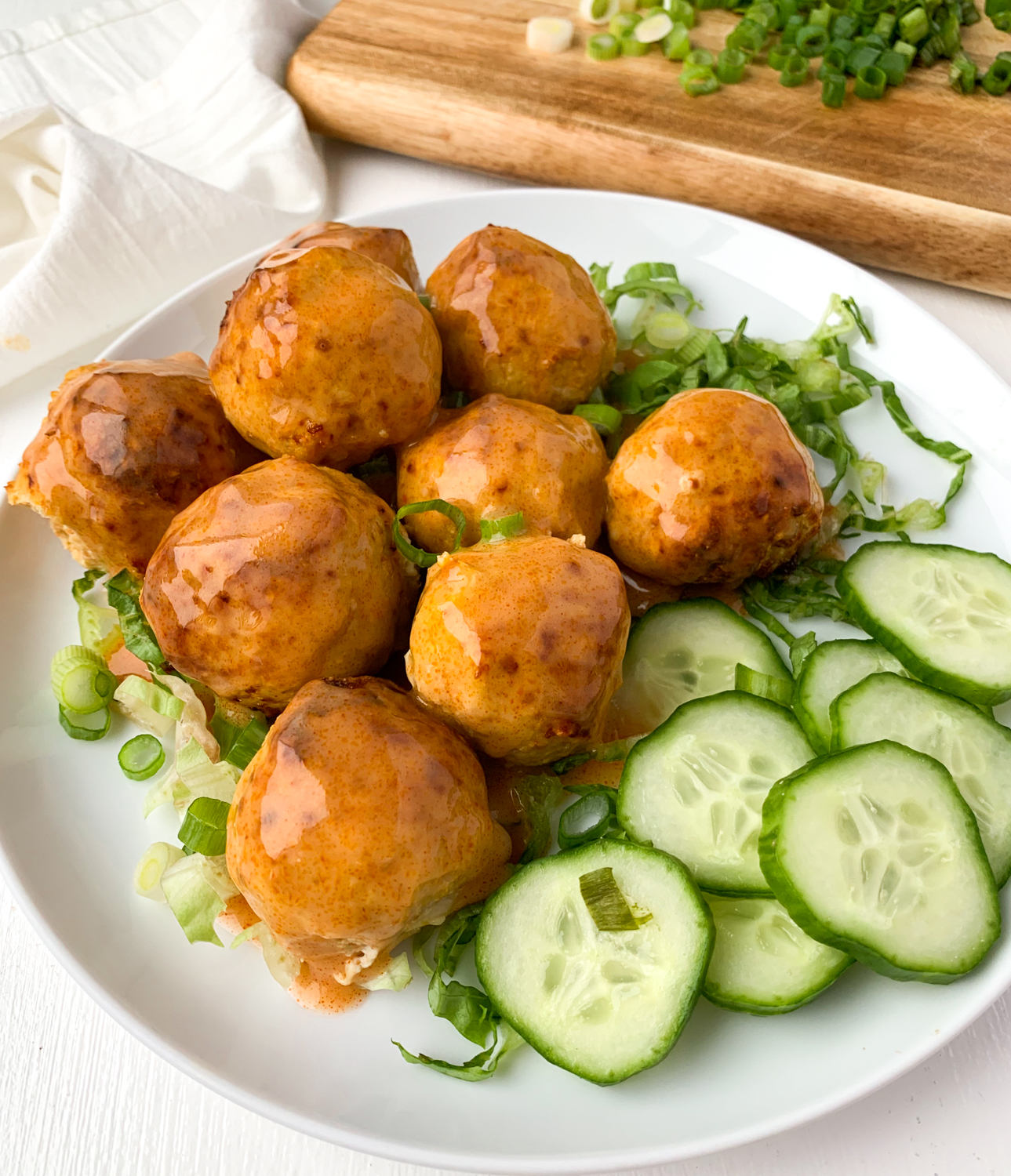 Healthy Buffalo Chicken Meatballs
Super easy and delicious healthy buffalo chicken meatballs made dairy free with hidden vegetables! They are full of flavor and extra kick of heat. Made in less than 30 minutes!
Ingredients
1

lb

ground chicken

1

egg

1/4

cup

breadcrumbs

use gluten free if needed

2

tbsp

grated carrots

2

tbsp

grated celery

1/4

cup

buffalo sauce

1

tsp

garlic powder

2

tbsp

green onion

1/4

cup

plain yogurt

use dairy free if needed
Instructions
Mix together the ground chicken, egg, celery, carrots, breadcrumbs, garlic powder and 3 tbsp of the buffalo sauce. You can either mix by hand or use a food processor.

Roll into 1 into 1 inch balls
Oven Instructions:
Preheat oven to 375°F and place the meatballs on a lined baking tray. Bake for 30 minutes, flipping halfway.
Air Fryer Instructions:
Spray the inside of the air fryer with a neutral cooking spray. Add the meatballs and air fry at 380°F for 12-14 minutes.
Final Touches:
Mix together the plain yogurt and remaining 1 tbsp buffalo sauce

Once the buffalo chicken meatballs are done cooking, pour the buffalo yogurt sauce over the meatballs. Then add the chopped green onions on top for garnish.
Did you make this recipe?
Leave a rate and review below. And be sure to tag @naturallybeingnat on Instagram!
Share by Email