These no bake mini key lime pies are the perfect refreshing sweet treat to beat the heat! They are gluten free, low in sugar and can be made vegan. A healthier take on your classic favorite but with a spin and made into little bites.
This post may contain affiliate links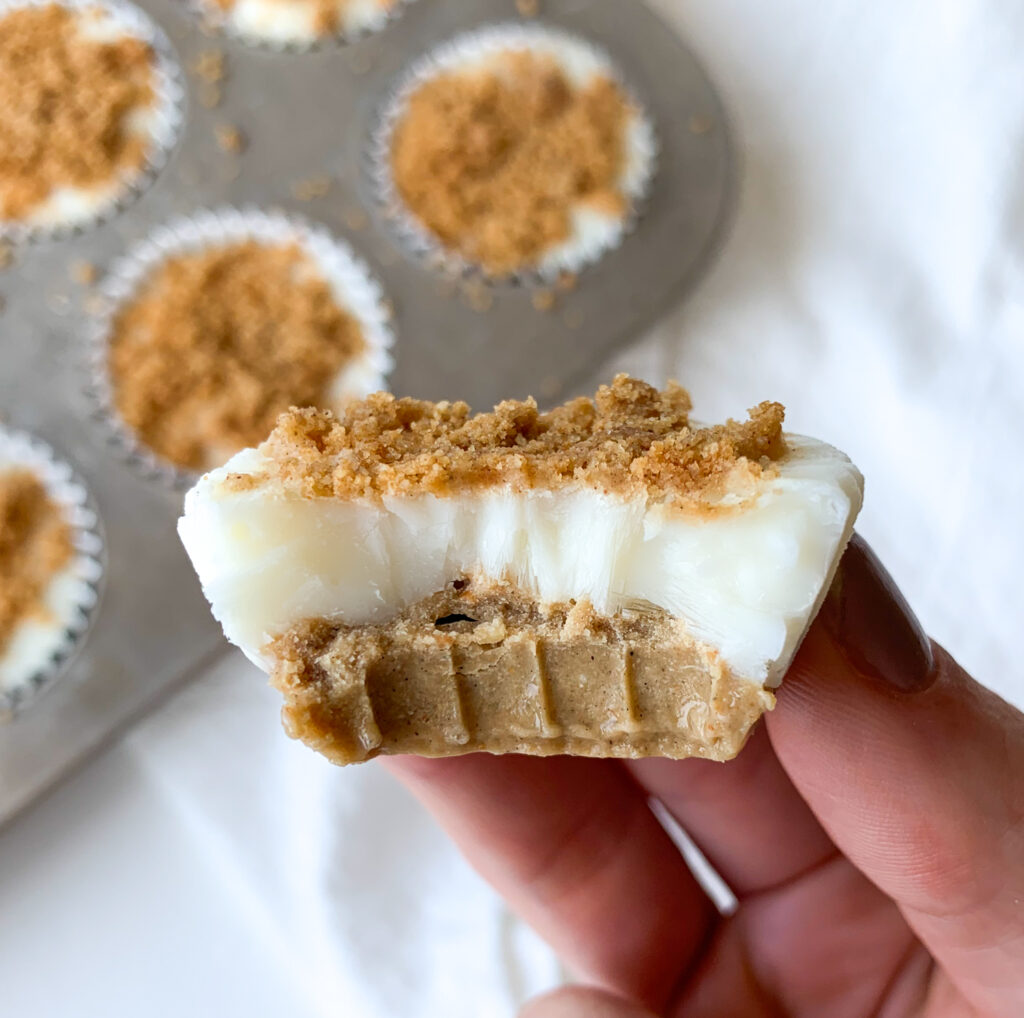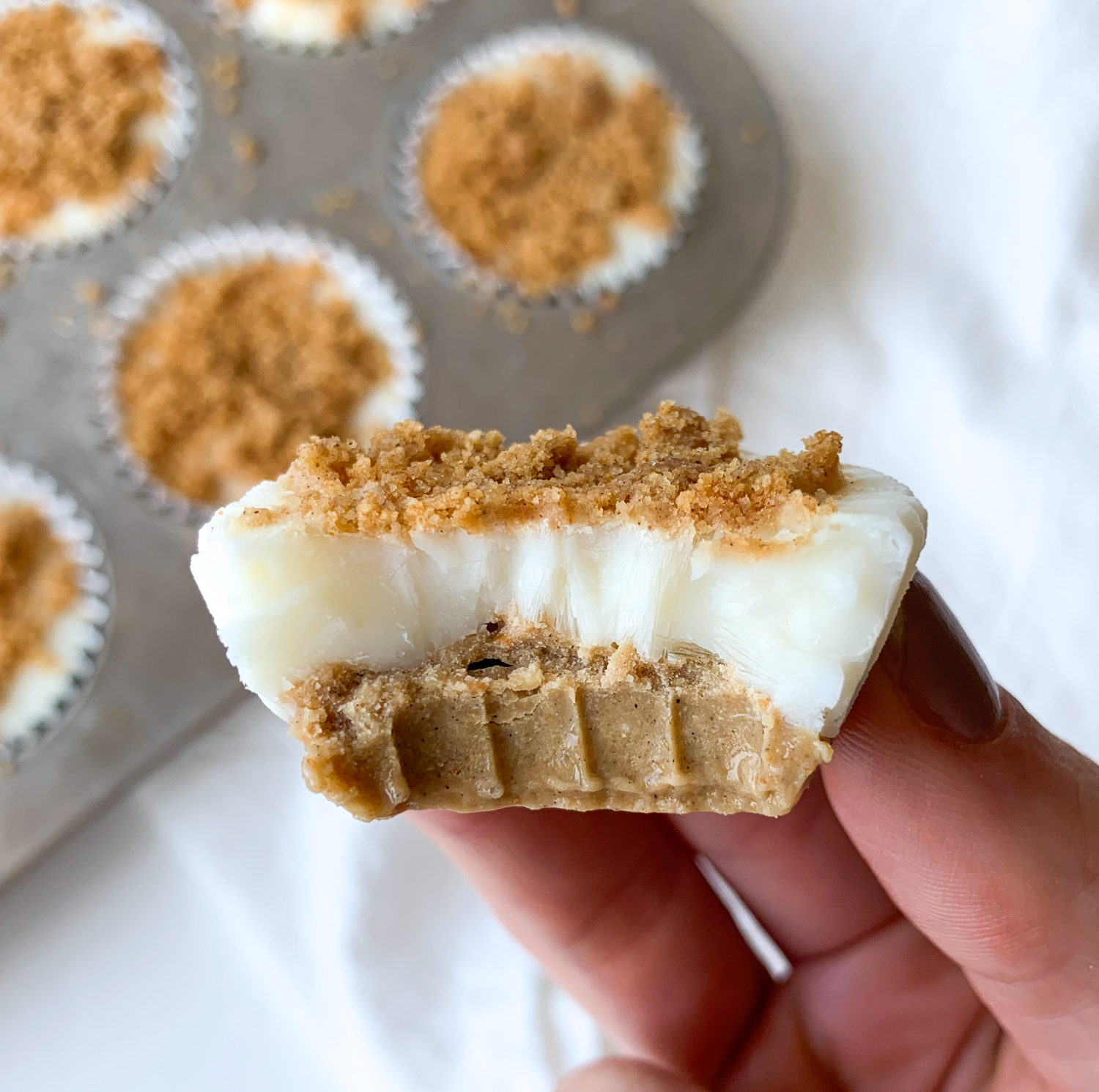 Okay well the heat has certainly arrived in Philadelphia and the oven is the last thing I want to turn on. Plus after even a 10 minute walk, I am ready to sink my teeth into something cold and refreshing. These no bake mini key lime pies are perfect for your sweet tooth craving, whether you are vegan, gluten free or neither. And who doesn't love key lime pie?? As a kid, it was weirdly enough my absolute favorite dessert. I remember I had a sports competition once and my only request after it was the key lime pie from the hotel… I mean the love runs deep here.
For this recipe specifically, I used a special ingredient: KEY LIME CASHEW BUTTER! Now, I know that not everyone will have this and it is perfectly okay if you just use regular cashew butter but this was an incredible addition. It has just a subtle flavor and is definitely not overpowering. I have used it to make key lime pie overnight oats and use spread on a few rice cakes – it is so good! I got the cashew butter from Abby's Better and if you want to try it out, you can use the code "naturallybeingnat" for a discount off!
How do I make no bake mini key lime pies?
Key Lime Cashew Butter
Coconut Oil
Greek Yogurt
Maple Syrup
Vanilla
Key Lime/Lime
Cookies/Graham Crackers
The Key to Healthier yet Creamy Texture:
The classic key lime pie has a smooth, silky and creamy texture so I had to figure out how to replicate that. Honestly, that is one of my favorite things to do! Anyways, I have two keys here to achieve that. First, Greek yogurt! It is perfectly thick like a typical cream and is rich and silky. If you want to make these vegan, Kite Hill makes a great Greek style dairy free yogurt and Culina does as well! Otherwise, any plain Greek yogurt will work. You can use vanilla but omit the vanilla extract.
The second key is to whip the Greek yogurt! Add the yogurt, maple syrup, juice of lime and vanilla in a bowl and whisk for a good minute. You can also add to a food processor, hand mixer or blender to achieve this. By whisking these ingredients, you'll be able to get a light and airy texture. But mainly without doing this, the filling could turn out to "icy" and not silky like ice cream.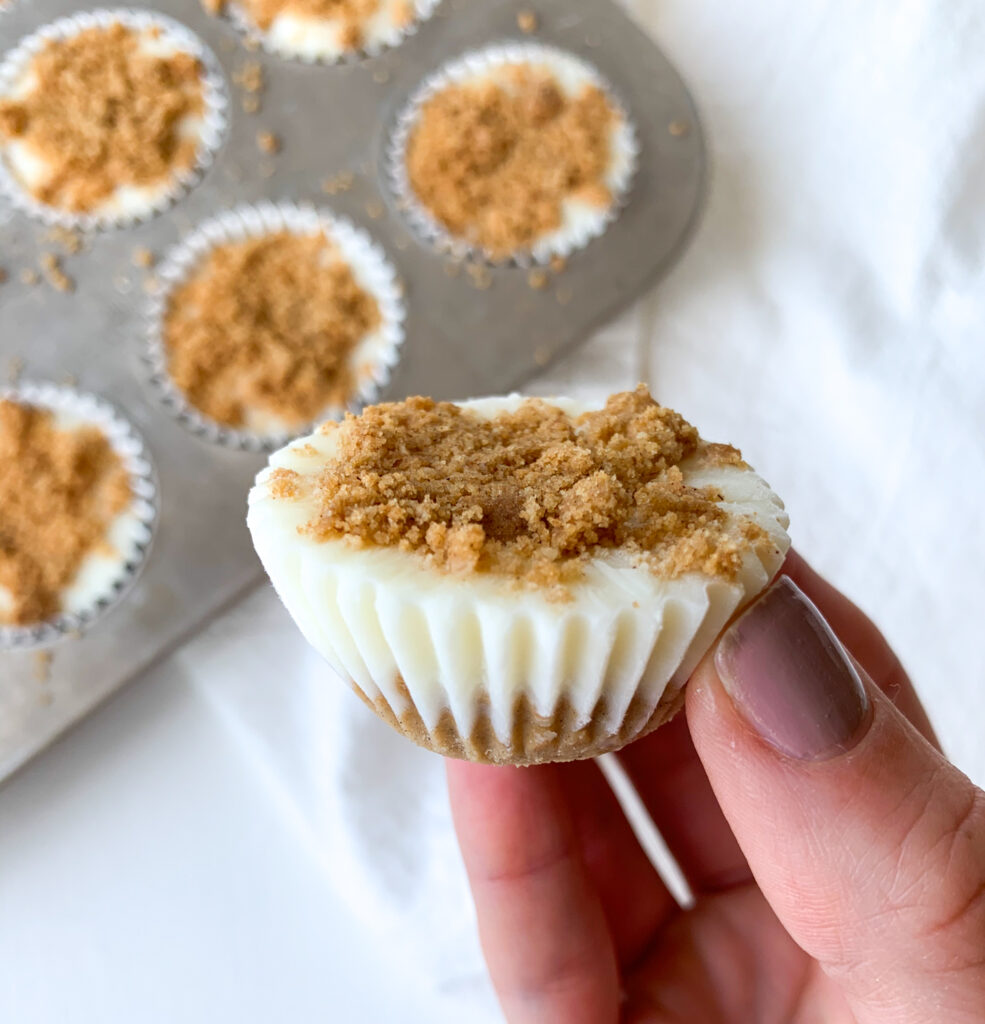 How long do they last in the freezer?
Store these in a sealed container for up to 6 months in the freezer or 1 month in the refrigerator. These are best the closer to the day they were made but given the ingredients they are made out of, they last a long time!
Can I make minis into regular size?
Of course! You can make these in a regular size cupcake tin, 8×8 pan, loaf pan or small circle pan. If using a pan, just cut into bars or slices!
Can I make any substitutions or add more ingredients?
Cashew Butter: If you cannot get the key lime cashew butter, regular cashew butter, almond butter or tahini will work. I would not suggest peanut butter, as the taste would be too strong.
Maple syrup: Any liquid sugar will work 1:1. You can increase for a sweeter dessert.
Vanilla Protein Powder: You can substitute with oat flour 1:1 if you do not have protein powder
Coconut Oil: Melted ghee or butter would work, but coconut oil is highly recommended.
Greek yogurt: any thick yogurt will work but I would recommend sticking to plain, vanilla or key lime flavored.
Cookies/Graham crackers: This is used for the topping so it can be left out if you would like but it added a great texture! I recommend any cinnamon cookies or graham crackers for the best effect.
Need more no bake dessert recipes? Check these out!
Don't forget to pin this recipe to save for later:
Shop this post:
Shop my favorites: HERE!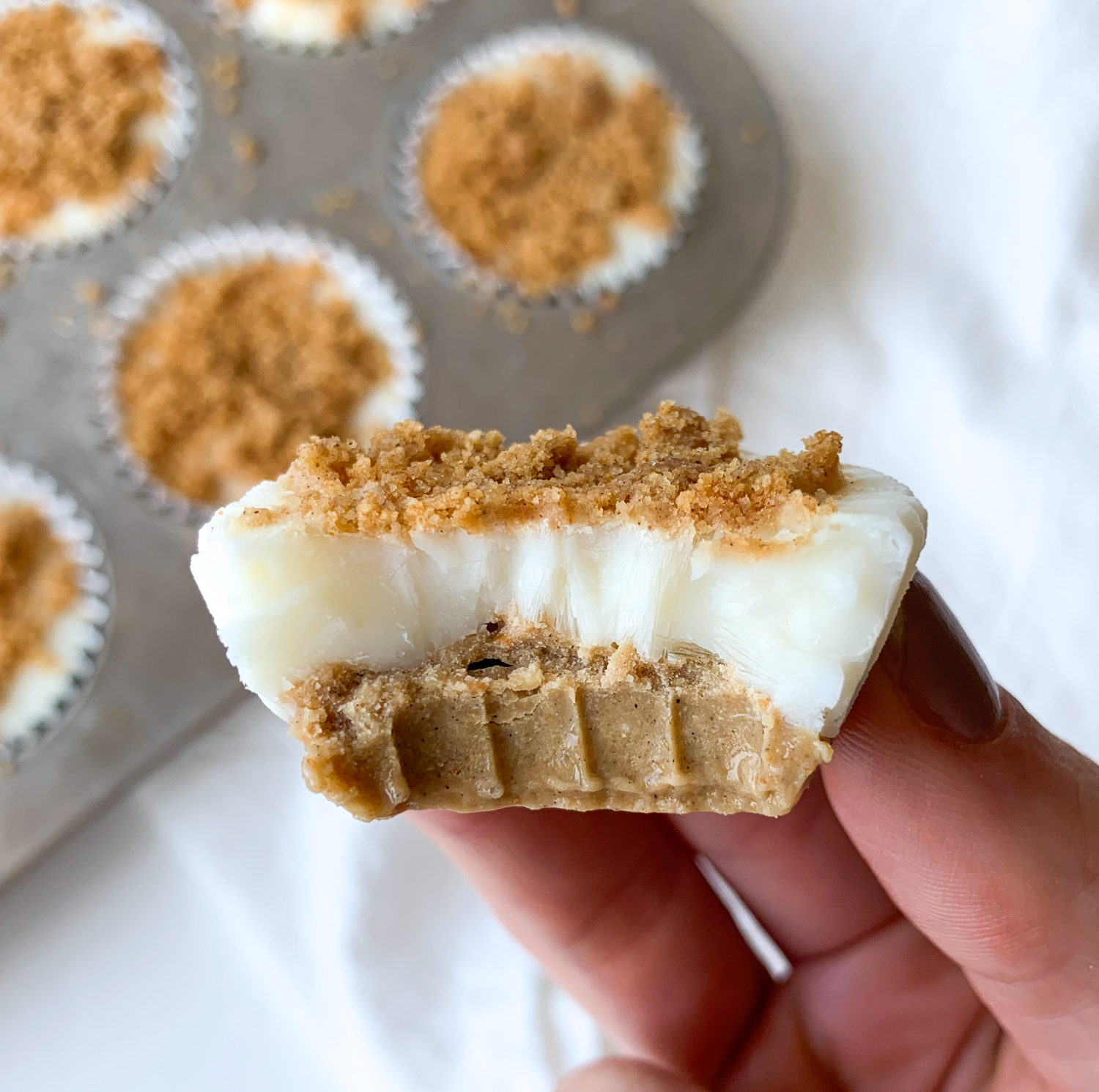 No Bake Mini Key Lime Pies
These flavorful no bake mini key lime pies are super easy to make and so refreshing! Made with a handful of simple ingredients that are gluten free and can be made vegan!
Ingredients
1/4

cup

key lime cashew butter

sub regular cashew butter

1

tbsp

coconut oil

melted

2

tbsp

vanilla protein powder

1/3

cup

plain yogurt

preferably Greek style, can use dairy free

1/4

tsp

vanilla extract

2

tbsp

maple syrup

1/2

key lime or regular lime

crushed cookies or graham crackers to top
Instructions
Start by placing mini cupcake liners in the tray or greasing each one with coconut oil or neutral spray

In a bowl, melt together the cashew butter and coconut oil. Remove from heat and add the vanilla protein powder. If you do not have protein powder, use oat flour.

Distribute the batter in each of the 12 molds of the tray evenly. Then using your finger or the back of a spoon, press each one down so that it is flat and even.

In another bowl, combine the yogurt, vanilla extract, maple syrup and juice of the key lime (or lime). Whisk this together for about a minute so that the texture is fluffier.

Add the filling on top of each "no bake crust", about 1/2 a tablespoon at a time. Each mini pie should have the same amount but it is okay if they are a little off!

Crush up a few cookies or graham crackers and sprinkle them on point. Then just slightly press them in, just enough to keep them in place

Freeze for at least an hour and enjoy!
Notes
Any nut butter will work but the flavor may be slightly off.
You can use dairy free yogurt in place of the regular dairy yogurt
See post for all substitutions 
Did you make this recipe?
Leave a rate and review below. And be sure to tag @naturallybeingnat on Instagram!
Share by Email