Obsessed with my newest toaster used to make these sweet potato toasts: 3 ways. These are one of my favorite breakfasts lately and they are so simple to make. I also included an additional 8 topping combinations to try out.
This post may contain affiliate links and is sponsored by Buydeem Global.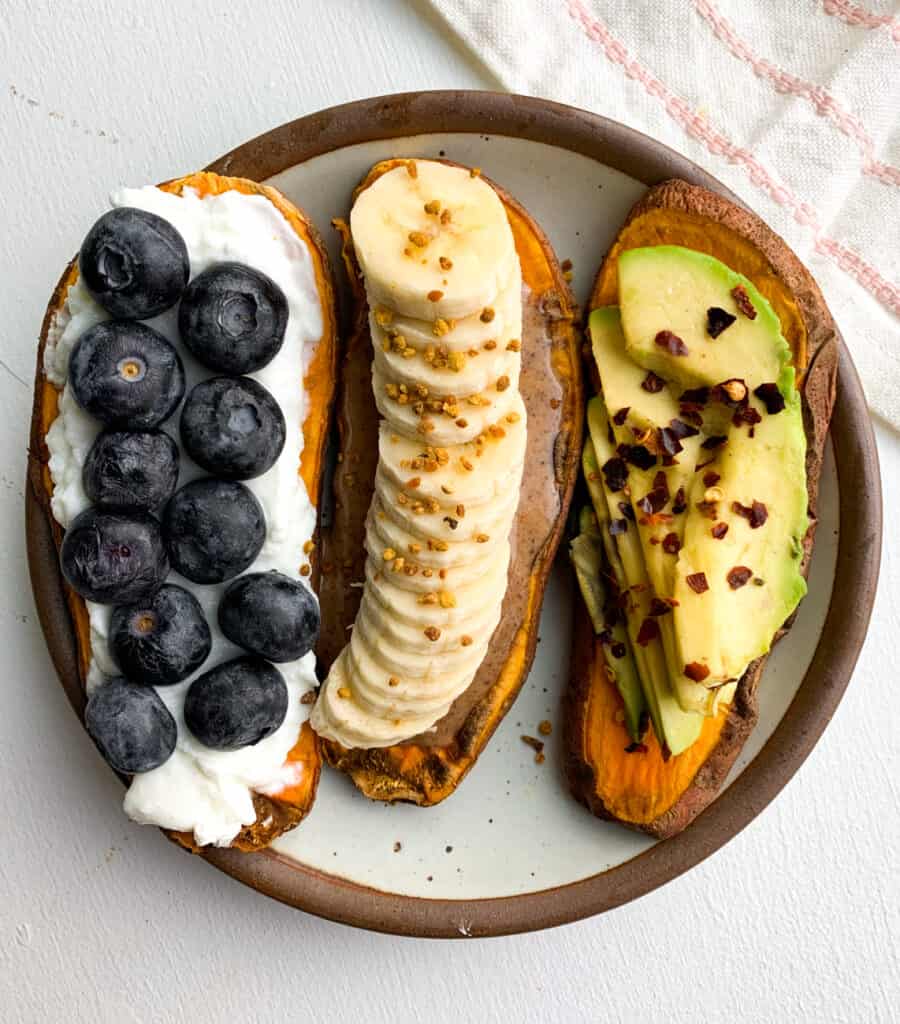 When I first tried sweet potato toasts, I followed a recipe that used the oven but that took too much time and turned out more like a baked potato rather than a vehicle to hold toppings. So I decided to use a toaster and have even turned back. They are so easy to make and luckily with this 4-slice toaster, you can make a bunch of them for everyone to enjoy!
Newest Kitchen Appliance that I've Been Loving
I have been absolutely obsessed with my new Buydeem 4-Slice Toaster. First of all, I have to say that the color and style got my attention. The toaster a vintage mint color and brings a retro yet modern feel to my kitchen. When it comes to style, I love anything light, bright and white. This toaster brings a subtle pop of color into the room.
Second, the functions on this toaster are fantastic. It has a variety of settings but a few in particular that I want to point out specifically. First is the 4-slice toaster. While this may sound minor, it is huge for me. As someone who loves to host breakfasts and brunches, it is not ideal with only a 2-slice toaster. Additionally, I live with three other people and so lucky with this toaster we can all use it at once! I also love that this stainless steel toaster as a defrost option. While the toaster comes with 5 different basic toasting options, the defrost is huge for me. I tend to freeze a lot of breads, bagels, waffles, pancakes, etc. With typical toasters, it usually takes longer to defrost and toast. Whereas with this Buydeem 4-slice toaster, it knows to defrost and toast all in one.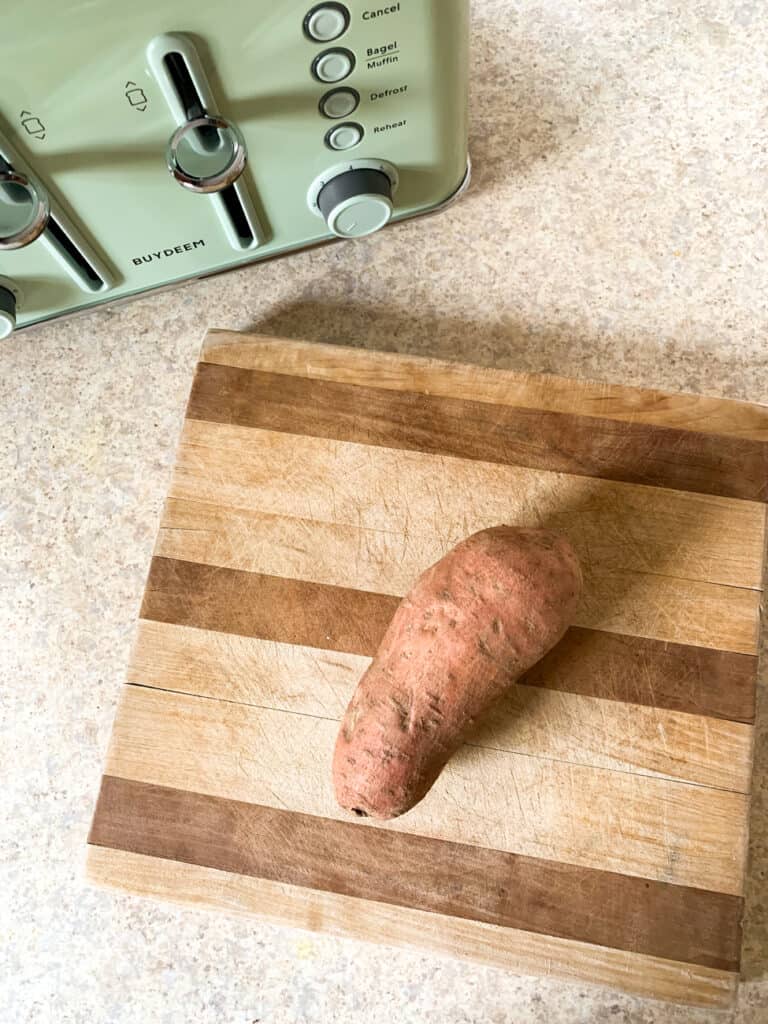 SO… what will you need to make these sweet potato toasts: 3 ways!?
1 Medium and Wide Sweet Potato
Olive or Coconut Oil Spray
Toppings
How to Make the Perfect Sweet Potato Toast
Start by washing and drying your sweet potato. You can remove the the skin if you want but I like to keep them on for sweet potato toasts. Next, cut each slice in 1/4-inch slices using a sharp knife. Then grab either olive or coconut oil spray and spray on each side. Once ready, add to the toaster for 6 minutes, flip them 180 degrees and toast for 4 more minutes! If you cut your sweet potatoes a little thicker, you may need to toast for a tiny bit longer!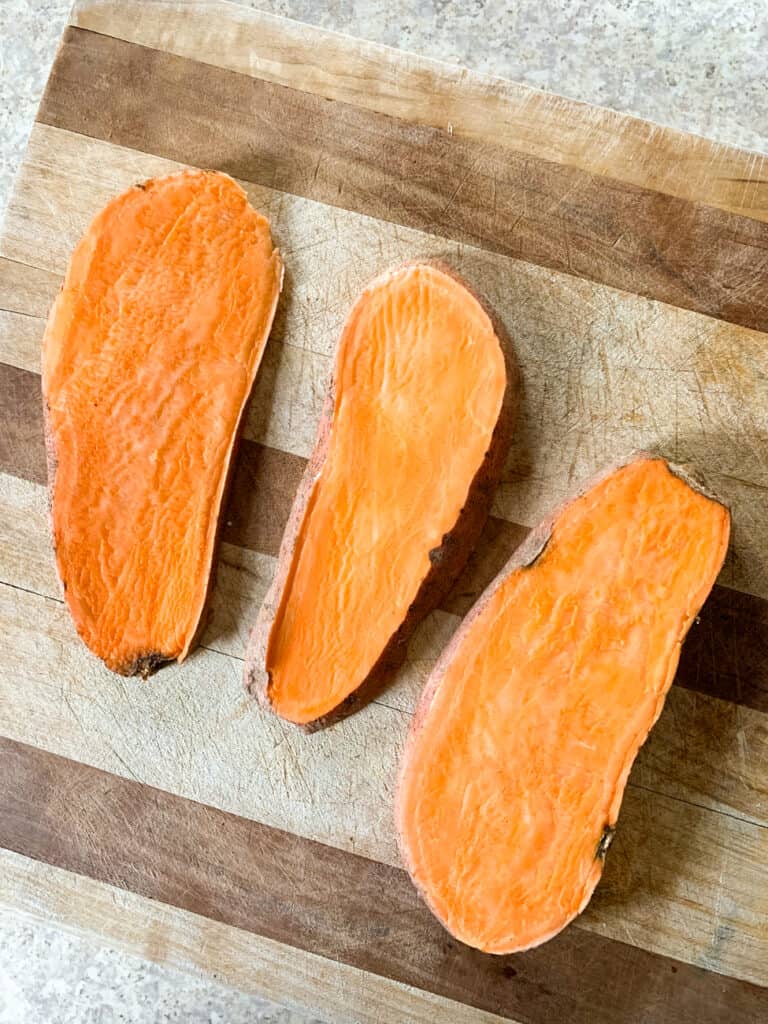 How to Build a Topping Combo:
When it comes to toppings, less is always more in my opinion. However, there are a few key elements to building a perfect combination. For me, I stick to 2-3 key elements. The first is a creamy element, which could be any kind of nut/seed butter, avocado, cottage cheese, yogurt, cream cheese or hummus. Next you want to have a spice, such as cinnamon for sweet or red pepper flakes or Everything But the Bagel seasoning for savory. And lastly, the third is anything that gives bulk to the toast. For example, these three toasts have blueberries, bananas and avocado as the bulky ingredients. Typically, I like to mash the avocado and add eggs on top so that is why I saw 2-3 ingredients because it can be dependent!
Sweet Potato Topping Ideas:
Vanilla greek yogurt and blueberries (substitute any yogurt)
Almond butter, banana slices and cinnamon
Avocado and red pepper flakes or Everything But The Bagel seasoning
Peanut butter, blueberries and honey
Cashew butter, strawberries and cinnamon
Cottage cheese, avocado slices and honey
Hummus, sliced tomatoes and black pepper
Hummus, red onion and lox
Mashed avocado, eggs and sriracha
Peanut butter, chocolate chips and walnuts
Almond butter, cranberry orange chia jam and cinnamon
Need more breakfast recipes? Check these out!
Don't forget to pin this recipe to save for later:
Shop this post:
Check out my favorite kitchen essentials: HERE!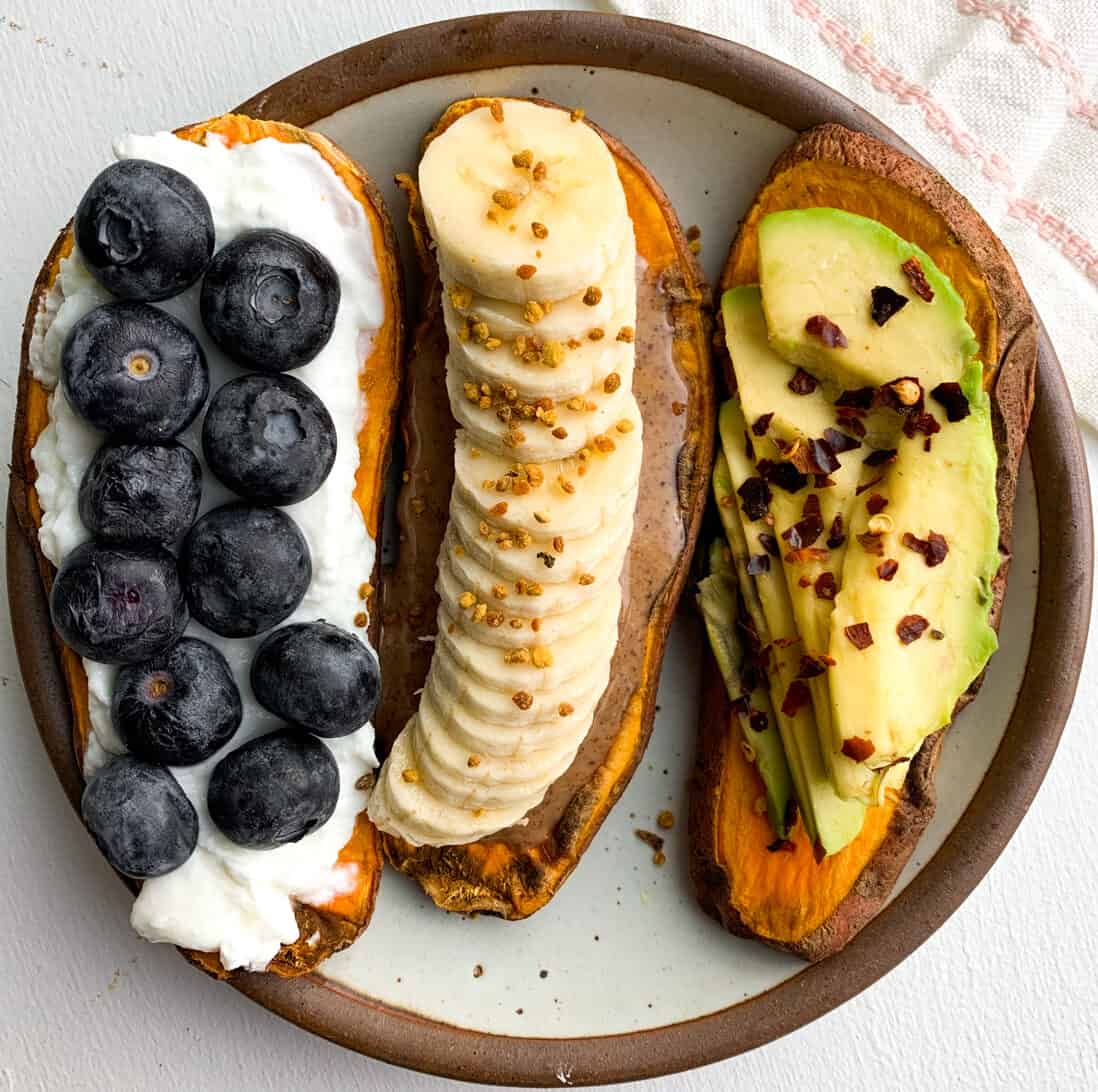 Sweet Potato Toasts: 3 Ways
Easy sweet potato toasts 3 ways using a toaster. A delicious alternative to the classic toast. Each toast is completely customizable to be gluten free, dairy free and/or vegan!
Ingredients
Toast #1
2

tbsp

vanilla greek yogurt

substitute dairy free

blueberries
Toast #2
1

tbsp

almond butter

1/2

banana

slices

cinnamon

bee pollen

optional
Toast #3
1/2

avocado

sliced

red pepper flakes
Instructions
Start by slicing your sweet potato with a quality knife in 1/4 inch slices (cut carefully)

Spray each side of the sweet potato with olive oil or coconut oil spray

Add 3 slices into the toaster and toast for 6 minutes

Flip sweet potato slices over and toast for 4 additional minutes (if your toast is still raw, continue to toast, it may depend on how thick you cut your sweet potato)

Add toppings to each toast and enjoy!
Did you make this recipe?
Leave a rate and review below. And be sure to tag @naturallybeingnat on Instagram!
Share by Email