Looking for gifts this holiday season for anyone who loves anything and everything to do with health and wellness? Picking out gifts can be difficult, I know. That's why I created this gift guide full of 90+ gift ideas for the food & fitness guru, ranging from small to big and everything in between. As a fellow food lover, kitchen snob, workout fiend and overall health advocate, I bring you the best of the best for all your gift needs! Find all you need here whether they are cooking in the kitchen or planning the next at-home workout.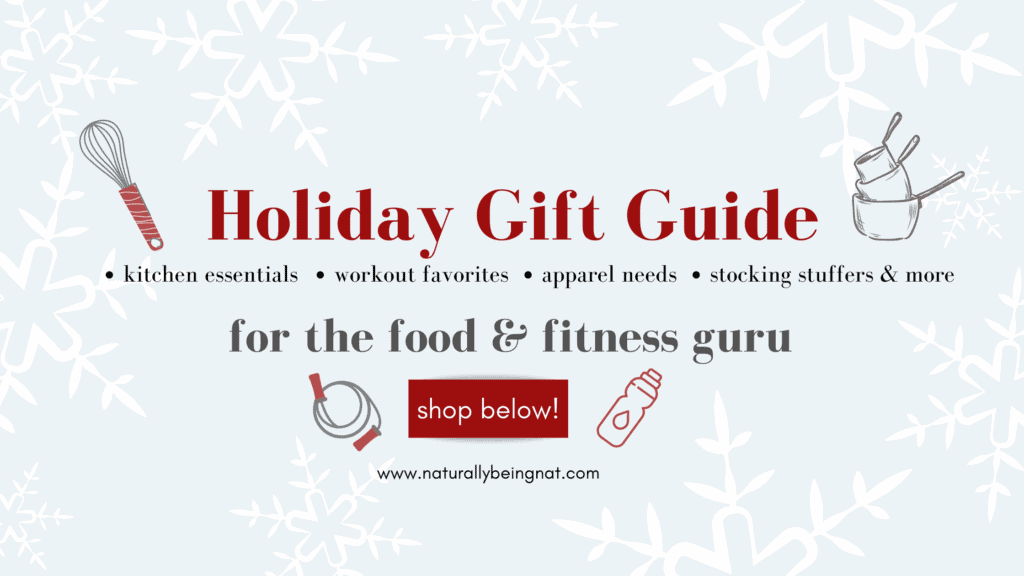 Kitchen and Cooking Essentials
In this category you will find appliances and tools that are worth the investment, the best apartment or dorm friendly finds and my everyday needs or inspiration.
The products you'll want to invest in…
My favorite accessories…
Small space, dorm or apartment needs…
Because coffee deserves a solo section…
For more inspiration…
Apparel Needs
In this category, you'll find all my favorite clothes to workout in, lounge around in or pull off the athleisure style. More in the stocking stuffers section!
The best leggings for HIIT or Cardio…
My favorite everyday leggings…
The best tops and sports bras…
Long time favorite shorts...
My go-to sneakers…
For when it is time to chill out…
For the men in your life…
Workout Favorites
In this category, you will find all my favorite equipment and accessories for any small apartment or area, as well as workout classes that are my favorite.
BONUS: have you ever thought of gifting someone by paying for their workout subscriptions/gym memberships for a couple months?
Everyday equipment…
Hydration is key so…
Because music is the best…
Stocking Stuffers
In this category, you will find other items that are smaller in size and/or price!
BONUS: have you ever thought of gifting an experience? Think golfing, massages, weekend getaway, restaurants, spas, wine or beer tasting, special events… Write a description on a small card, add a picture of the experience and any other details you have planned already (ie. date, location, time, etc.)
For the skin and hair…
The foodie needs… (we love food in physical form and in gift cards especially because we all know how expensive groceries are these days)
The most comfortable socks…
To relax the mind…
For the person who loses everything…
Planning, Organizing and Motivating
Let's plan it out…
Books…
For even more ideas, be sure to check out my favorites page! I hope that this list of 90+ gift ideas for the food & fitness guru was helpful to shop for anyone in your life. Happy holidays!
If you have any questions on the Young Living essential oils, email me at [email protected]