The easiest and healthy 6 ingredient basil balsamic meatballs! They are extra flavorful yet so simple to make. You can make these as an appetizer or part of a main dish. Plus, they are gluten free and dairy free.
This post may contain affiliate links.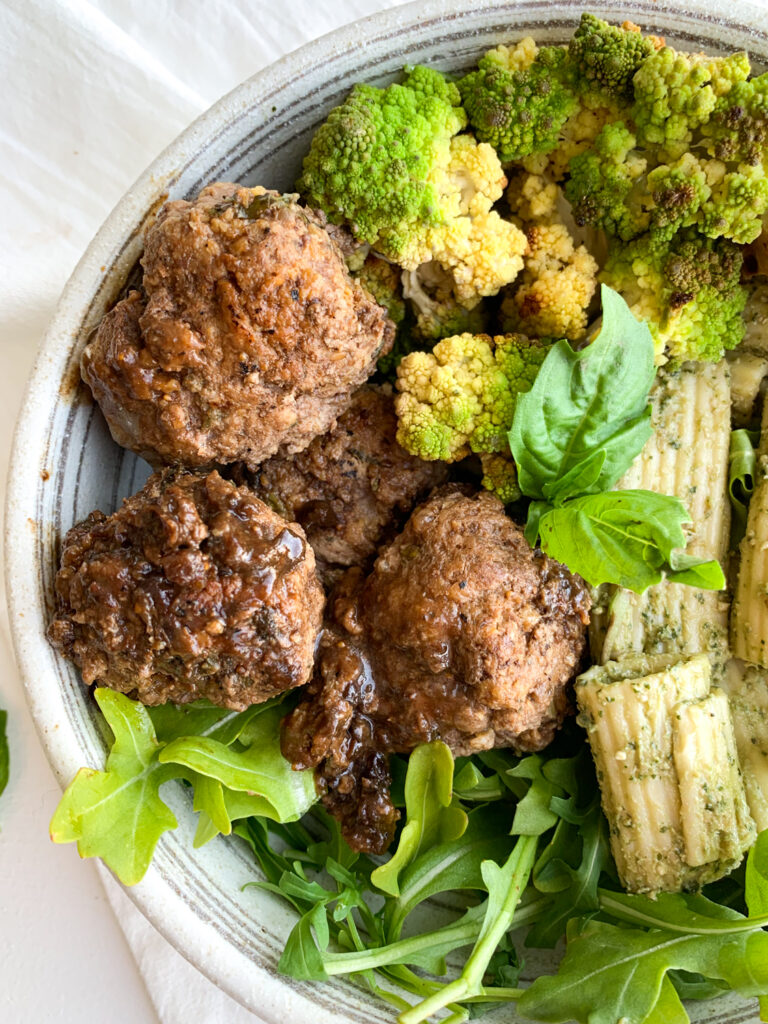 Growing up Italian, I have always loved meatballs. Every Sunday, we would have "Pasta Sundays", which would involve classic meatballs most times. While I love the classic flavors, there is something so fun about changing up the flavors! I love to make a variety of meatballs from Buffalo to Mediterranean flavors, and from ground turkey to chicken. Being able to switch things up always keeps the dinners entertaining and the tastebuds awake.
Now let's get into the basil balsamic meatballs. They are so easy and packed so much flavor! Balsamic vinegar is one of my favorite additions to cooking dishes, on top of avocado toast or made into a salad vinaigrette. You can even make your own balsamic glaze by simply adding balsamic vinegar to a small saucepan and simmering on low until it begins to thicken up. But, if you do not want to make your own balsamic glaze, the premade ones in a bottle work just as well!
SO… what will I need to make basil balsamic meatballs?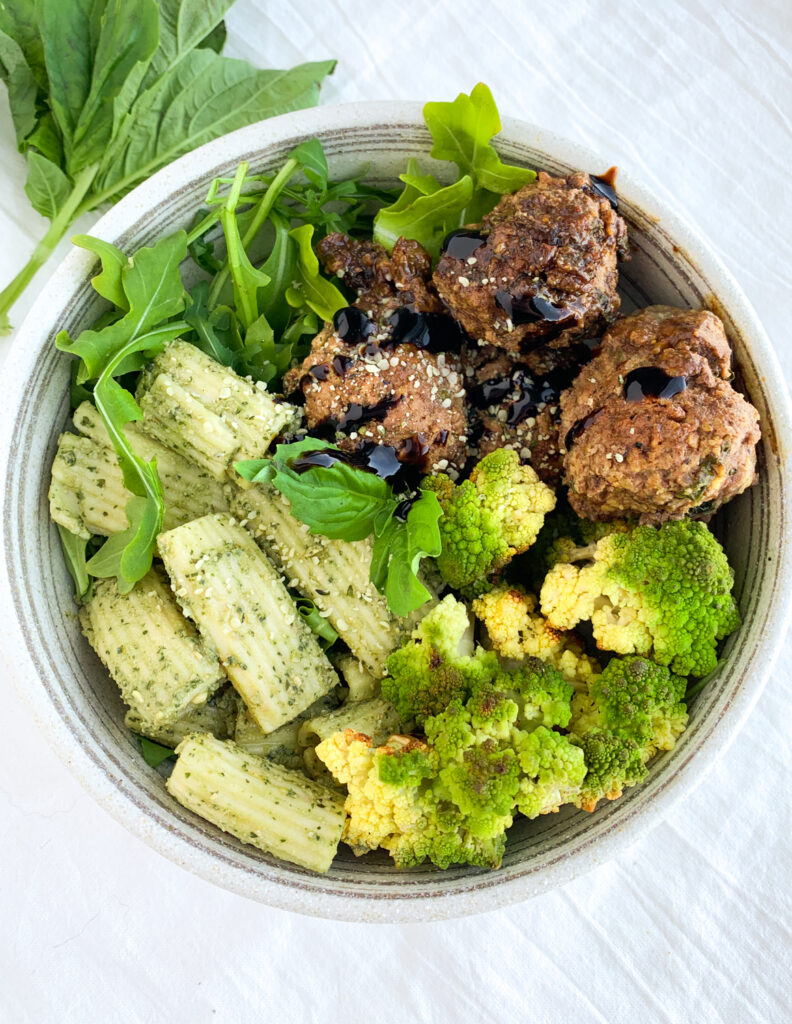 What veggies do I pair with meatballs?
For Italian meatballs, I love to pair the meatballs and pasta with a simple roasted vegetable. My favorites are broccoli and romensco. If you have never had romensco, it tastes like a mix of broccoli and cauliflower. It is super hardy, just like broccoli, which pairs so easy with the meatballs. Another few really good vegetable options are brussels sprouts, tomates, zucchini, spinach, kale and green beans. I find that the green vegetables pair the best with any meatball and pasta combination!
Can I make meatballs mini for an appetizer?
Of course! While the recipe is for regular sized meatballs, you can decrease the size of each one to make 16 to 24 meatballs. If you are decreasing the size of the meatballs, I would recommend baking for only 16-20 minutes. If you are doing an appetizer, it would be amazing to sandwich the mini meatballs between a fresh basil leaf and cherry tomato on a toothpick to serve!
Can I make any substitutions or add more ingredients?
Lean ground beef: you can use ground turkey or chicken, but if you pick anything that is too lean, I would add a little bit of olive oil so they the meatballs are not too dry
Breadcrumbs: you can gluten free breadcrumbs or rice crumbs. I have seen recipes using oat flour, almond flour and blitzed crackers but I have not tested any of those with this recipe
Fresh basil: you can replace the fresh basil with 2 tsp of dried basil
Dried parsley: you can replace the dred parsley with 2 tablespoons of chopped fresh parsley
Balsamic vinegar: I would recommend balsamic vinegar for the meatballs but for the slow simmered balsamic glaze to top, that can be replaced with premade balsamic glaze
Need more Italian recipes? Check these out!
Don't forget to pin this recipe to save for later:
Shop this post:
Shop my favorites: HERE!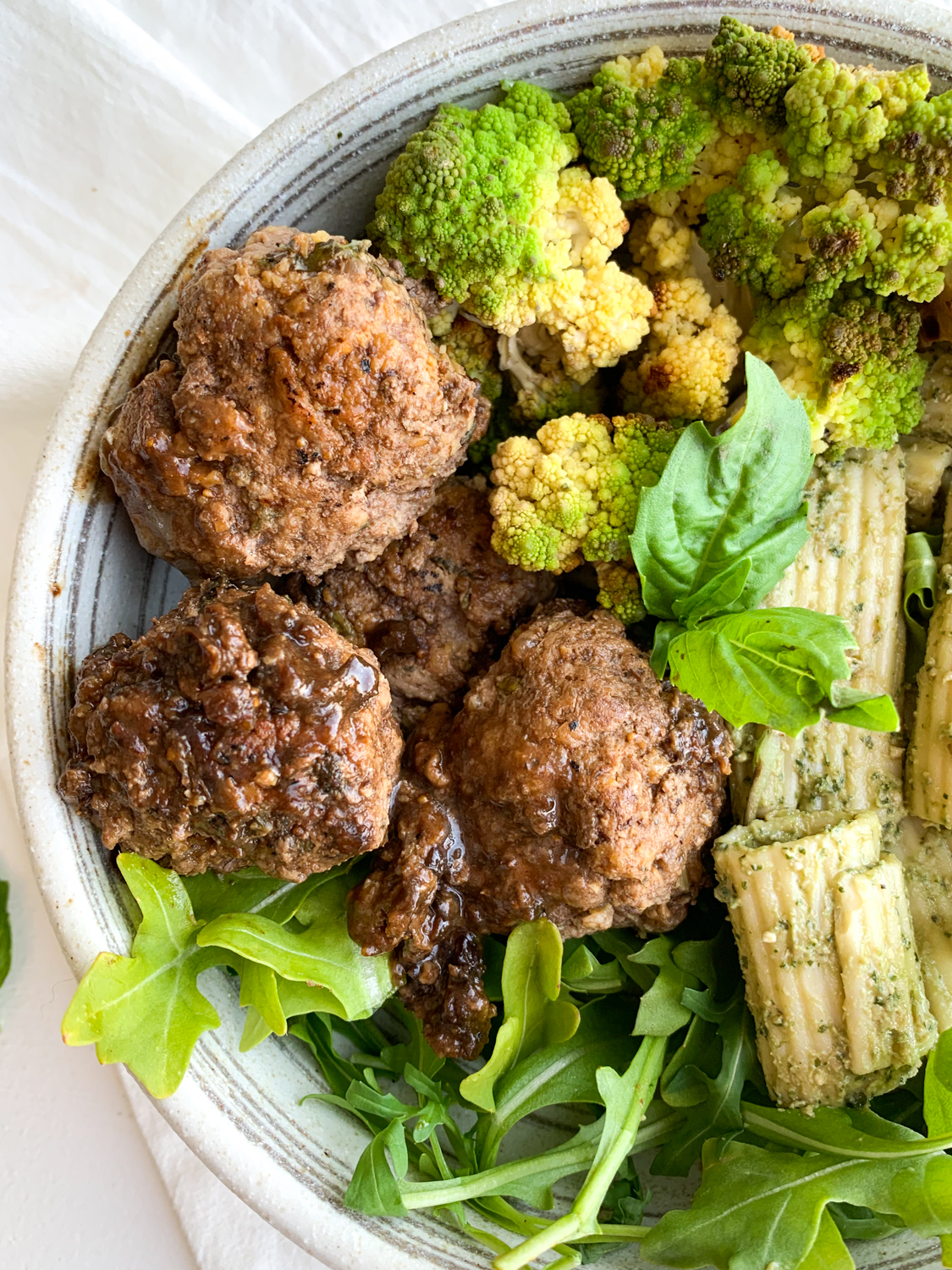 Basil Balsamic Meatballs
Deliciously easy and healthy basil balsamic meatballs that have a blast of flavor. They are gluten free, dairy free and made with six simple ingredients. Serve as an appetizer or the protein part of a meal!
Ingredients
1

lb

lean ground beef

1

egg

1/3

cup

breadcrumbs

use gluten free if needed

1/2

cup

balsamic vinegar

1/4

cup

fresh basil

chopped

1

tsp

dried parsley

salt and pepper to taste
Instructions
Preheat the oven to 375°F

In a mixing bowl, combine lean ground beef, egg, breadcrumbs, chopped fresh basil, dried parsley and 1/4 cup of balsamic vinegar

Once combined, roll into 1" meatballs (should make about 12 large meatballs) and add to a lined baking tray

Bake the basil balsamic meatballs at 375°F for 20-25 minutes, flipping halfway through

While the meatballs are cooking, place the last 1/4 cup of balsamic vinegar in a small saucepan on low heat, slowly simmering for 15 minutes to make a quick balsamic glaze

Once the meatballs are done cooking, add the balsamic glaze on top and serve as an appetizer or part of a main dish!
Notes
Regular or gluten free breadcrumbs can be used. Rice crumbs will also work
Feel free to add fresh grated parmesan 
You can replace the homemade glaze with a premade balsamic glaze 
If you want to make mini meatballs, cook for only 16-20 minutes
Did you make this recipe?
Leave a rate and review below. And be sure to tag @naturallybeingnat on Instagram!
Share by Email