Super easy and flavorful tex mex turkey burgers for a simple summer meal! They are made of a few simple ingredients and are dairy free and gluten free. You will want this recipe for your next grilling season because it is sure to be a fan favorite!
This post may contain affiliate links.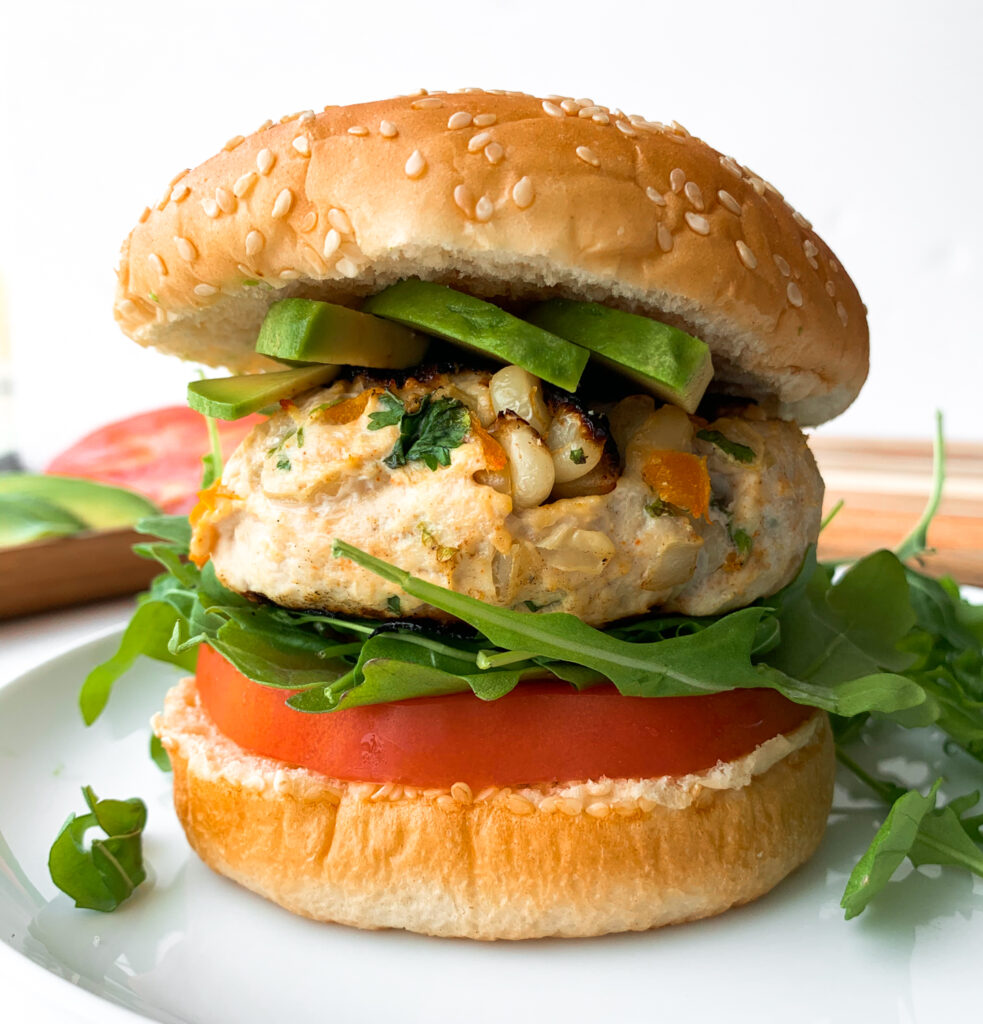 Summer is just around the corner but here in Philadelphia, we experienced summer weather last weekend so my mind is full of grilling ideas! I whipped out my notebook full of recipes and went to town. You should be sure to expect lots of grilling recipes that can also be made indoors, refreshing salads and smoothies, easy no bake snacks and of course lots of fruit-inspired desserts! But for now, let's start with everyone's summer past time: BURGERS!
While I am not against red meat, I do not consume it as often as I do lean ground chicken or turkey. I typically always have one or the other on hand for easy weeknight meals or weekend grilling. But we all know that those two ground meats be easily be… BORING. So, we are adding a ton of spice and flavor to these Tex Mex Turkey Burgers so that you will not even notice how healthy they are. Plus, we have some sneaky vegetables diced up into the burger so if you have a fussy eater, they will not even notice that they are eating veggies!
SO… what will I need to make Tex Mex Turkey Burgers?
Lean Ground Turkey
White Onion
Red Bell Pepper
Fresh Corn
Salsa
Ground Cumin
Smoked Paprika
Garlic Powder
Toppings & Bun of choice!
What to serve with Tex Mex Turkey Burgers:
While you can enjoy turkey burgers without anything else, I am here to share some of my favorite toppings and bun ideas for you! These are so customizable to being enjoyed as simply as possible or as hard core as you want!
Here are some creative bun ideas:
Sesame seed buns
Gluten free buns (Trader Joe's makes my favorite!)
Brioche buns for a bigger, bolder and richer taste
Lettuce wraps for a lighter meal or if you love that crisp for the romaine
Wraps for another creative way to enjoy, as you can even wrap it around and press it like a panini
Here are some topping ideas for burgers:
Tomatoes off the vine, as I find them much more fresh
Greens, whether you love arugula, spring mix, spinach or crispy romaine
Cheese (I would suggest cheddar or pepper jack)
Guacamole – avocado is great but pick it up a notch with some creamy guacamole!
Salsa – swap out your traditional ketchup and mustard for a more fitting saucy element
Caramelized onions for a sweet touch
A dash of salt – salt always brings out such great flavor
Can I make burgers without a grill?
A fun fact is that I made these turkey burgers inside on a pancake skillet. While I would prefer a grill, my new apartment has one grill shared by the entire 20-story building so I will be getting creative on the indoor grilling recipes! You can use a skillet or saute pan but you will not get the grill marks everyone loves. It still will taste the same and have the same texture! Additionally, you could bake these at 375 for 20 minutes, flipping half way or even air fry them! If want to get fancy, you can easily find a grill pan or a mini grill to have indoors.
Can I freeze burgers?
I love to make a big batch of burgers to freeze. They are perfect to defrost for a later date and can be stored in a freezer for up to 6 months for the best quality. To freeze properly, I like to individually wrap my burgers in cling wrap, making sure to cover completely. Then store the individually wrapped burgers in a freezer safe bag or container.
Can I make any substitutions or add more ingredients?
Lean Ground Turkey: Any ground meat or plant-based ground meat substitute can be used
Onion and Garlic: If you are low FODMAP, feel free to leave both of these ingredients out.
Salsa: Lean meat tends to be more dry so the salsa not only adds flavor but moisture! You can remove but the burgers may turn out a bit drier.
Corn: You can easily make these Whole 30 or Paleo but removing the corn. While I used fresh corn off the cob, you can use frozen corn but be sure to defrost prior to making the burgers.
Bun: You can eat these without a bun, bun of choice or a gluten free bun to make the meal completely gluten free!
Need more summer recipes? Check these out!
Don't forget to pin this recipe to save for later:
Shop this post:
Shop my favorites: HERE!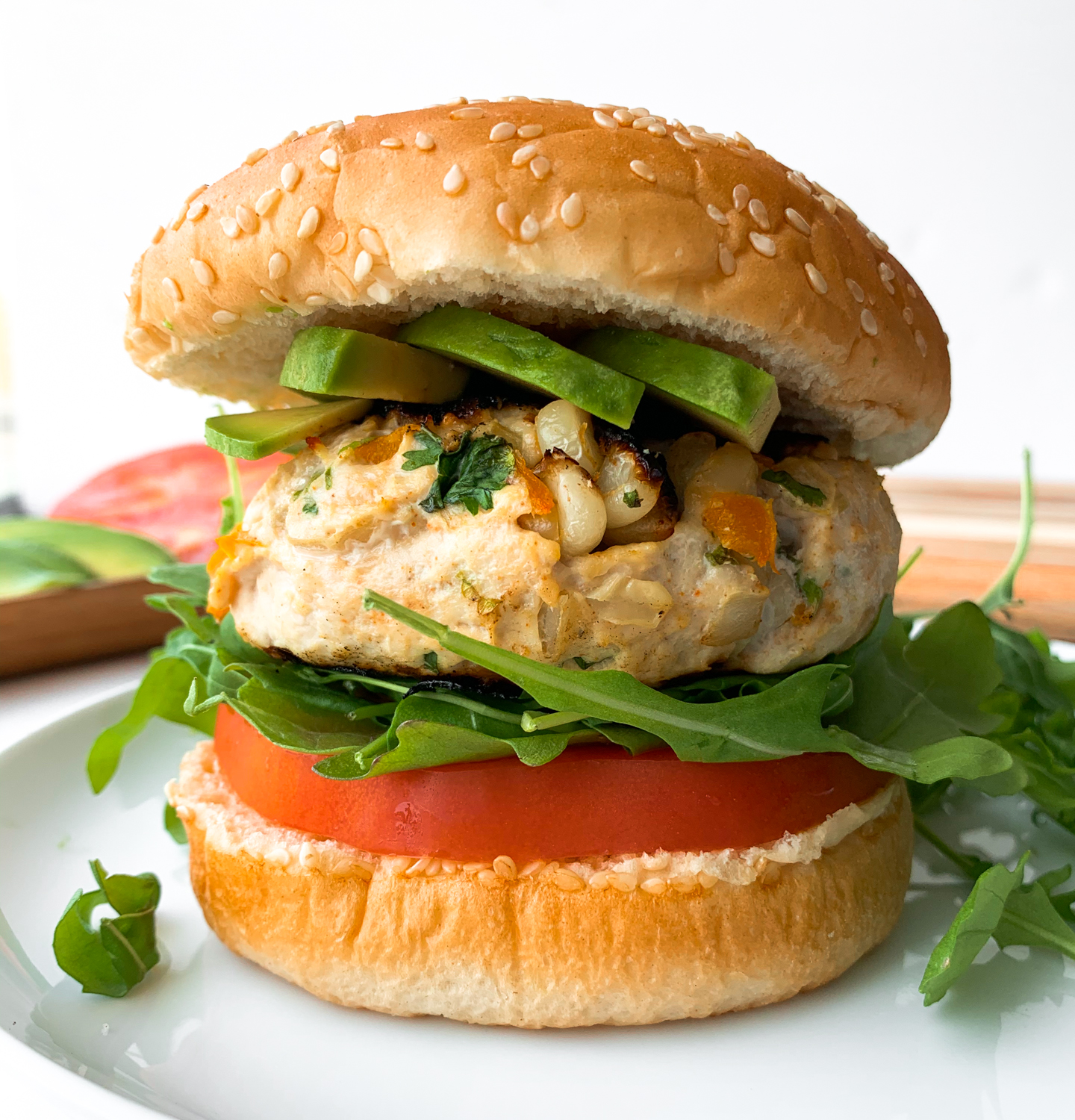 Tex Mex Turkey Burgers
Super easy and delicious turkey burgers that are full of flavor and the perfect way to spice up a summer dish! These are gluten free (without the bun or with GF bun) and dairy free!
Ingredients
1

lb

ground turkey

1/2

white onion

chopped

1/2

red bell pepper

chopped

1/4

cup

corn

1/4

cup

cilantro

chopped

2

tbsp

salsa

of choice

1

tsp

ground cumin

1

tsp

smoked paprika

1/2

tsp

garlic powder
Instructions
In a bowl, mix together the ground turkey, white onion, red bell pepper, corn, cilantro, salsa, cumin, smoked paprika and garlic powder.

Once completely combined, form into 4 patties. I like to keep mine a little bit on the thicker side

Grease a skillet or a grill and cook on 5 minutes per side

Serve with toppings and bun of choice!
Notes
See substitution list in the blog post 
Did you make this recipe?
Leave a rate and review below. And be sure to tag @naturallybeingnat on Instagram!
Share by Email