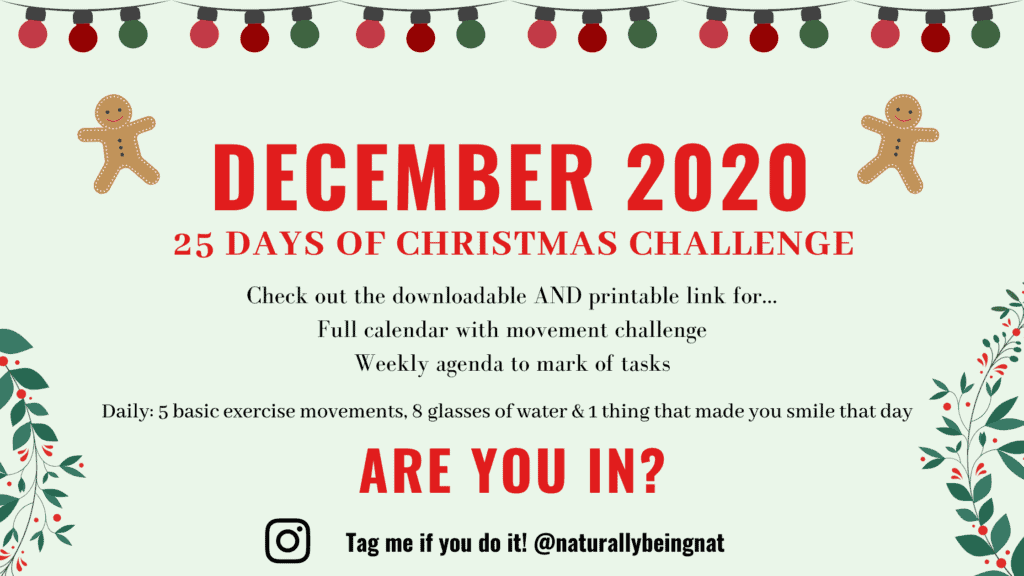 Who is ready for a fun 25 Days of Christmas Challenge!?
This challenge is meant for all levels of fitness and can be completed at any time of the year and start at any point within a month as well. I created this as a fun opportunity to look forward to every day. With working from home, sometimes little goals like this to check off are nice. The exercises can be done any time of the day, in your pajamas, by the fire or outside in the snow – do whatever your heart desires! I hope that this challenge inspires you and that you are able to gain not only physical happiness but mental happiness.
So… what's included?
Calendar with each daily fitness challenge for 25 days
Weekly agenda including the fitness check-off, how many glasses of water drank & a few lines to write what put a smile on your face
The Daily Tasks:
A continuous fitness challenge that includes 5 basic exercises with increasing repetition
Daily water intake goal of 8 glasses per day (hydration is key in the winter!)
Daily note of one thing that made you smile
You can always add weight or bands to the exercises and of course modify to accommodate for your body. As always, feel free to message me on instagram at @naturallybeingnat if you have any questions or leave a comment below!
Need another workout?